From gyms to workplaces, state releases details on largest COVID-19 clusters
Published: Aug. 19, 2020 at 10:33 AM HST
|
Updated: Aug. 19, 2020 at 10:36 AM HST
HONOLULU, Hawaii (HawaiiNewsNow) - The state Department of Health has released its most detailed report to date about known cases and clusters in Hawaii.
The added details come after months of media inquiries and public pressure for the department to offer specific details on where clusters are occurring without compromising patient information.
In the new details released Tuesday night, the Health Department said of Monday's cases, 158 were adults and 16 were children. On Tuesday, the numbers were 129 adults and five children.
The DOH adds that out of Tuesday's new cases, 105 cases were community spread, 23 are unknown sources, and seven cases have a travel-related exposure.
The state says of all Hawaii's COVID-19 cases, 93% are Hawaii residents, 2% are non-residents from other states or countries, and information is pending for 5%.
Additional details direct from the department on clusters in Honolulu are listed below. They fall short in some cases of naming specific businesses and establishments:
Circuit gym cluster — 4 cases; report of inconsistent masking; investigation ongoing

Preschool cluster in one bubble — teacher (index case; associated with previously confirmed cases in the teacher's household) and 3 students.

Health plan offices — at least 31 cases; investigation ongoing

Homeless shelter — 20 cases; quarantine implemented facility-wide; investigation ongoing

5 distinct restaurant clusters, each involving multiple employees at a single location; no transmission to customers identified.

City & County office — 11 cases; located on 2 floors, potluck gatherings mentioned by employees being investigated as potential transmission source

Strip club worker with potential exposures to coworkers and clientele; clarification of place of work pending.

Oahu Community Correctional Center — 287 cases; facility areas in lockdown; additional facility-wide testing continues, conditions challenging.

Automotive cleaning and detailing service location — 16 cases; investigation ongoing

3 fire stations — 10 confirmed cases in firefighters; investigation ongoing.

Large funeral cluster — 75 confirmed cases linked to a series of funeral events.

Bar clusters involving at least 5 people and 2 bars, Brix & Bones and Arena 808 (period of concern, July 16–26); possibly up to 7 cases downstream of this cluster

Construction company — 10 cases; investigation ongoing
On Oahu, many cases are new, and not associated with other cases. 27 are pending residence location; 53 in Honolulu and at least 10 in Ewa Beach with smaller numbers scattered in other areas of the island, the DOH said.
Over on Maui, there are small clusters emerging from a construction site, the DOH said.
"In another cluster, five Maui residents held a party on Oahu; one case from the party attended another gathering while ill/symptomatic and nine cases were later associated with this party (5 primary, 4 secondary). In another cluster, a healthcare facility has 13 positive staff and 11 positive patients," the department said.
Below is the chart containing information on confirmed cases in long-term care facilities and communities in Hawaii: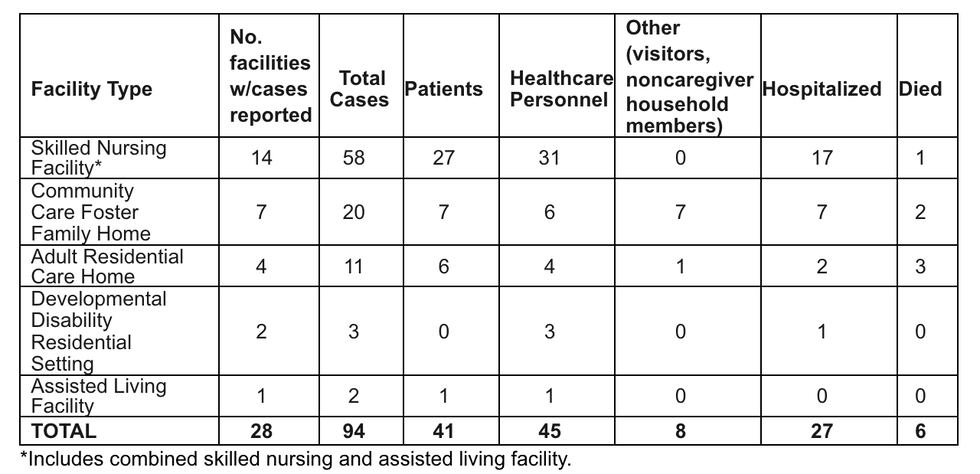 Copyright 2020 Hawaii News Now. All rights reserved.