The new normal: Hawaii National Guard training this year includes social distancing, masks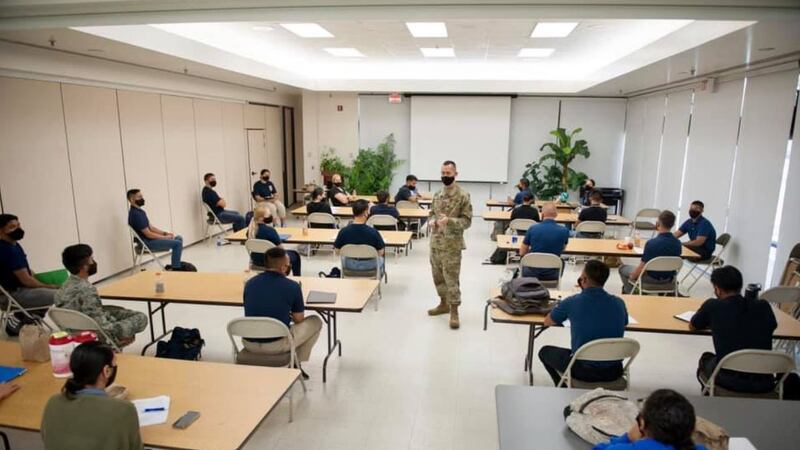 Published: Jun. 15, 2020 at 5:34 PM HST
HONOLULU, Hawaii (HawaiiNewsNow) - The Hawaii Air National Guard just completed its first unit training under COVID-19 guidelines.
It started with temperature checks for all personnel.
"Inside the workspace, they have to wear their masks. We have to maintain our 6 feet of social distancing. We set up limits on the amount of people that can gather in one space inside and outside," Brig. Gen Joseph Harris said.
From June through August, the Hawaii Army National Guard conducts its annual exercises. This year's sessions are being staggered to keep group sizes manageable.
"Social distancing is a key factor in ensuring that you don't create a cluster of COVID-19 in case somebody is symptomatic or maybe asymptomatic," Brig. Gen. Moses Kaoiwi Jr. said.
In the age of novel coronavirus, this is the National Guard's new normal.
Harris said along with mission exercises attention must be paid to thorough disinfecting of facilities.
"Anything people touch commonly, that more than one person touches, really had to be wiped down, even tools and toolboxes," he said.
The Hawaii Air National Guard has about 2,500 personnel. The Hawaii Army National Guard has about 3,000 troops.
"Classroom training has also been adjusted to spread out everybody," Kaoiwi said.
Harris said he's using virtual meetings and other technology to keep his guard members safely spaced.
"Anything greater than 10 we would break that up into multiple rooms and connect people with speaker phones," he said.
The leaders of Hawaii's Guard units said the new pandemic paradigm makes training more challenging. But it's doable.
"Our soldiers are very resilient," Kaoiwi said.
Harris said he's still compiling a training after-action report, but early returns are encouraging.
"Everybody felt like it was a complete mission success," Harris said.
Copyright 2020 Hawaii News Now. All rights reserved.