'Bows reliever picked by Red Sox in fourth round of MLB Draft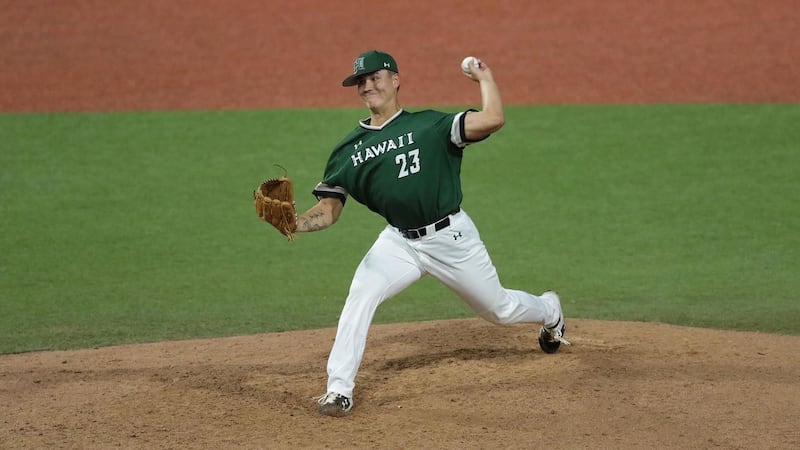 Published: Jun. 12, 2020 at 1:32 PM HST
HONOLULU, Hawaii (HawaiiNewsNow) - University of Hawaii relief pitcher Jeremy Wu-Yelland says it was 'worth the wait' until the fourth round to be picked by the Boston Red Sox in this year's Major League Baseball draft.
"Felt surreal all day. It still doesn't feel real," Wu-Yelland told Hawaii News Now on Friday. "I can't even put into words how much it means not just to me, but to my family."
In a coronavirus-shortened junior season in 2020, Wu-Yelland was reliable from the bullpen for the 'Bows, posting a .69 ERA with 16 strikeouts in 13 innings of work.
The Spokane native made 40 appearances for the Rainbow Warriors, finishing with 88.2 innings pitched and 92 strikeouts. He was ranked as the 12th-best relief pitcher by D1Baseball.com, according to a UH athletics spokesperson.
Wu-Yelland says he plans to forego his remaining eligibility at Hawaii and turn pro ― and the opportunity to do it with the Red Sox is extra special.
"I couldn't be happier. I have the most respect for that organization," Wu-Yelland said. "My step-dad's entire family lives out in Massachusetts, so it couldn't have worked out better for me. I take a lot of pride in just wearing the hat, can't wait to put on the uniform and just get to work."
Copyright 2020 Hawaii News Now. All rights reserved.