Here's what to do before, during and after a hurricane hits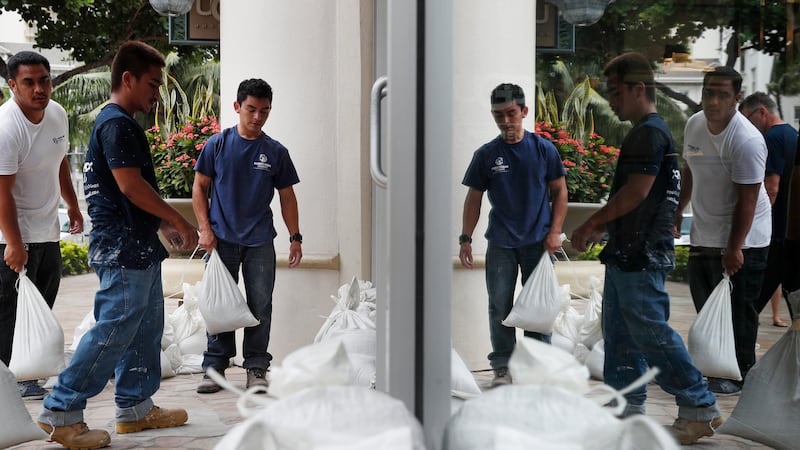 Updated: May. 21, 2020 at 2:23 PM HST
HONOLULU, Hawaii (HawaiiNewsNow) - Even if a hurricane isn't currently threatening Hawaii, knowing what to do when that time comes could help keep you and your family safe.
One of the first steps to being prepared is to make an emergency kit. The Hawaii Emergency Management Agency recommends having the following things in your emergency kit:
Water: One gallon per person, per day.

Food: Nonperishable foods that do not require cooking. Also "survival foods," such as peanut butter, protein shakes, dried fruits and nuts.

Eating utensils: Plates, mess kits, forks and chopsticks. Non-electric can openers are vital, especially if you have canned goods in your food supply.

Radio: Battery-powered or hand-crank radios will be necessary, in case the power goes out.

Light: Flashlight or portable fluorescent lights, including camping lanterns, that can be powered by either batteries or propane tanks.

Batteries: Have plenty of them on hand, in the event of a power outage, and be sure check them annually (and replace them as necessary).

First-aid kit: Get a well-stocked kit. Consider enrolling in a first-aid certification course,too.

Whistle: They're important for signaling help in case of an emergency, because the sound from a whistle carries much farther than the human voice.
Here are some other important steps to take before, during and after a hurricane.
Make a family communications plan so that everyone in your household knows how to receive emergency alerts, where to shelter in the event of an emergency, how to get there, and what they should bring with them.

Cover all of your home's windows, either with storm shutters or 5/8″ marine plywood, cut to fit and ready to install. Remember that tape will not prevent your windows from breaking.

Familiarize yourself with the elevation of your property and whether or not any areas are flood prone. This will help you know if your property will be impacted by potential flooding.

Install straps or additional clips to securely fasten your roof to the frame of your home.

Reinforce your garage doors, if you have them.

Unclog or clear all outdoor drains, rain gutters and downspouts.
Listen to a radio or, if possible, a TV for information. If the power goes out in your home, remember that many news stations will be able to keep streaming via cellular networks, at least for a while.

Secure your home, close storm shutters and either secure your outdoor furniture or bring it inside.

If you've been instructed to turn off utilities, remember to turn your refrigerator to its coldest setting and keep the door closed.

Turn off propane tanks.

Stay indoors and do your best to keep away from windows and glass doors.

Close all interior doors.

Keep curtains and blinds closed.

Stay in a small interior room, closet or hallway on the lowest level of your building or home.

Fill the bathtub and other large containers with water to use for sanitary purposes such as cleaning and flushing toilets.

Experts warn to be extremely cautious, even if there is a lull in the storm. The lull could be the eye of the storm, and winds will pick back up afterward.
Continue to listen to the radio for any updates.

If you have evacuated, do not return until officials say it's safe.

If you cannot return home for a period of time, text SHELTER plus your zip code (Ex: Shelter 1234) to 4FEMA (43362) to find the nearest shelter in your area. A number of disaster-specific key words are listed for your use in communicating with FEMA. Note that texting FEMA is not a substitute for calling 911.
If you have long-term housing needs, you can apply for FEMA assistance here. You also can search for rental housing using the FEMA Housing Portal.

Before re-entering your home, walk around the outside and check for loose power lines, gas leaks or any sign of structural damage. If there is damage, take pictures for insurance purposes.

Never use a generator inside your home, garage shed or any enclosed area because deadly levels of carbon monoxide can build up and remain for hours – even after the generator is shut off.

Keep away from loose power lines and report them to your local power company.
Copyright 2020 Hawaii News Now. All rights reserved.