Navy says RIMPAC is still on, but large maritime exercise will be 'at-sea-only' off Hawaii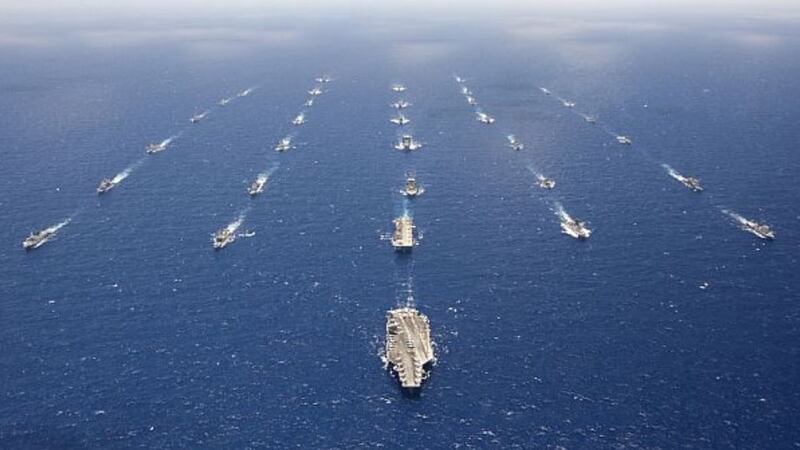 Published: Apr. 29, 2020 at 5:35 PM HST
|
Updated: Apr. 29, 2020 at 5:37 PM HST
HONOLULU, Hawaii (HawaiiNewsNow) - RIMPAC, the world's largest maritime exercises, are still on this year.
But they'll only be held at sea off the islands.
The Navy announced Wednesday that the Rim of the Pacific exercises will be held Aug. 17 to 31.
"The at-sea-only construct for RIMPAC 2020 was developed to ensure the safety of all military forces participating by minimizing shore-based contingents," the Navy said, in a news release.
"Commander, U.S. Pacific Fleet crafted the modified RIMPAC plan as a way to conduct a meaningful exercise with maximum training value and minimum risk to the force, allies and partners, and the people of Hawaii."
RIMPAC is held every two years and typically brings tens of thousands of military personnel to the islands.
But the logistics of doing that amid the COVID-19 pandemic posed serious questions, and many residents have called on the Navy to call it off. Instead, the Navy said they're keeping RIMPAC participants offshore.
That's another big hit to Hawaii's tourism industry.
In more normal times, the exercises will Waikiki hotels and are a boon for retailers, eateries and bars.
Officials said there are no scheduled RIMPAC social events in Hawaii this year, and Joint Base Pearl Harbor-Hickam will have a "minimal footprint of staff" for logistics and support functions.
Gov. David Ige applauded the decision Wednesday. "If conditions change later this summer, we will reassess and respond appropriately," he said, in a statement.
The Navy did not say how many countries will participate in RIMPAC this year.
In 2018, 26 countries were part of the exercises.
This story will be updated.
Copyright 2020 Hawaii News Now. All rights reserved.