State further expands phone bank set up for unemployment claims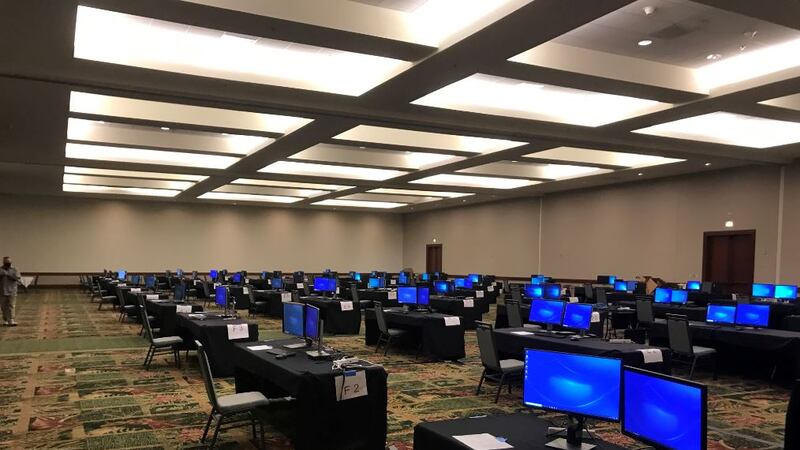 Updated: Apr. 24, 2020 at 5:53 PM HST
HONOLULU, Hawaii (HawaiiNewsNow) - The Hawaii Convention Center phone bank set up to process an avalanche of unemployment claims is expanding to accommodate more volunteers.
"We're adding capacity," said Scott Murakami, director of the Department of Labor and Industrial Relations, noting that workers must socially distance for safety.
"We're taking a larger ballroom that's subdivided by air walls."
Murakami said the volunteers at the Kakaako Entrepreneurs Sandbox location will also move to the convention center. The sandbox will close but will be available should DLIR need to use it down the road.
Hundreds of state workers, union leaders and lawmakers have volunteered to help process the more than 250,000 jobless claims filed since March 1.
Hawaii has the highest unemployment rate in the nation as a result of the shuttered tourism industry.
Meanwhile, the phone bank hours will be from 7:45 a.m. to 4:30 p.m. Monday through Friday, and from 9 a.m. to 3 p.m. on Saturday.
Workers will be processing filings made online from 7 a.m. to noon and from 1 p.m. to 6 p.m.
Laid off workers have encountered problems at almost every step of the filing process, especially those trying to call for assistance with their claim.
The growing number of volunteers taking the calls should ease the burden, but antiquated equipment and low grade technology have also contributed to the problems — and those are tougher to fix.
Here are some resources for those trying to file:
First-time filers for unemployment benefits, click here.
To review an FAQ after filing a claim, click here.
A step-by-step guide for filing, certifying and obtaining unemployment benefits is available here.
To check the status of your claim, click here.
Those who have received a disqualification notification, click here. This portal is only for those who were notified by email, letter, or other message that says you are disqualified. Submit your full name, last four digits of your Social Security number, telephone number with the area code, and a screenshot of the disqualification.

To reset your password, call (833) 901-2272.

Call (833) 901-2275 to make an appointment by phone or if you're having trouble with filing for unemployment.
Copyright 2020 Hawaii News Now. All rights reserved.