Public transit, taxis ramp up cleaning amid growing coronavirus fears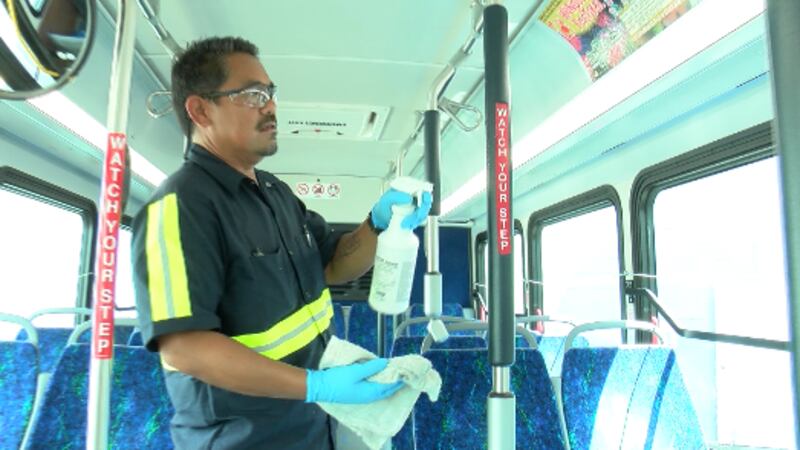 Updated: Mar. 6, 2020 at 6:01 PM HST
HONOLULU, Hawaii (HawaiiNewsNow) - Many in Hawaii are taking precautions in the wake of Hawaii's first confirmed case of coronavirus.
Howard Higa, TheCab president, said some of his drivers did service the ship now linked to a growing cluster of cases in the US.
"Of course, everyone is concerned about that," he said. "But so far, they really haven't had any type of signs that they've contacted any type of disease or any type of cold or anything like that."
TheCab employs about 500 drivers.
Higa said every driver has antibacterial wipes and is wiping down their vehicles constantly. Some are even wearing masks.
"There are some drivers who are concerned about this," Higa said.
"They have decided not to come to work and they've decided they're going to take some time off and wait until this whole virus situation cools down."
Meanwhile, officials at Oahu Transit Services said they are watching the coronavirus crisis very closely and because of it, they have enhanced their cleaning procedures as well.
"Especially vulnerable passengers might consider limiting their daily trips and to avoid large groups," said Roger Morton, president and general manager of TheBus.
TheBus carries approximately 180,000 passengers a day.
They have implemented enhanced cleaning procedures as an extra level of precaution by wiping down all touch points with disinfectant daily.
"Our members actually have called and voiced concerns but we were reassured by Roger Morton and OTS that they're doing everything possible to keep the buses clean and keep our operators and the passengers safe," said Wayne Kaululaau, Teamsters union president.
Honolulu city officials are also stepping up cleaning practices in all public facilities.
"There have been some measures the city has taken. One of which is to form a pandemic advisory group that meets every week to address these types of concerns and look at areas that the city can help attempt to mitigate," said Ross Sasamura, director of the Department of Facility Maintenance.
Copyright 2020 Hawaii News Now. All rights reserved.