New law signed, aimed at regulating 'micro-mobility' companies on Oahu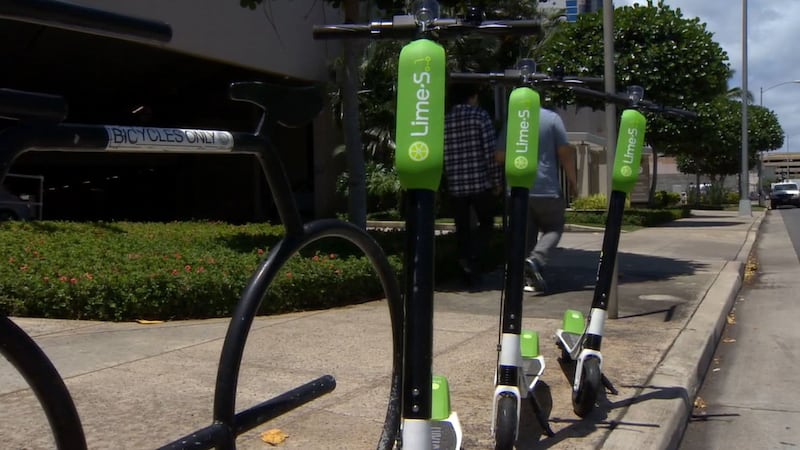 Updated: Dec. 10, 2019 at 9:42 PM HST
HONOLULU, Hawaii (HawaiiNewsNow) - Honolulu Mayor Kirk Caldwell signed a bill into law that charges 'micro-mobility' companies a fee to do business on Oahu.
Electric scooter and bike companies like 'Lime' fall under the new rules.
"There's gonna be a $500 annual application renewal fee for every company that comes to town. But for every vehicle - for every bike, whether it be e-bike or pedal bike - it's $30 per vehicle annually," Caldwell said.
One of the issues over such companies is their use of public parking stalls. The new law addresses that.
"If you use a stall, a parking stall, you're gonna have to pay somewhere between $1,035 and $4,300 each year per stall, depending on where the stall is located," Caldwell added.
It applies to businesses who rent vehicles that weigh under 100 pounds.
Nearly 100 of Lime's scooters were seized last year because city officials said it lacked the proper permits.
Lawmakers say this new law is a step in the right direction.
"We're saying, 'Hey, we wanna work with micro-mobility vehicles, their companies, to be able to implement these legally, safely, in our city.' We've had a very successful bikeshare program already," council member Joey Manahan said.
The council passed the measure unanimously.
Bikeshare Hawaii which manages Biki bikes is exempt from the law until they can reach a new contract in 2-and-a-half years.
The bill takes effect by the end of the month.
Copyright 2019 Hawaii News Now. All rights reserved.