'Innocence Lost': Man wrongly convicted of sex crimes faces another legal battle
Updated: Nov. 27, 2019 at 10:04 AM HST
HONOLULU, Hawaii (HawaiiNewsNow) - Roynes Dural served eight years in prison and eight years on parole for child sex assault before his conviction was overturned.
It was not a technicality that won his freedom.
Key witnesses recanted their testimony, new evidence was unearthed and others who should have been questioned were never investigated.
Despite all that, Dural ― who is still rebuilding his life ― is preparing for trial again. It's the newest wrinkle in a miscarriage of justice that cost the Hawaii man his military career and so much more.
In 2002, Dural was 27 years old and a respected Navy sailor.
Assigned to the USS Port Royal, he was in the Persian Gulf, deployed after the September 11 attacks. That's when the first accusations against him surfaced.
He had already spent a decade in the military and was hoping to make it a career.
He had stellar evaluations. One superior described him as a "superb leader and supervisor." Another called him an "invaluable member" who was "constantly producing outstanding results."
[Read more: Hawaii man is free after spending 8 years behind bars for rape he didn't commit]
But when his ship pulled into Pearl Harbor, he was told something was wrong before he even disembarked. "They said, 'You can't go' and I didn't understand why," Dural said.
Honolulu police officers arrested him when he got to the parking lot. That's when he learned the accuser was a teenager ― the daughter of a woman he'd dated years earlier.
The mother of the teen told Hawaii News Now the case started when her daughter came to her because she thought she was pregnant.
"When I asked who was it, she wouldn't say anything and the first person I actually named was Nate," said the mother, who asked that her name not be used.
Nate was the girl's stepfather.
When the girl denied it was Nate, the mother started naming other boys in the neighborhood or from school. Roynes Dural was the fifth or sixth person she named.
"When I got to Roynes, she got quiet," she said.
The mother says she took the girl's silence as confirmation and reported it to police.
The first detective to get the case didn't pursue the accusations. But a year later, Detective Sheryl Sunia took the case. A short time later, Dural was charged with multiple counts of child sex assault.
Public defender Walter Rodby represented Dural. He said things started going wrong from the beginning.
"We were assigned to a judge that had a strong bend for the prosecution," Rodby told Hawaii News Now. "If there was any issue that was close, the judge would side with the prosecutor."
Rodby added that he wanted to tell the jury about the mother's list of boys and men she thought of ahead of Dural.
"We wanted to talk about that. That mom honestly thought if there was any type of sexual activity going on there was a long list of people prior that she felt was more suspect," he said.
Rodby remembered trying to bring it up twice and being scolded in court, "The judge shut us down at every turn," he said.
In 2003, a jury convicted Dural. He was sentenced to 20 years in prison.
"I remember the day we went in for sentencing. He took it like a man. He really did," Rodby said, choking back tears. "He was taken away in chains and he never complained to me."
Dural served time in Halawa Correctional Facility, and prisons in Arizona and Mississippi.
In 2005, both Rodby and Dural wrote to the Hawaii Innocence Project seeking assistance. The office began investigating his case and in 2009, he was asked to take a lie detector test from behind bars.
Ken Lawson, co-director of the Innocence Project, said a project was meant to reassure them that it was worth moving forward.
"When there's no DNA to show that your client is scientifically excluded how do you determine, is this person really innocent?" Lawson said.
Famed polygraph examiner Jack Trimarco was hired to administer the test. Trimarco, a former FBI agent, was considered one of the best in the country.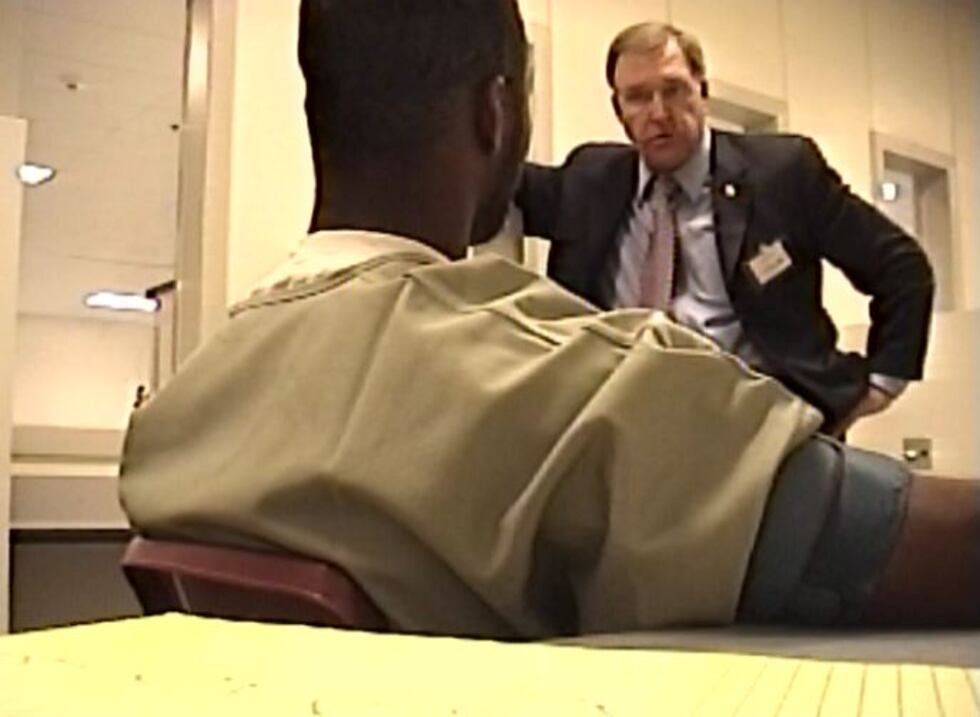 Trimarco videotaped his exams and Dural's video was provided to Hawaii News Now.
In the video, Dural is seen in prison khaki scrubs. Trimarco went to Saguaro Correctional Facility to administer the exam in the visitors room.
Ahead of the test, Trimarco is seen on camera telling Dural, "I don't want you to just take this test on the chance that you're going to pass, on the chance that you're going to fail. You have to be 100% sure that you can pass this test. Are you?"
Dural answers, "Yes, sir."
Then Dural is hooked up to the machine and the test begins.
The question the Innocence Project was concerned about: Did Dural ever touch the teen who reported the assault sexually or for sexual purposes? Dural replied that he hadn't.
A score of plus four or higher on a polygraph indicates the person is telling the truth.
Dural's score: plus 10.
That got him a firm backing from the Hawaii Innocence Project and access to valuable resources, including high-powered defense attorneys and a team of University of Hawaii law students to help.
The Innocence Project also asked the girl to take a polygraph. Trimarco was hired again and videotaped her exam as well.
"Why are you taking this polygraph test?" he asked her.
The girl's answer, "Because I want to prove to everybody who's against me on this."
She names her mother as a person against her. By that time in 2009, the mother had recanted her testimony and reported to police that Dural did not assault her daughter.
On video, the girl and Trimarco discuss various issues before the lie detector is administered apparently to avoid her being surprised by the test questions.
It's clear in the conversation that Trimarco notices inconsistencies in the girl's story.
Previous testimony claimed Dural was assaulting the girl when she was 12 years old, but she describes inappropriate behavior that began earlier, when she was just 10 years old.
"Well, he wanted me to touch him when I was in the shower and I told him, 'no' and then he said he wanted to show me something," the girl said.
"I just really hated him. and I couldn't stand to look at him because I was so disgusted. Disgusted with myself too that I would let it happen."
Trimarco, seemingly confused, asks her a key question, "And we're talking about who now?"
The girl answers, "We're talking about Nate."
Nate Slutter ― the stepfather, and the man her mother named years earlier when the girl thought she was pregnant.
The revelation prompts Trimarco to bring her back to Roynes Dural and her accusations against him.
"If you weren't telling the truth about him having sex with you, would you feel that you're in jeopardy in a civil situation or criminal situation for making a false statement?" Trimarco asks.
The girl answers, "Yeah."
The actual lie detector test doesn't take long, Trimarco asks just a handful of questions:
Trimarco: "Regarding if you ever had sexual intercourse with Roynes Dural II, do you intend to be completely truthful with me about that?
The girl: "Yes."
Trimarco: "Not in connection with this case have you ever lied to get out of trouble?"
The girl: "No."
Trimarco: "Did you ever have sexual intercourse with Dural?"
The girl: "Yes."
Trimarco: "Not in connection with this case, have you ever lied to someone who trusted you?"
The girl: "No."
Trimarco: "Did you have sexual intercourse with Dural before your 15th birthday?"
The girl: "Yes."
Trimarco: "Not in connection with this case have you ever lied about something really important?"
The girl: "No."
A score of negative 4 on a polygraph indicates the person is being deceptive. The girl's score: Negative 8. According to the examiners and the Hawaii Innocence Project, she was either confused or lying.
The effort to free Dural gained even more momentum days later. On May 22, 2009, a man who worked at the girl's school, Chad Kalawaia, went to HPD headquarters to make a powerful statement.
He met with Detective Sheryl Sunia, who helped prosecute Dural six years earlier.
Sunia recorded the interview, in which Kalawaia tells her he's a baker at Waimanalo Elementary & Intermediate School and then drops a bombshell: He had started dating the girl who'd accused Dural when she was 14 years old. "The first time I kissed her was on Dec. 31, 2000," he tells Sunia.
On the recording he admits that the relationship turned sexual months later in 2001, when the girl was still 14 years old. Kalawaia was 26 years old at that time.
Kalawaia: "I did have sex with her ..."
Sunia: "Uh-huh."
Kalawaia: "And I'm not proud of it, I did have sex with her."
Kalawaia says he was disciplined as a Jehovah's Witness, and "I did make things right with myself, with my family and with my God."
Lawson, of the Hawaii Innocence Project, said that based on the recording it appears that Kalawaia didn't believe the girl was underage at the time.
"I don't believe he knew the law had changed in July of 2001. Because what he's trying to say is, I waited until after she was 14 to engage in sex," Lawson said. "Now he's saying this at the time that the law had already changed to 16 so unbeknownst to him, it's a crime."
And court documents support Lawson's statement.
Sunia had all this information, but did not pursue the case. Hawaii News Now asked Sunia, now retired from HPD, why the child sex assault investigation did not switch from Dural to Kalawaia.
She declined HNN's requests for comment.
HNN also asked Sunia about a voice message she left on the mother's phone on June 5, 2009.
In its, she can be heard saying, "This is Detective Sunia from the HPD. I need to let you know that I have initiated a perjury case for your ... in regards to your declaration and the statements you made in court."
The girl's mother kept the voicemail because she was so angry.
"I was being questioned when I was coming forward to say this isn't the truth. The detective ― Sunia ― said she was going to have perjury charges drawn up and have me arrested," the woman said.
Despite all the new evidence, the city Prosecutor's Office didn't move to throw out Dural's conviction. Instead, they offered him a plea deal. He could admit to a misdemeanor crime and go home with credit for time served. Dural refused. He said he wouldn't admit to a crime he didn't commit.
And then he made the longest walk back to his prison cell.
"That was the day I lost faith in the justice system," Dural said.
"It was a long walk. It was a sad walk. It was a walk that ... you lost faith in the system. My father was a policeman, my brother was a prison guard, I was military."
It would be another year before Dural was granted parole.
Dural's fight to clear his name got another boost in March 2013.
In a handwritten, notarized letter, Nate Slutter ― the girl's stepfather ― said that his testimony during Dural's trial a decade prior was "misleading and inaccurate."
The letter goes on to say that he and the girl's mom knew about her relationship with Chad Kalawaia ahead of Dural's trial, and that they had caught the two of them on the living room.
Both admitted they were having a sexual relationship, Slutter wrote.
It goes on to say that they told the law enforcement about it, but were told the "information wasn't necessary" and wouldn't help the case and that it was best to "leave that information out."
Slutter's letter continues: "I feel that a misuse of my testimony (led) to the wrongful incarceration of Mr. Dural" and he said he hopes to afford Dural a chance to clear his name.
The letter, which became exhibit "C" in the court case to vacate Dural's conviction, didn't just admit to misleading testimony.
The statements, signed by Slutter, also appear to support the girl's accusations from her polygraph. "I too had an inappropriate relationship with (the girl) that was also sexual in nature," Slutter wrote.
It goes on to say one reason he didn't bring it up. "I was afraid I could be prosecuted for such conduct and wanted to stay clear of incriminating myself," he wrote.
There is no statute of limitations on child sex assault. But it appears no law enforcement agency ever made a case against either man.
Nate Slutter, through his attorney, declined to comment. HNN did reach Chad Kalawaia and asked for comment ahead of our report. He did not reply to that request.
Kalawaia still works at a school.
According to the Department of Education, he remained at Waimanalo Elementary Intermediate until November 2015.
He then went to the Big Island and currently works at Keaau Middle School in the cafeteria.
The girl's mother sent letters to DOE officials, but says she never got a response.
In a statement, a spokesperson for the Education Department said the agency "thoroughly investigated the allegations" against Kalawaia.
"Due to employee privacy policies (DOE officials) are limited in the information" they can share, the spokesperson said, adding that "based on witness testimony and insufficient evidence, the department was unable to substantiate the claims."
In February 2018, the Intermediate Court of Appeals ruled that Dural should be given a new trial based on newly-discovered evidence. The state appealed that ruling to the state Supreme Court.
On Sept. 5, the higher court affirmed the ruling. That overturned the conviction.
But despite the evidence, the city Prosecutor's Office is set to put Dural back on trial on Monday.
Dural said he's prepared. The witnesses who were against him in the first trial will likely be witnesses for him in the second trial.
He also has a strong support system now. The Hawaii Innocence Project has a team of attorneys ready to defend him and he has rebuilt his life since his release.
He's remarried, too, and is close to his now-grown kids.
State law allows those wrongfully imprisoned to receive $50,000 for every year they spent behind bars. But there is a catch, the person has to be declared "innocent" in court.
The presumption of innocence, which Dural has now, is not enough.
It's a flaw in the law that the state Legislature passed in 2015 and it means it's not clear if Dural will ever get any money for all he lost.
Copyright 2019 Hawaii News Now. All rights reserved.