Gabbard takes stage in 5th Democratic presidential debate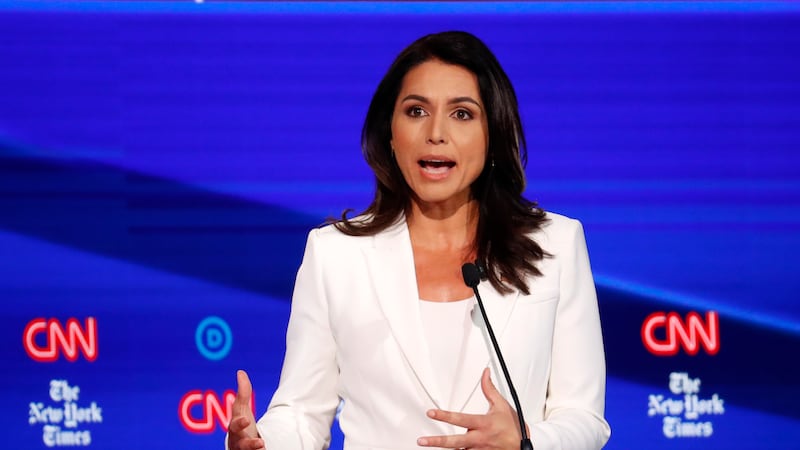 Updated: Nov. 20, 2019 at 5:45 PM HST
HONOLULU, Hawaii (HawaiiNewsNow) - Congresswoman Tulsi Gabbard joined nine other Democratic candidates for the White House on Wednesday for the fifth presidential debate in Atlanta.
Read a recap of the full debate here.
Going into the debate, former Vice President Joe Biden is still leading in most polls.
Sens. Elizabeth Warren and Bernie Sanders, along with South Bend Mayor Pete Buttigieg, have been steadily rising in popularity.
Gabbard, however, is still polling the single digits.
The debate started at 4 p.m. Hawaii time, and Gabbard got her first question ― on her criticism of Democratic Party establishment leaders ― 25 minutes in.
In response, Gabbard said she's running for the White House to end "this new Cold War and arms race."
"Our Democratic Party is not the party of, by and for the people," she said.
U.S. Sen. Kamala Harris criticized Gabbard, saying that she frequently went on Fox News to criticize Obama while he was president and then sought out a meeting with President Trump after his election.
"I believe that what our nation needs right now is a nominee who can speak to all people," Harris said.
The debate, hosted by MSNBC and The Washington Post, is Gabbard's first appearance on the national stage since her spat with former Secretary of State Hillary Clinton.
Clinton suggested in an interview that the Russians were "grooming" the Hawaii congresswoman to run as a third-party candidate, which Gabbard has repeatedly denied.
Copyright 2019 Hawaii News Now. All rights reserved.