Kealohas agree to plead guilty to remaining federal charges
Updated: Oct. 18, 2019 at 5:58 PM HST
HONOLULU, Hawaii (HawaiiNewsNow) - After weeks of negotiations with federal prosecutors, former law enforcement power couple Louis and Katherine Kealoha have agreed to plead guilty to the remaining federal charges against them, forgoing trials scheduled for 2020.
Under the plea deal, which still must be approved by a judge, Honolulu's former police chief and his wife, an ex-deputy city prosecutor, will admit to financial crimes.
The trial on those charges was set to begin in January.
Additionally, Katherine Kealoha has agreed to plead guilty to charges related to drug crimes. That third federal trial was set to begin in May.
The plea deal comes as the two had been awaiting sentencing later this month on federal convictions of obstruction and conspiracy as part of the so-called "Mailbox Trial."
The Kealohas were convicted in that massive public corruption case in June.
Sentencing had been scheduled for Oct. 31, but the plea deal means that will be pushed back so they can be sentenced for all the charges at once.
In the financial crimes trial, prosecutors were prepared to show how the Kealohas stole money from relatives and friends to fraudulently secure homes in Kahala and Hawaii Kai.
Some of the money came from two siblings who referred to Katherine Kealoha as "Aunty Kathy."
The sister and brother were children when their father died and they collected about $170,000 from a malpractice lawsuit. Katherine Kealoha was the trustee of the account.
"From their dead father, this was his financial legacy. This is what he gave them," said attorney Michael Green, who represents the siblings. "The person responsible for guarding it, stole it."
Green said his clients are relieved that there is a plea deal so they don't have to testify.
"They can certainly accept that. They're terrified, you know, to go to court."
The brother, Ransen Taito, has admitted that he lied to the grand jury about the money Katherine Kealoha stole.
Stolen money was also used to fund a long-term affair that Katherine Kealoha had with former Hawaii County firefighter Jesse Ebersole.
Last year, he admitted in court that he lied to the federal grand jury about his dealings with Katherine Kealoha, trying to conceal his relationship with her. Part of his plea deal required that he testify against her. Sentencing for Ebersole can proceed now that the trial won't happen.
The Kealohas were convicted in the "Mailbox Trial" along with two police officers.
The group tried to frame a Kealoha relative with the theft of their mailbox in a bid to prevent him from exposing that Katherine Kealoha had been stealing hundreds of thousands of dollars from her grandmother, Florence Puana.
The jury took less than nine hours to convict the group and legal experts thought that was the hardest case for the government to prove because it contained circumstantial evidence.
The legal community agrees that a financial case is much easier to get a conviction because the evidence is mostly documents and bank records, with details that cannot often be disputed.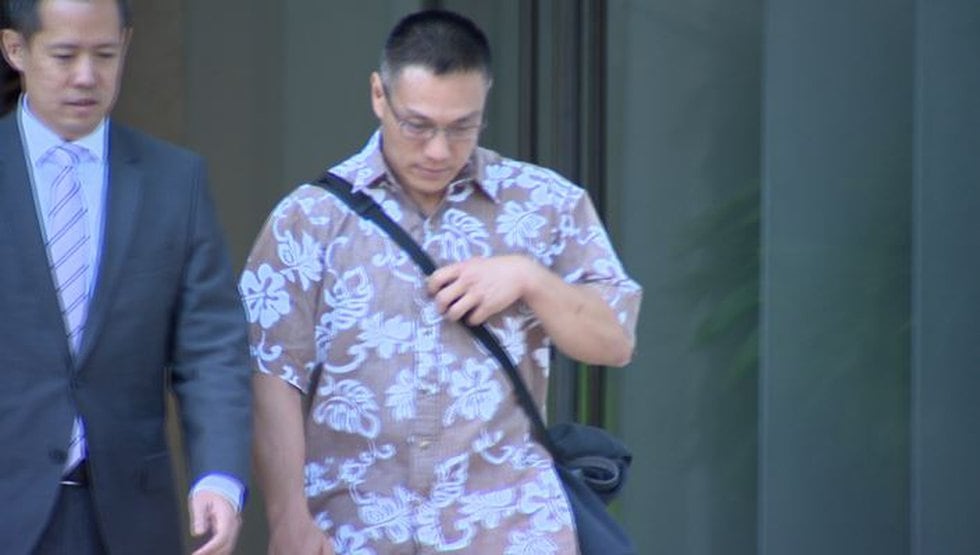 The two police officers also convicted in the "Mailbox Trial," Bobby Nguyen and Derek Hahn, will be sentenced on Nov. 4.
Under the Kealohas' plea deal, Louis Kealoha only has to plead guilty to bank fraud.
Katherine Kealoha's deal requires her to admit to additional charges, including identity theft.
It's possible Katherine Kealoha will also have to admit in court that "Alison Lee Wong" is her alias. The name appeared on loan documents and notarized records. But prosecutors have repeatedly said there was no such person.
Katherine Kealoha will also plead to crimes related to the drug case. Her co-defendant in that third trial is her brother, Dr. Rudy Puana.
Prosecutors say Puana used his position to prescribe opioids, which Katherine Kealoha and others sold or traded for cocaine.
Kealoha's deal means her brother will either have to also work out an agreement with the government or fight the charges himself.
Kealoha, who was ordered detained the day after her conviction, is already expected to serve between 11 and 14 years in prison for the "Mailbox Trial" conviction.
The bank fraud, identity theft and drug-related crimes will likely add several more years, but cooperation does give her credit and can help at sentencing.
Louis Kealoha's expected sentence is nine to 11 years for the mailbox case. The bank fraud could tack on a couple more. He remains free until he is sentenced.
Copyright 2019 Hawaii News Now. All rights reserved.