Meet Candi Shell: A drag queen on a mission to sweeten the world with laughter
Updated: Oct. 3, 2019 at 1:06 PM HST
HONOLULU, Hawaii (HawaiiNewsNow) - Dan Paul Roberts has a big goal for his singing comedy drag queen show in Honolulu. He wants to spread love and positivity across the globe.
If you're not sure whether that's possible, you've never met his drag queen persona, Candi Shell.
Vivacious. Funny. Outgoing. Accepting. Candi isn't just an alter ego, she's a character on a mission: Someone who can bring people closer by making them laugh.
On a recent Sunday, Roberts wakes up early to get ready for a show. After a little quality time with his dog in the Hawaii Kai home he shares with his husband, the transformation begins.
"For me, from shaving to being able to walk out the door, it's about a five-hour process," Roberts said.
Roberts performs monthly at the daytime drag show at Hula's Bar and Lei Stand in Waikiki called Mimosas and Marys.
Candi also has a TV show on Olelo 53 ― and has even opened for the late comedian Joan Rivers.
"I prefer a daytime drag show. I love it, honestly," Roberts said, as he applied shaving cream to his face and put piercing blue contacts on.
Roberts is quick to point out this morning regiment is not as glamorous as one might think.
It begins with gluing down his eyebrows.
"It's sort of gross. You are putting glue stick on your face, but even some of the biggest names in drag use glue sticks," Roberts said.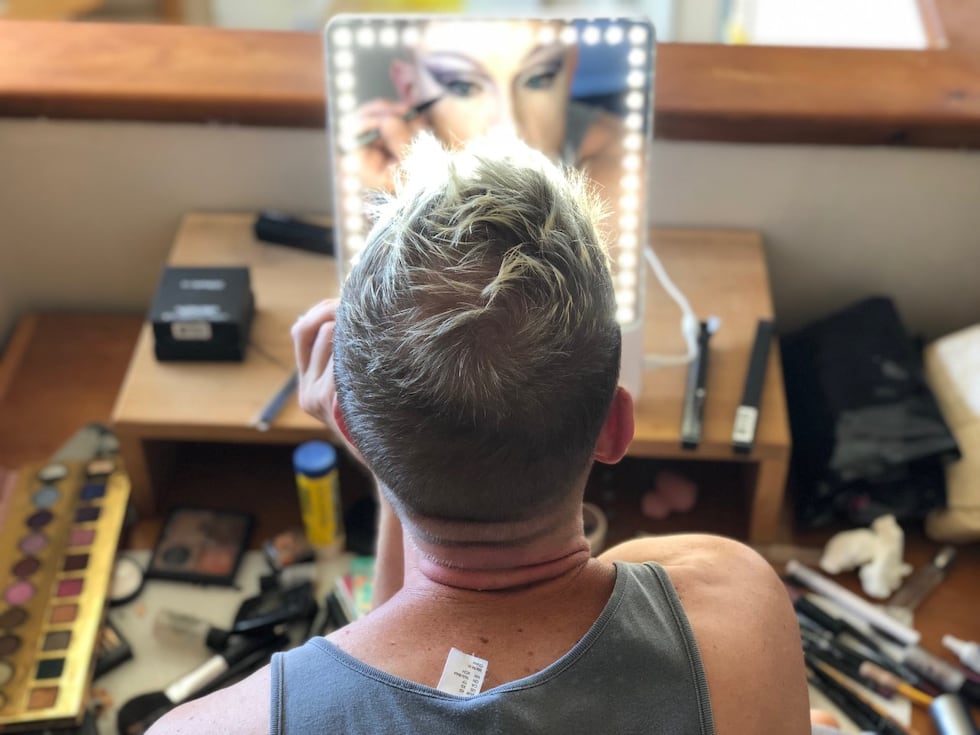 Roberts added that one of the easiest ways males can change the look of their face to a more feminine one is by changing their brows.
"Eyebrows are the punctuation marks of your face," he said.
Roberts made it to Hawaii via New York City and Dallas. He's a graphic designer and illustrator ― skills he says have helped him in his decades-long drag career.
"I think that my going to painting school contributed to my cleavage painting," Roberts said.
"Being an artist, an artist who loves to draw women, I looked at photos and said what does cleavage actually look like? Because it doesn't necessarily look like two lines, like how people draw it in a cartoon."
The brows and chest were just the first steps in Roberts' hours-long journey of blending, painting, and contouring to become Candi Shell.
She's a character he describes as the "opposite of catty."
And Roberts feels Candi has opened new doors for him local entertainment.
"I feel like this is really like the first time I've been immersed in the drag scene and connected to and a part of the drag culture here on the island," he said.
Drag has not always come so easy for Roberts.
In his youth, he says he felt conflicted about drag, especially when it came to dating. "At least at that time, maybe things are a bit different now, It was like a big turn off for a lot of guys," he said.
He said there would be big blocks of time usually when he was single that he didn't do drag at all.
"Now I don't give a damn," he said. "I just do It, because I'm married."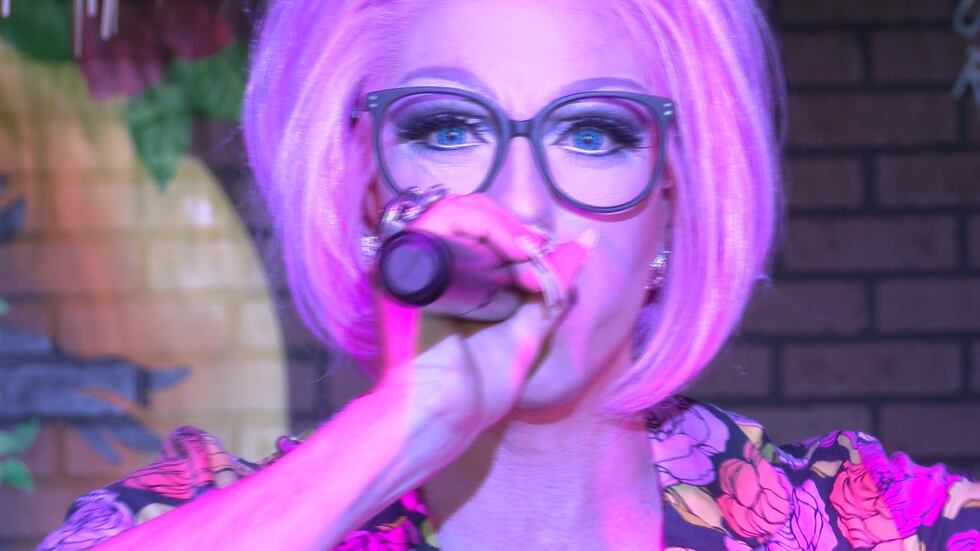 All this month, Hawaii News Now is publishing a series of profiles and stories to mark Honolulu Pride Month. For more information about upcoming events, visit our Guide To Honolulu Pride.
Copyright 2019 Hawaii News Now. All rights reserved.