HNN investigation finds bacteria, inaccurate potency in popular CBD products
Updated: Sep. 12, 2019 at 10:07 AM HST
HONOLULU, Hawaii (HawaiiNewsNow) - Believers tout CBD as a miracle potion, claiming it can cure a vast array of ailments.
But doctors and public health officials say much is still unknown about the increasingly popular substance, found now in everything from drops and vaping oils to candy bars and coffee, including what interactions it may have with prescription medications.
And while many products claim to be lab-tested, no one's actually checking to make sure consumers are getting what's advertised on the label ― or if the product is safe.
In fact, HNN-commissioned tests of seven CBD products purchased in Hawaii stores found that the potency of cannabidiol in products wasn't the same as what was on the label in every single case.
Tests also showed potentially dangerous additions in some products, including traces of fungus and bacteria. One product even had an illegal amount of THC, the component that gives marijuana its high.
Although it's illegal to sell CBD to anyone without a medical marijuana card in Hawaii ― and despite warnings from the state to stop ― more and more retailers are offering products with the substance.
HNN started investigating CBD being sold locally after several doctors reported their patients were getting sick. Several called poison control for help.
Now doctors are also finding CBD can have dangerous interactions with some prescription drugs.
Currently, there is only one FDA-approved form of cannabidiol, or CBD. Epidiolex is used to treat pediatric seizures.
"Elderly patients that are taking Coumadin as a blood thinner, if they were to take CBD, they could have internal bleeding," said Dr. Clifton Otto, one of the only physicians in Hawaii certified in cannabis medicine. He says the misinformation being spread in the marketplace is frightening.
"It can be potentially life-threatening," he said. "I believe CBD does have potential as a medicine but we need to treat it and regulate it as medicine."
Scott Goold is a long-time medical cannabis card holder who started getting interested in CBD products because he was looking for an alternative to marijuana.
"Due to serious and painful injuries, I am looking for medical options that won't create issues with my employers or long-term health," said Goold.
To find the facts behind the promises, HNN tagged along while Goold and another cannabis card holder as they purchased a variety of products from stores across Honolulu.
Then HNN had the products tested ― twice ― at two state-certified labs.
Of the seven products tested, not one had the same potency of cannabidiol advertised.
About half were pretty close while the others tested either significantly lower or significantly higher.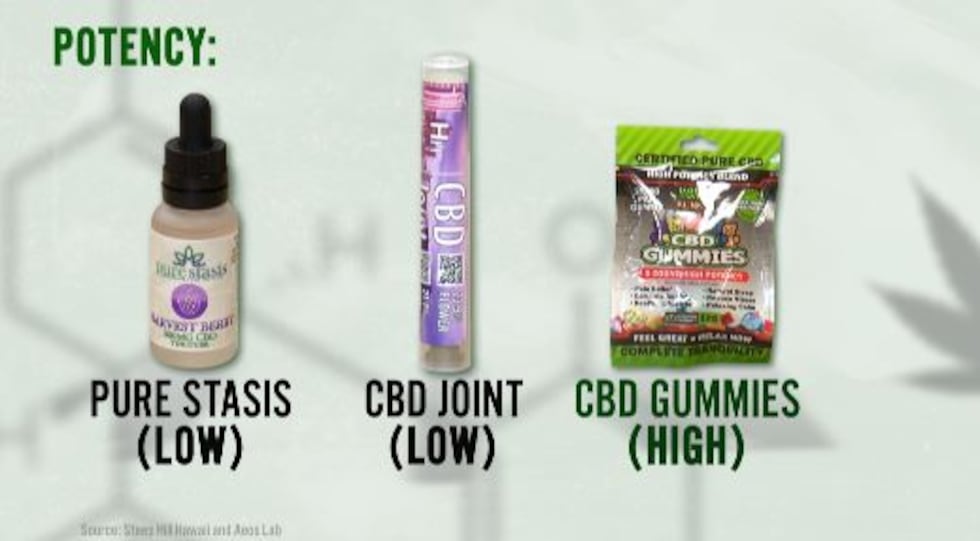 Hawaii Health Director Bruce Anderson said the unknowns with CBD are worrisome.
While the long-term effects of CBD haven't been well studied, there's evidence too much of the substance can trigger seizures and cause potentially fatal interactions with some prescriptions.
"There have been dozens of people who have died from overdosing with synthetic CBD," Anderson said. "Probably was made in somebody's backyard or garage."
Inaccurate potency is just part of the problem. Doctors say contaminated CBD is especially dangerous.
And HNN's testing revealed two different Honolulu Haze CBD Joints contained two types of fungus that could be deadly to someone with a weakened immune system.
On top of that, one of the joints also came back positive for three types of bacteria often found in feces. The other had an illegal amount of THC.
"This is a big concern for people who are working in a zero tolerance, drug-free workplace," Otto said.
Under the law, CBD products are allowed to have up to .3% THC.
But experts say just because that's legal doesn't guarantee you'll pass a drug test, underscoring another concern about how CBD products are marketed.
"Everyone metabolizes THC a little differently," said Otto. "We need to be able to do research to find out what are the levels of THC that actually show up in a patient's blood. Maybe .3% is too high. We don't know."
As more of these mystery potions pour into the state, it's also unclear that government will be able to get ahead of the fad.
"We simply don't have the staff that can go out and pull product from shelves at all the stores here in Hawaii," said Anderson. "And furthermore, we do need to have some clear policies on what is allowed and not allowed."
For now, the state's focus is keeping CBD out of restaurants and going after products aimed at kids.
Goold says that's not addressing the real problem. "That's a failure of government," he said.
And after participating in this investigation, the 61-year-old says he's not taking any chances with his health. "We need greater awareness and we need more information about what's really going on," said Goold. "Because we don't know what we're doing."
HNN reached out to all of the companies whose products had potency or other issued.
CBD Hemp Direct produced the bud inside the joint that tested positive for contamination with bacteria and potentially-dangerous fungus.
In a statement, the company said it had the product tested, too, and their lab results came back fine.
[To see all of the company responses to this report, click here.]
A spokesperson added samples that failed secondary testing "could indicate improper handling ... or added humidity" since the product was mailed from Nevada to Hawaii.
Meanwhile, Hemp Bomb ― which produced the CBD gummies HNN tested ― also said its products undergo third-party testing. The company added it's "always possible that one individual gummy within a batch" can be off for potency.
HNN had multiple Hemp Bomb gummies tested. Lab results showed all of them came back with CBD amounts that were 20% higher than what the label claimed.
Pure Stasis, which made the CBD tincture HNN tested, also claimed it conducts its own product testing and noted that CBD "can degrade over time."
The Department of Health asks that anyone who experiences any adverse effects from CBD call the Hawaii Poison Hotline at 1 (800) 222-1222. It is staffed around the clock with health care professionals.
Copyright 2019 Hawaii News Now. All rights reserved.