A summer of record heat has some wondering: Is this the new normal?
Updated: Sep. 3, 2019 at 4:49 PM HST
HONOLULU, Hawaii (HawaiiNewsNow) - The heat records started stacking up in April.
A high of 87 in Lihue on April 6 ― 3 degrees higher than the previous record set in 1982. Four days of record 90-degree heat in Kahului. And in Honolulu on April 9, the mercury hit 88.
As the days wore on and spring became summer, the temperatures stayed high and the records kept breaking. They haven't stopped yet.
According to National Weather Service figures, high temperatures in four locations ― Lihue, Kahului, Honolulu and Hilo ― have broken 68 historical records from May through Aug. 31.
Another 74 records have been tied.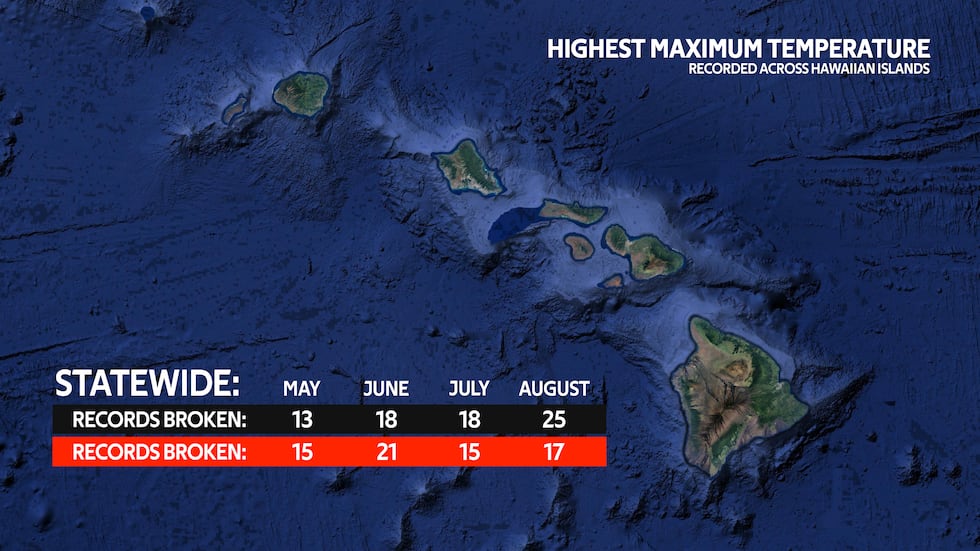 Chevy Chevalier, National Weather Service meteorologist, said every summer brings a few record highs. But this year, Hawaii has seen more than what's normal.
He added that a temperature reading at one location was so high, crews went out to make sure it was working properly. It was.
"What makes it feel worse is the humidity and the lack of tradewinds," he added.
And the heat hasn't just been record-breaking, it's been relentless. Over the 108 days between May 16 and Aug. 31, Hawaii saw 87 heat records tied or broken.
What's behind the heat?
The short answer is less complicated: Hawaii is seeing water temperatures about 2 degrees above normal, and the summer has seen a number of bouts without trades.
Add a lack of rainfall and the higher humidity and you have the recipe for a really hot summer.
Many are undoubtedly wondering, though, if the warm temperatures are a sign of what's to come ― and an effect of global warming.
That's a harder question to answer, and Chevalier said scientists would need more data ― a decades-long trend line ― to make any conclusions about whether the record heat is a fluke or the new normal.
What he did say is certain: "We're seeing warming and warming conditions."
The island hardest hit by the summer heat has been Maui.
From May through Aug. 31, Kahului broke a stunning 33 heat records and tied 22. That's in part due to Kahului's geography.
In July alone, the temperature in Kahului broke or tied previous highs 18 times. And from May to August, Maui had 11 days with temperatures at or above 95 degrees.
Since April, the heat in Honolulu has broken 16 records and tied 19.
Among the hottest days: Aug. 11, when the mercury hit 94, and Aug. 29, when it did it again.
Most of the records broken were set in the 1990s and the oughts. But a few were set decades ago.
Like the record high of 92 on Aug. 3 ― tied for the record set in 1968.
And that high of 94 degrees set on Aug. 11? It broke a record set three decades ago.
Hilo has seen the fewest heat records this summer, but high humidity means Hilo hasn't seen much in the way of relief.
The National Weather Service says Hilo has tied 13 heat records since May and set eight new ones.
On June 25, the temperature in Hilo topped 88 degrees, breaking the previous high of 87 set in 1969.
And on Aug. 18, the mercury rose to 88, a degree above the previous record for that day set in 1974.
Kauai
Kauai has seen more than its fair share of heat records this summer.
From May to August, Lihue broke 12 records and tied 21 as the temperatures in the town have regularly dipped into the 90s.
In fact, Lihue saw two consecutive days of 90-degree weather in August ― the 29th and 30th.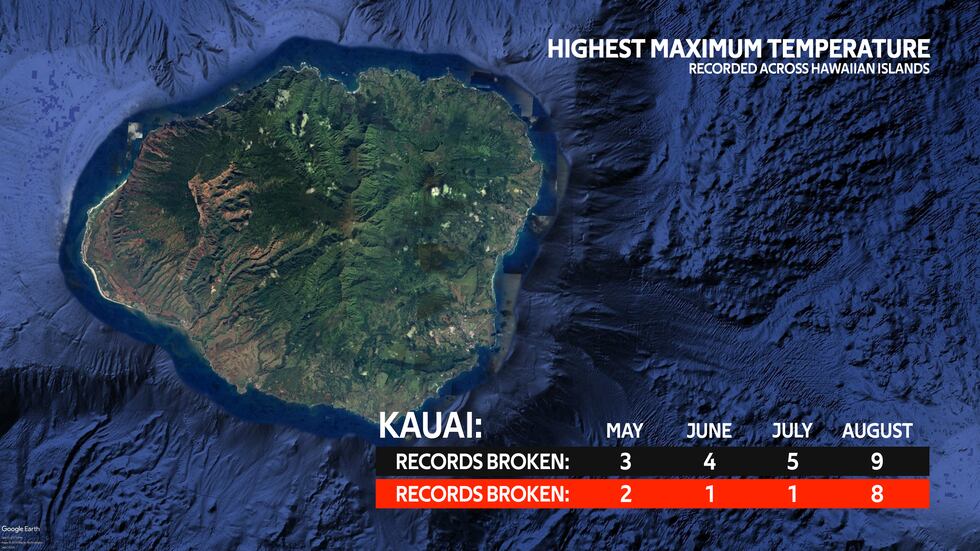 Copyright 2019 Hawaii News Now. All rights reserved.