Thousands of university students heading back to classes — and the roadways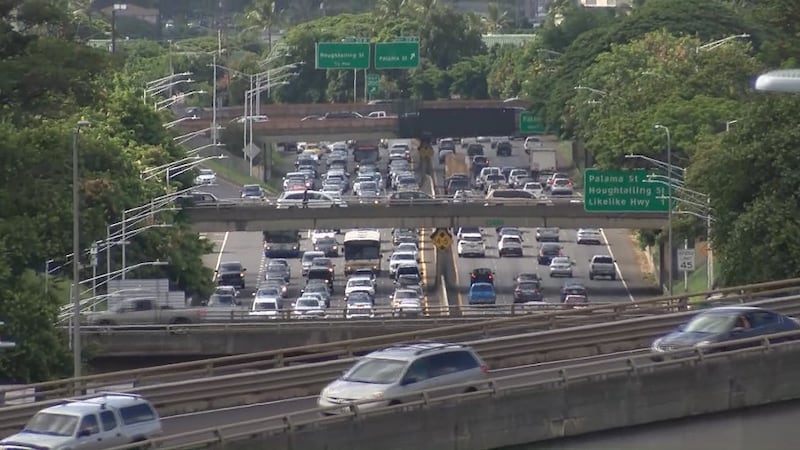 Published: Aug. 26, 2019 at 1:18 PM HST
HONOLULU, Hawaii (HawaiiNewsNow) - Thousands of university students are hitting the books on Monday for the start of the new semester, and if there's anything to prove that school's officially back in session — it's the traffic.
Traffic was crawling throughout the Monday morning commute — especially on the H-1 off-ramps closest to the University of Hawaii at Manoa, where an estimated 20,000 students were expected to converge.
This is a stark contrast from just a day before, when the Manoa campus was largely deserted. Some of the students started moving into dormitories over the past few days, and many more will be commuting from around the island.
There were a few new students on Sunday who were getting to know the campus and how to get there.
"Me and Gage, we're going to carpool together every day and then park at the parking structure," said incoming freshman Addie Fisette. She and her friend Gage Lee had done some planning. They were able to get a coveted $166 per semester permit, which allows them to park on campus.
"They only went on sale like on the 19th, so then we bought it online and then came to pick it up the next day," said Fisette.
It's not just Manoa that's getting back into session on Oahu. Classes will also begin for some 2,800 students at Chaminade University's Kaimuki campus, while another nearly 5,000 students will have their first day of classes at Hawaii Pacific University.
The state wants to keep motorists informed about traffic with a new notification system that sends out alerts via email or text.
"We're trying to make sure that we provide as much information to drivers as possible to make sure their commutes are as efficient as possible," Ed Sniffen of the state Highways Division said at a press conference on August 19, detailing how officials hope to keep traffic moving.
As for Fisette and Lee, they'll be driving in from Kaneohe, with their first classes at 8:30 a.m.
What time do they plan to leave the windward side?
"6:45 maybe? That's kinda cutting it close," said Lee.
"Maybe 6:30? I don't know," added Fisette.
Copyright 2019 Hawaii News Now. All rights reserved.