Hawaii has broken or tied more than 120 heat records since April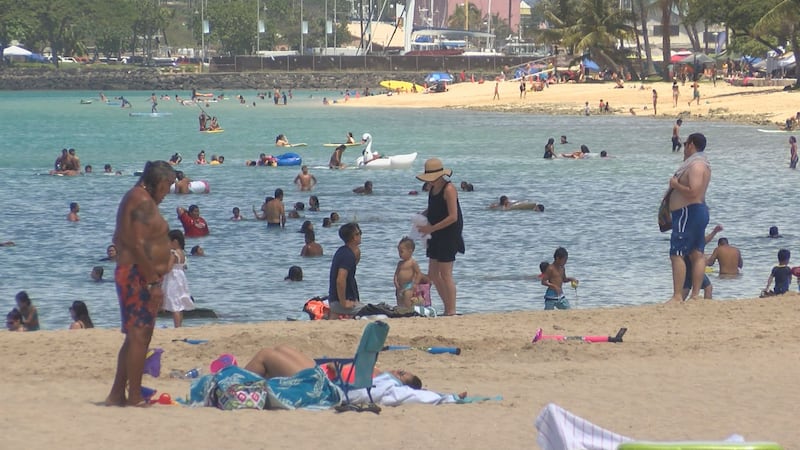 Published: Aug. 13, 2019 at 5:02 PM HST
HONOLULU, Hawaii (HawaiiNewsNow) - This summer has been hot. Abnormally hot.
So hot that Hawaii just keeps breaking or tying heat records, day after day after day.
How many heat records? Well, the National Weather Service has been counting.
Meteorologist Vanessa Almanza said that from April through Monday, four Hawaii locales broke or tied 124 heat records.
Kahului leads the pack, with 59 records broken or tied. There have been 28 heat records in Honolulu, and Lihue has seen 24.
And Hilo has even gotten in on the fun, breaking or tying 13 records in all.
So what's up?
Almanza said a number of factors are converging to push up the mercury.
For one, sea surface temperatures are warmer than average ― about 2 to 4 degrees above normal. Sea surface temperatures contribute to the heat by warming up winds that come on shore.
And speaking of winds, Hawaii's natural air conditioner has been fizzing out, too.
Throughout the summer, the state has seen several bouts of light or no tradewinds. The short-term forecast calls for the tradewinds to return Friday only to disappear again early next week.
There are also localized issues to contend with. Kahului, for example, is seeing more heat records because air compresses and warms up as it moves down Haleakala.
You might be wondering if the warm summer is linked to climate change. And it very well could be, but there aren't any definitive scientific links ― yet.
What Almanza did say: "Globally, 2015 to 2019 have been the five hottest years on record. So we are trending that way."
Copyright 2019 Hawaii News Now. All rights reserved.