Presidential candidate Elizabeth Warren tweets support for TMT opponents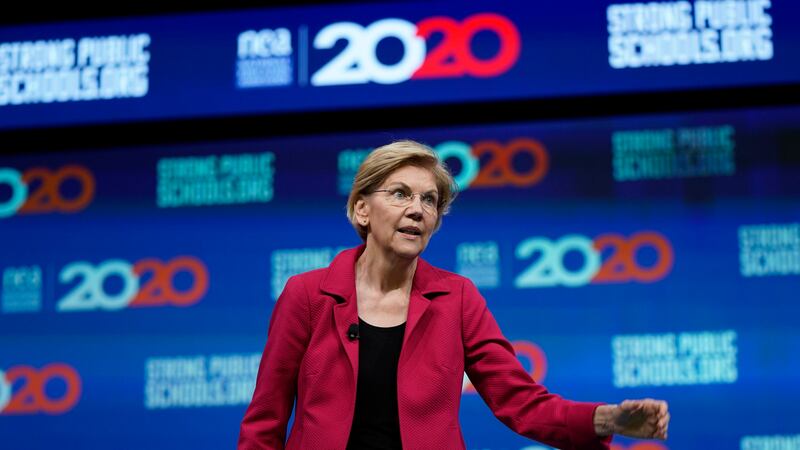 Published: Jul. 23, 2019 at 6:24 AM HST
HONOLULU, Hawaii (HawaiiNewsNow) - Presidential candidate and U.S. Sen. Elizabeth Warren, D-Mass., is the latest member of Congress to comment on the situation at Mauna Kea.
On Monday, the eighth day of protests on the mountain, Warren tweeted her support for the opponents, saying, "Mauna Kea is sacred to the Native Hawaiian people" and that "I stand in solidarity with them."
Last week, several other members of Congress weighed in on the debate.
In a video posted Friday on Twitter, U.S. Rep. Tulsi Gabbard, D-Hawaii, urged the governor to withdraw his emergency proclamation for Mauna Kea and put construction of the Thirty Meter Telescope on hold.
In the video, Gabbard said a "history of broken promises" is what's led to the current standoff at the base of the mountain, where more than 600 have gathered to prevent construction equipment for the $1 billion telescope from going to the summit.
"I strongly urge Gov. Ige to withdraw his emergency declaration, delay new construction and bring leaders together from both sides in the spirit of aloha," Gabbard said, in the three-minute video.
The Hawaii Congresswoman, who is running for president in 2020, added that "it's wrong" that the state approved the development of a new telescope on Mauna Kea without first ensuring the removal of five decommissioned telescope facilities from the mountain.
"This failure and a history of broken promises is what's resulted in the standoff you're seeing today."
U.S. Rep. Ed Case disagrees with Gabbard's position.
Case, D-Hawaii, said in a statement Friday that he supports "the continuation of world-class astronomy on Mauna Kea, including the completion of TMT, together with the commitment to the removal of five current telescopes and to broader community engagement."
And on Friday morning, Democratic presidential candidate and U.S. Sen. Bernie Sanders, I-Vt., posted a message of support on Twitter for the TMT protesters, but the post was subsequently deleted.
In the post, he wrote, "We must guarantee native people's right to self-determination and their right to protest. I stand with Native Hawaiians who are peacefully demonstrating to protect their sacred mountain of Mauna Kea."
Also on Friday, Gov. David Ige traveled to the Big Island to speak to the mayor and state leaders. It wasn't immediately clear whether he'll reach out to protesters.
The TMT protest is garnering attention ― and support ― nationally.
Rallies have been held in cities from Anchorage to Las Vegas.
This story will be updated.
Copyright 2019 Hawaii News Now. All rights reserved.