How did Hawaii's Tulsi Gabbard hold up during the debate? These numbers gave a glimpse
Published: Jun. 27, 2019 at 10:49 AM HST
HONOLULU, Hawaii (HawaiiNewsNow) -Hawaii Congresswoman Tulsi Gabbard took to the national stage Wednesday in a live televised debate against half of the leading democratic candidates for president.
The congresswoman only spoke for about seven and a half minutes total, but her responses were enough to gain her some impressive traction online.
Google Trends tracked the number of times Americans looked up a candidate.
Those trends showed that prior to the debate, Hawaii was only state where Gabbard was significantly googled.
But after the debate, a wave of green (the color used to represent Gabbard for the purpose of analytics) swept the entire western half of the country, and then some.
The second most googled candidate during the debate was Cory Booker.
Take a look at the graphics below: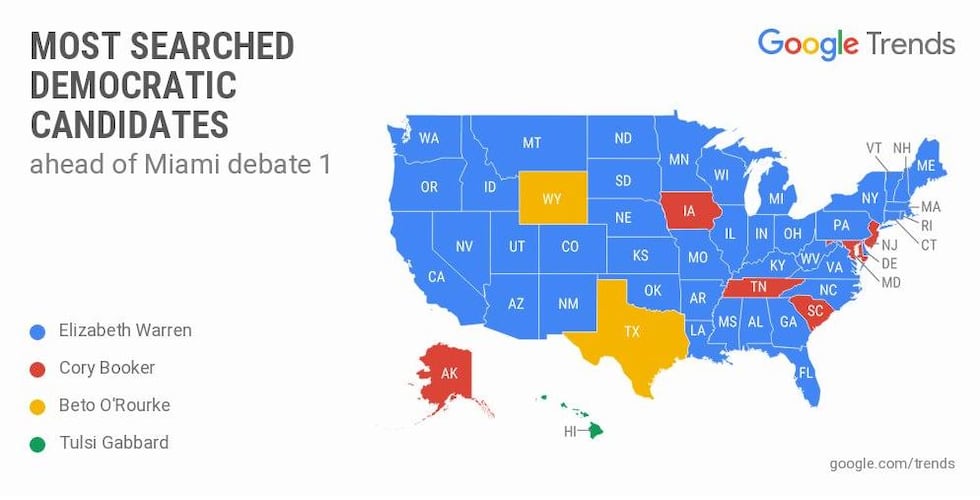 Hawaii News Now Political Analyst Colin Moore said Gabbard banked on a few key talking points which gained interest.
"Tusli Gabbard talking about foreign policy — this is an area she can show real expertise," Moore said. "I think more so than a lot of the other candidates up there. You can talk about the nuances of the issue. It's really where she stands out. Unfortunately this presidential campaign isn't about foreign policy. It's much more about domestic issues."
The analytics showed that interest in Gabbard spiked after her response about her experience working with LGBTQ service members.
"There is no one in our government at any level who has the right to tell any American who they should be allowed to love or be allowed to marry," she said on the issue of gay rights.
Polling on several conservative publications also shows Gabbard near the top of the pack alongside heavy-hitter Massachusetts Senator Elizabeth Warren.
And if those data trackers weren't satisfactory, website fivethirtyeight.com also tracked the number of words spoken by each candidate and the moderators during the night. (Yes, every single word.)
According to the site, Gabbard was able to get out a total of 1,243 words. The candidate getting in the most words: Cory Booker with 2,181.
Copyright 2019 Hawaii News Now. All rights reserved.