'Devastated': 11 killed in one of Hawaii's worst civilian aviation disasters
Updated: Jun. 23, 2019 at 12:26 PM HST
HONOLULU, Hawaii (HawaiiNewsNow) - In one of the worst civilian aviation disasters in Hawaii history, 11 people were killed Friday night when the twin-engine skydiving plane they were in crashed shortly after take-off on Oahu's North Shore and burst into flames.
Dillingham Airfield remained closed Saturday into Sunday and the wreckage — nearly unrecognizable as an aircraft — was being guarded by sheriff's deputies, military and Honolulu police as authorities waited for federal NTSB investigators to arrive.
Not far from the crash, and just outside the yellow police tape, mourners left tributes of lei and flowers at a growing memorial.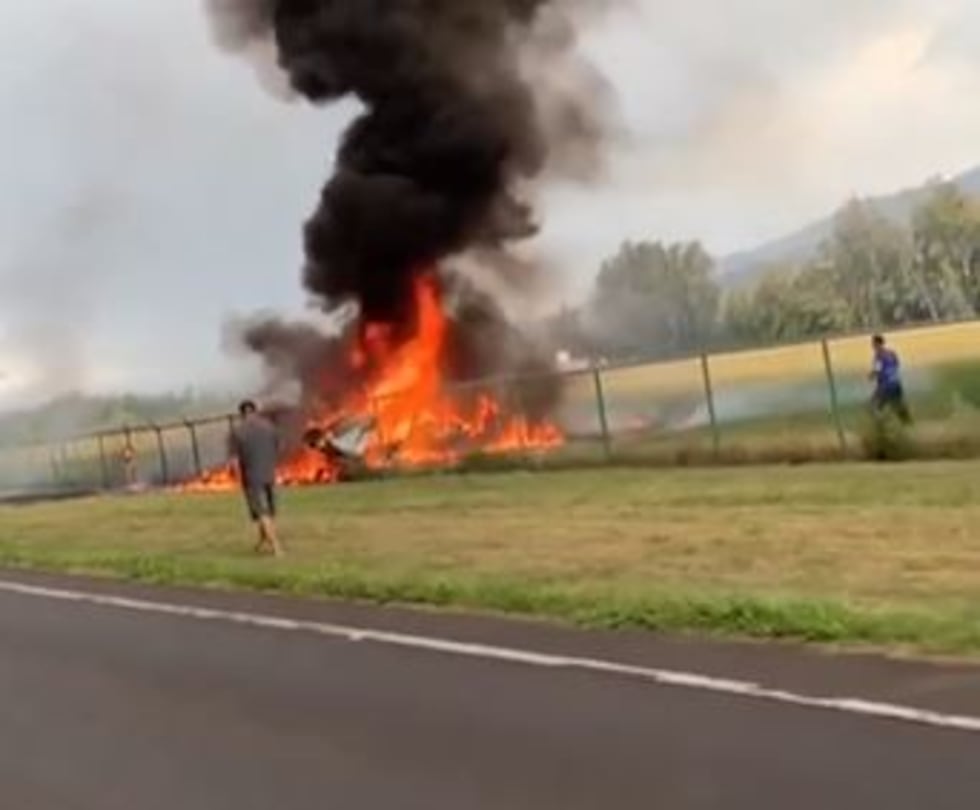 The aircraft ― a Beechcraft 65 King Air operated by the Oahu Parachute Center ― went down about 6:30 p.m. Friday near the western edge of the Dillingham Airfield.
Stevene Tickemyer was in the area and saw the plane nose dive just before the crash. He ran toward the flames, hoping against hope there were survivors.
"Me and some other dudes started screaming and asking for anything, like if anyone is in there say something," he said. "But we weren't getting a response."
Those killed in the crash included a married couple from Colorado and a 28-year-old Oregon man. Six of those killed worked for Oahu Parachute Center, which offers "sunset" tandem dives.
Among those on board: Instructor Larry Lemaster, an expert skydiver who previously served on a mainland parachute performance team.
His friends said on Facebook he was a kind man who always had a smile.
Instructor Casey Williamson was also killed in the crash. On a GoFundMe page set up to help cover funeral expenses, his family says he lived every day with a smile.
And friends of Mike Martin, another instructor on the plane, took to social media Saturday to encourage others to "live like Mike" in the wake of the crash.
In the hours after the plane went down, state officials initially said nine people had died. But they increased the death toll to 11 Saturday morning after receiving additional information from police and other authorities.
"Authorities have confirmed there were 11 people on board the plane that went down soon after take-off from Dillingham Airfield with no survivors," the state Transportation Department said. "Federal inspectors continue to investigate the cause of the crash."
When firefighters arrived at the airfield Friday night, they found the wreckage of the craft fully engulfed in flames. Photos from the area showed smoke from the fire could be seen from miles away.
Nearby, Camp Mokuleia was full of people.
Bonnie Nakamura was actually diving offshore when the crash happened — and could hear the boom in the water.
"We then found out that it was a plane crash and we were devastated," she said. "We all instantly went into prayer and prayed on the people and their families."
[Read more: Plane involved in deadly Dillingham crash suffered 'substantial' damage in 2016 incident]
[Read more: In 1981, another deadly skydiving crash happened in Pearl Harbor]
Shortly after the crash, a somber Fire Chief Manuel Neves told reporters that a number of family members of those on board the aircraft were on the ground when the crash happened and may have seen the plane go down.
"It is very difficult. In my 40 years as a firefighter here in Hawaii, this is the most tragic aircraft incident we've had," Neves said. "We had some helicopters with the military, but this is a civilian plane with that many people on board."
Other officials also offered their condolences to the victims' families.
"We are mourning this terrible tragedy," DOT Director Jade Butay told reporters Friday night.
"During this difficult time, we want to express our deepest condolences and sympathies to the families of the flight crew and passengers."
And on Twitter on Friday night, Mayor Kirk Caldwell said he was following developments on the crash. "At this time, our thoughts and prayers are with the family and friends of the victims," he wrote.
Neves said firefighters worked Friday night to secure the debris field ― a relatively small area that covered about 50 feet by 50 feet.
The Dillingham Airfield will be closed indefinitely in the wake of the crash, the state said.
The crash is one of the deadliest for a civilian airplane in Hawaii's modern history.
Eleven were killed in December 1981 when the twin-engine Beechcraft they were in crashed into Pearl Harbor. The group of skydivers was planning to parachute into Aloha Stadium.
In 1992, nine people were killed when a tour aircraft that took off from Hilo Airport slammed into mountainous terrain at Haleakala, according to NTSB records.
And eight people were killed in 1987 when a Molokai-bound air taxi crashed into the water.
More recently, five people were killed in 2016 when a Cessna 182H crashed at Port Allen Airport on Kauai. The NTSB concluded that engine power loss contributed to the crash.
That same year, two military helicopters crashed off Haleiwa. Twelve Marines died in the crash.
This story will be updated.
Copyright 2019 Hawaii News Now. All rights reserved.