'They had no plan': Concerns raised over how airport handled security scare
Published: Jun. 19, 2019 at 4:24 PM HST
HONOLULU, Hawaii (HawaiiNewsNow) - Operations are back to normal at Honolulu's airport Wednesday, a day after false reports of an active shooter triggered "pandemonium," the evacuation of Terminal 2 for security reasons and hours-long flight delays.
In the wake of the incident, some are questioning how airport staff handled it.
More than 30 outgoing flights were delayed well into the night, and crowds congregated on sidewalks outside the terminal ― which reopened about 6 p.m. ― as they waited to get through security lines.
As the hours dragged on, passengers said their fear and anxiety from the incident turned into frustration and anger over what they contended was a lack of communication from airport staff.
"They should have at least had somebody coming out, talking to us, letting us know what was going on," said California visitor Donnie Goff. "And even if they did come over the loud speaker, we couldn't understand it or hear it anyway. They had us outside. So we couldn't hear anything anyway."
Traveler Mireya Rogers didn't mince words when asked about how the airport handled the security scare — and the chaos that came in its wake.
"They were absolutely not ready for this situation," she said. "and they're 100 percent responsible for how bad it went."
Florida visitor Tom Maguire agreed.
"They had no plan. I can tell you they had no plan. They had nobody in charge," he said.
The trouble started about 2:10 p.m., when two laptops overheated in carry-on luggage, started to smoke and apparently made noise that resembled gunshots or fireworks, officials said.
The ordeal created confusion, and some travelers "breached the security checkpoint by running into the sterile area of the airport without being screened," TSA said.
Witness Rob Giunta said the laptops started smoking as the luggage they were in was being screened.
"There was some smoke coming out of one of the scanners, and the TSA agent started yelling 'fire' and telling people to run and get out," he said. "Six more came from the other side, and said, 'Run, get out, there's a fire.' And everyone started stampeding each other, women being knocked down, kids."
In the minutes that followed, bogus reports of an active shooter and other rumors sent people ducking under chairs and fleeing in all directions to seek safety, including past security checkpoints.
Rose Preusse, a visitor from Australia, described the puffs of smoke coming from the laptops as "quite large" and recalled the chaotic stampede that followed.
She added that it appeared several people suffered minor injuries in the melee.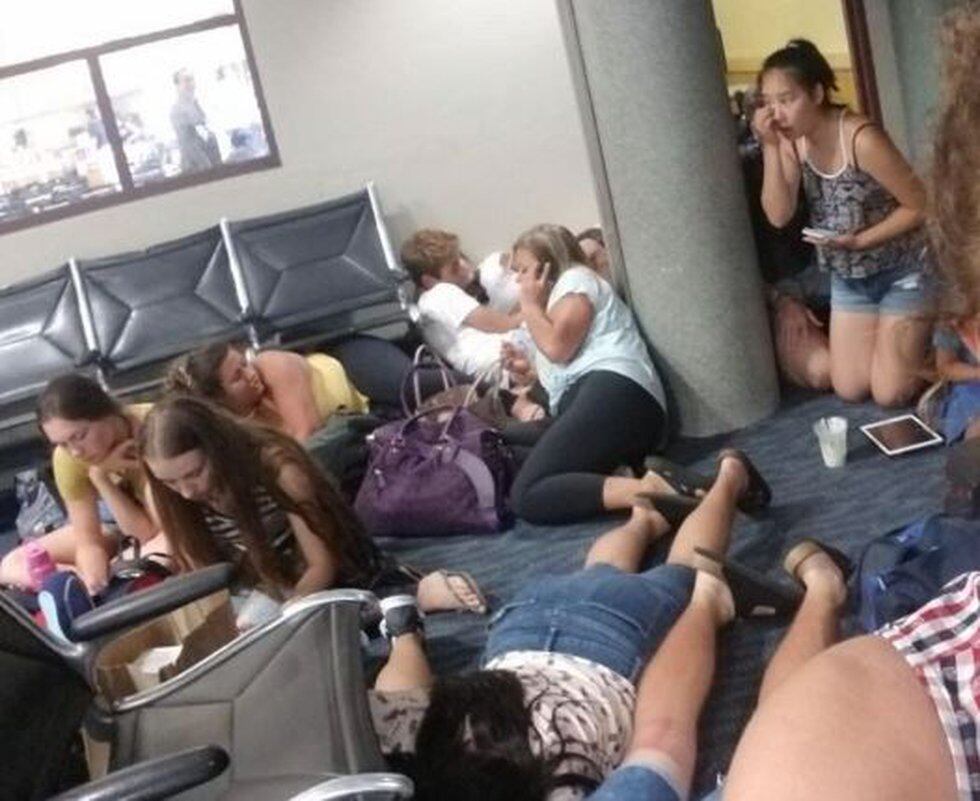 Alberto Vigen and his family had just landed in Hawaii and were headed to grab their luggage when he saw people running for cover.
"It looked like pandemonium, like something major was happening," he said. "It was chaotic and frightening. Welcome to Hawaii."
Like other travelers, Rogers said she distinctly heard TSA agents telling people to "run."
She and her two children were caught up in the stampede. "There were people that were being trampled, there were kids that were lost, there were parents screaming for their kids," she said.
"My 10 year old sprained his knee and its swollen, my 2-year-old got cut as we were running. There was a woman trampled, her legs were stepped on, her head was stepped on."
Rogers added that at no time did TSA tell people that there was no active shooter threat.
Around 2:30 p.m., the state Department of Transportation took to Twitter to urge calm.
"There is NO active shooter situation at the airport," the department said, in a tweet.
At an airport news conference later in the afternoon, Transportation Department spokesman Tim Sakahara said the incident impacted thousands of travelers arriving and departing from Honolulu's airport during the busy summer travel season.
And he urged anyone traveling out of the airport on Tuesday evening to check their flight's status before leaving for the airport.
He said Terminal 2 was evacuated out of an abundance of caution, including planes that were in the process of boarding. Planes that were boarded with the doors closed were allowed to leave.
After the evacuation, TSA conducted a security sweep of the airport and aircraft using explosive detection canines, officials said, and state sheriffs took possession of the laptop.
During the scare, a number of travelers took to social media to describe the situation and try to get more information. Video showed travelers crouching on floors and huddling in waiting areas.
Those caught up in the chaos said it left them shaken.
"Never been more scared in my life," one passenger wrote on Twitter.
Another said passengers were running and "screaming for their lives like what you see in a horror movie."
Chicago resident Cathy Zhu said the episode was surreal.
"I've never seen this in my whole life," she said.
"I said, 'What's going on? What's going on?' I was asking everyone. They said, 'There was a shooter. There was a shooter. Everybody down!' Then I started to run also like crazy."
This story will be updated.
Copyright 2019 Hawaii News Now. All rights reserved.