Woman who survived 17 days in Maui jungle: 'I'm so grateful to be alive'
Updated: May. 28, 2019 at 7:41 PM HST
WAILUKU, Maui (HawaiiNewsNow) - Four days after she was rescued from the dense Maui forest where she'd spent more than two weeks ― surviving on wild fruits and river water and walking on a broken leg ― Amanda Eller addressed reporters for the first time Tuesday, saying she struggled to remain optimistic as the days worn on and she heard choppers overheard but couldn't flag them down.
"You lose hope and your hope meter starts to decline a little bit as the sun starts to go down," said Eller, who was rescued on her 17th day in the jungle.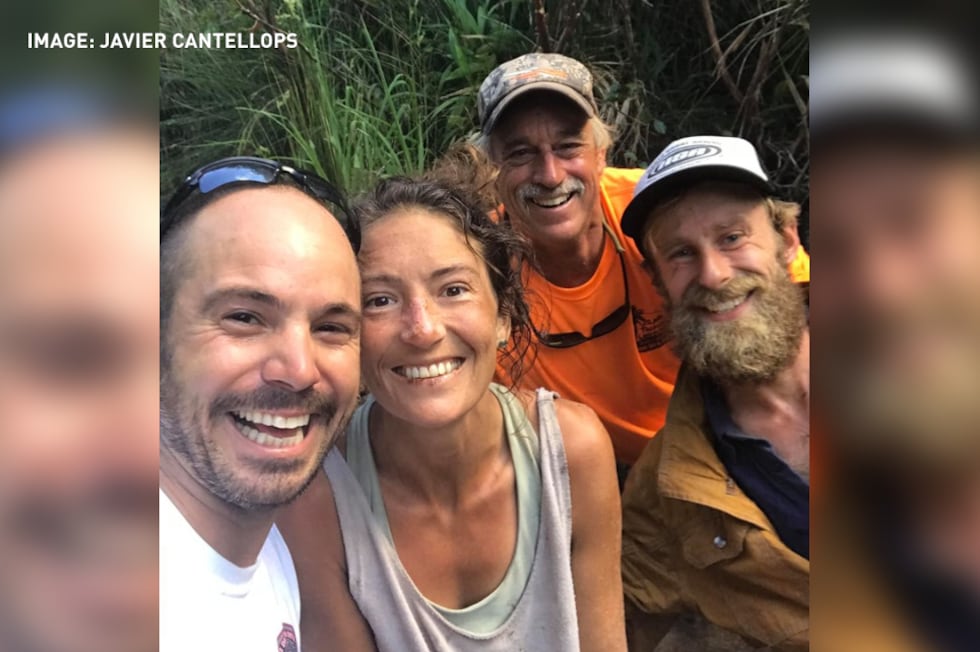 She said her darkest moment was after being lost for two weeks – with passing helicopters unable to spot her despite her efforts to make herself more visible.
"In a moment I was mercy, I just say mercy, I'm looking at the sky just like please pick me up, I'm ready."
Eller, wearing a flower in her hair and a broad smile, added, "It's good to be alive. People are holding me up as a hero and I don't feel that way. I'm so happy that my story can inspire others."
At the news conference Tuesday morning at the Maui Memorial Medical Center, Eller was flanked by her parents but did most of the talking.
Her story ― from her disappearance to the grueling, weeks-long search to her miraculous rescue ― has generated international attention.
It's also triggered some skepticism on social media, something that Eller addressed Tuesday.
"I think there's a lot of confused, delusional people out there," she said. "I'm not taking it to heart and I'm not taking that energy in. I'm so grateful to be alive."
She added that on the day she headed out into the woods, she ate a small breakfast. She also made a point to say she had no alcohol or drugs.
"I get high on life," she quipped.
The 35-year-old said when she was found Friday ― at that point wary of venturing too far from a water source ― "my heart just fell through my feet. I fell to the ground and I started bawling."
She told reporters Tuesday that she headed out on the hike on a whim, and had planned to go on a short, three-mile walk. She didn't bring a cell phone, water or any provisions ― a decision she acknowledged Tuesday was a bad one.
"I should have had a cell phone with me," she said. "I just thought I was going for a short little jaunt."
Shortly after she started on the walk, she said, she stopped to meditate and then became disoriented when she reopened her eyes. She says she eventually realized that the hiking trails she was on were actually boar pathways.
Eller was reported missing by her boyfriend on May 9, the day after she headed out on the Kahakapao Loop Trail.
[Read more: 'We knew she could make it': Hiker missing for 17 days in Maui forest found alive]
A massive search ensued with volunteers and rescuers spending hundreds of hours looking for any sign of her. The Maui Fire Department suspended the search after several days, but a team of volunteers continued heading out into the woods, scouring a widening search area from sunup to sundown.
Eller addressed the fire department's decision to halt the search, barring any new leads.
"What I ask is that this be taken more seriously, that missing people be taken more seriously," she said. "On a state level, we are able to expand those policies so that we know that our tribe is taken care of."
On her 17th day in the woods, a helicopter pilot contracted by her family spotted Eller in a dense forest area — roughly four miles from the parking lot where her vehicle and personal items were found.
She was airlifted to safety and taken to the hospital, where she was reunited with her family.
[Read more: 'Toughest days of my life': Eller filled with emotion after intense community search]
[Read more: Volunteers sacrificed time, jobs in massive search for Maui hiker found alive after 17 days]
At a news conference at the hospital on Saturday, Eller's friends and family detailed her experience, starting with the day she left for her walk.
But Tuesday's news conference was the first time Eller has spoken to the press to recount her ordeal.
Eller's doctor has said the physical therapist was able to survive by drinking river water and eating fresh fruits from trees. She suffered severe sunburns, a skin infection and a broken leg.
At the news conference, Eller said she broke her leg after falling down a 20-foot hillside. And she was barefoot after her sneakers were washed away by what she described as a flash flood.
Eller expects to be using crutches for at least the next couple of weeks, and she said she hopes to get back to treating her physical therapy patients as soon as she is healed.
She was released from the hospital over the weekend and attended a party — in a wheelchair — on Monday night. Her family hosted the event to thank everyone for their help in bringing her home.
"It was just a fantastic event and unbelievable celebration," said her father, John. "From the bottom of our hearts, the whole community and all the agencies involved, we can never repay them."
Copyright 2019 Hawaii News Now. All rights reserved.