'The Mailbox Trial': Public corruption case of unprecedented scope in Hawaii gets underway
Updated: May. 22, 2019 at 12:21 PM HST
HONOLULU, Hawaii (HawaiiNewsNow) - In June 2013, a mailbox was plucked from its post in the middle of the night outside then-Police Chief Louis Kealoha's home in Kahala.
It was a seemingly minor federal crime ― and one that prosecutors allege unraveled the largest law enforcement scandal in state history.
At the center of the case, Kealoha and his wife Katherine, then a high-ranking deputy prosecutor, are accused of commanding specialized police units to enforce their personal agenda and send the heavy hand of the law raining down on those who challenged them and their lavish lifestyle.
On Wednesday, the so-called federal "mailbox trial" against the Kealohas and several police officers began, pitting members of the law enforcement community against one another.
[CONTINUING COVERAGE: The Case Against the Kealohas]
The possibility of prison for the former police chief, his deputy prosecutor wife, and the chief's hand-picked, elite officers makes this the most important public corruption trial the state has ever seen.
And what exposed it all ― the stolen mailbox ― might be almost comical, if it wasn't so consequential.
Assistant U.S. Attorney Alana Robinson put it this way at a news conference in 2017 after the Kealohas were first indicted: "The most troubling aspect of this case is the way these powerful defendants allegedly manipulated the justice system for their own purposes."
But along the way, the Kealohas have denied the charges against them.
"Basically, we appreciate the continued community support," Louis Kealoha told reporters, after he and his wife were arrested two years ago, "and we look forward to our day in court."
For the Kealohas and others indicted in the mailbox trial ― retired police Maj. Gordon Shiraishi, Lt. Derek Hahn, and Officer Bobby Nguyen ― that day is finally here.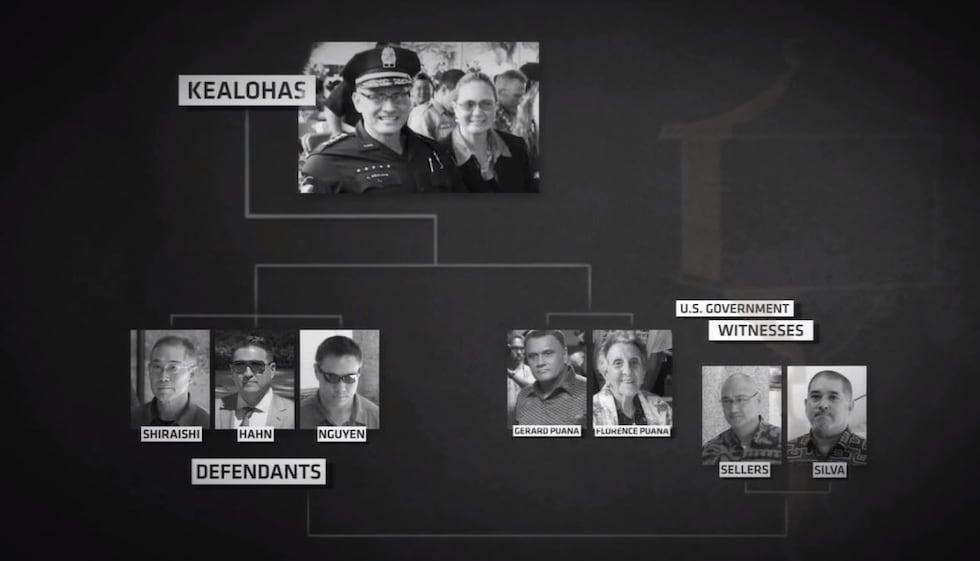 If you feel like you've been hearing about the Kealohas and their mailbox for years, it's because you have. It's been five years since the first news stories came out, raising doubts about what the Kealohas were reporting about their missing mailbox, and four years since the FBI got involved in the case.
But the roots of the mailbox case, they actually go back more than a decade.
Those were years, prosecutors say, Louis and Katherine Kealoha lived well beyond their means. They lived in a $2 million Kahala home, drove flashy cars and threw lavish parties.
Around the same time, in 2007, Katherine Kealoha became trustee for Gerard and Florence Puana ― her uncle and her octogenarian grandmother.
The trusteeship gave Kealoha access to about $200,000.
[Read more: She was identified as a victim in the case against the Kealohas, but was forced to pay legal fees]
Six years later, the Puanas sued her, alleging she'd drained the bank account dry. That civil lawsuit, prosecutors allege, would set off a chain of events that's at the heart of the corruption trial.
Prosecutors say Kealoha was desperate to destroy her relatives' credibility before the suit went to trial.
And then, on June 21, 2013, the Kealohas' mailbox was taken. Surveillance cameras captured the grainy, black-and-white images of a man stealing the mailbox.
The Kealohas identified the thief as Gerard Puana, Katherine Kealoha's uncle.
Puana said he was targeted as "retribution to me for standing up to them."
"That's what this was all about," he said.
After the mailbox was reported stolen, police officers in the Honolulu Police Department's elite Criminal Intelligence Unit ― or CRU ― were sent to investigate.
Those dispatched included:
Maj. Gordon Shiraishi, who was in charge of CIU.

Lt. Derek Hahn, who was also a business partner with Katherine Kealoha in a solar company.

Officer Bobby Nguyen, who was related by marriage to Katherine Kealoha, and was also living in the Kealohas' pool house.

Officer Danny Sellers, Katherine Kealoha's ex-boyfriend.
And Officer Niall Silva.
And that's not all. Homicide detectives also investigated and undercover officers were assigned to follow and arrest Puana.
All this for a mailbox theft.
Louis Kealoha justified the scope of the investigation to Hawaii News Now in 2014.
"We've expended this kind of resources for legislators, judges, prosecutors," he said. "We've done it in the past."
Puana's trial for the alleged mailbox theft kicked off on Dec. 4, 2014.
The former police chief took the stand on that first day, and told the jury that Puana had a burglary conviction.
It wasn't true ― and the statement spurred the judge to declare a mistrial.
"I believe that he did it intentionally," said Puana's federal public defender, Ali Silvert.
In fact, Puana's defense team accused the then-head of Honolulu's police department of throwing the criminal trial to avoid exposing evidence that would have cleared Puana of stealing the mailbox.
That evidence was turned over to the FBI.
And on Oct. 21, 2015, Hawaii News Now reported that federal prosecutor Michael Wheat, a public corruption specialist out of the San Diego office, had formed a grand jury to investigate the case.
In the corruption case against the Kealohas, Officer Niall Silva ― now retired ― was the first to fall.
On Dec. 16, 2016, Silva admitted that he lied about the mailbox theft investigation, both on the stand and to the FBI. His plea deal requires that he testify against the others.
That guilty plea set off a chain reaction.
Four days later would be Louis Kealoha's last day as police chief. He put himself on leave after receiving a target letter from the U.S. Department of Justice, and was forced to retire just two weeks later.
It was the end of a 33-year career with the Honolulu Police Department, and a seven-year reign as Honolulu's police chief.
But from the beginning, his tenure as Honolulu's police chief was controversial.
He was only a captain when he was dramatically elevated to chief in November 2009. Still, he was seen as qualified with several higher degrees, including a doctoral degree.
And he had the support of Mayor Mufi Hannemann and the police union.
"His knowledge, his schooling, his background, his education spoke volumes of his qualities," said Tenari Maafala, former SHOPO Hawaii president.
After Kealoha was selected for the job, his wife threw him a lavish induction party. Price tag: $26,000.
Federal prosecutors say it was funded with stolen money.
The list of luxuries the indictment also describes as the spoils of Katherine Kealoha's schemes includes: A Mercedes, a Maserati, Elton John concert tickets and a trip to Disneyland.
[Read more: In page-turner of a court filing, prosecutors detail the Kealohas' 'house of cards']
They were "a husband and wife team so desperate to fund their lifestyle and maintain their self-professed status as Honolulu's 'power couple,'" said Robinson, the assistant U.S. attorney.
It's unclear how much Louis Kealoha knew about their finances. He reportedly never even owned a checkbook.
But he is charged with the same crimes and accused of using his power to cover up financial misdeeds, which includes using police resources.
And his forced retirement in January 2017 came with a questionable $250,000 payoff ― a deal that is still highly criticized today.
Katherine Kealoha wasn't as high profile as her husband, but she did make a name for herself in legal circles. She was certainly well-respected, until bizarre medical claims and questionable behavior surfaced, timed with the family feud that first came to light in 2012.
Kealoha's alleged role as the mastermind of the conspiracies with which the couple are charged is in stark contrast to the image she built over years in public service.
People knew her as a steadfast law enforcement agent with a kind demeanor. At least at first, her reputation made it hard for many to believe that she could possibly be living a criminal lifestyle.
[Read more: 'Got ur back': Prosecutors say Kealoha's private texts showcase alleged misconduct]
A cover profile in an Office of Hawaiian Affairs magazine portrayed the Native Hawaiian couple as at "the top of their game."
And it certainly looked that way.
Katherine Kealoha, a University of Hawaii law school graduate, had led a state office after an appointment by the governor and would go on to join the Honolulu Prosecutor's Office.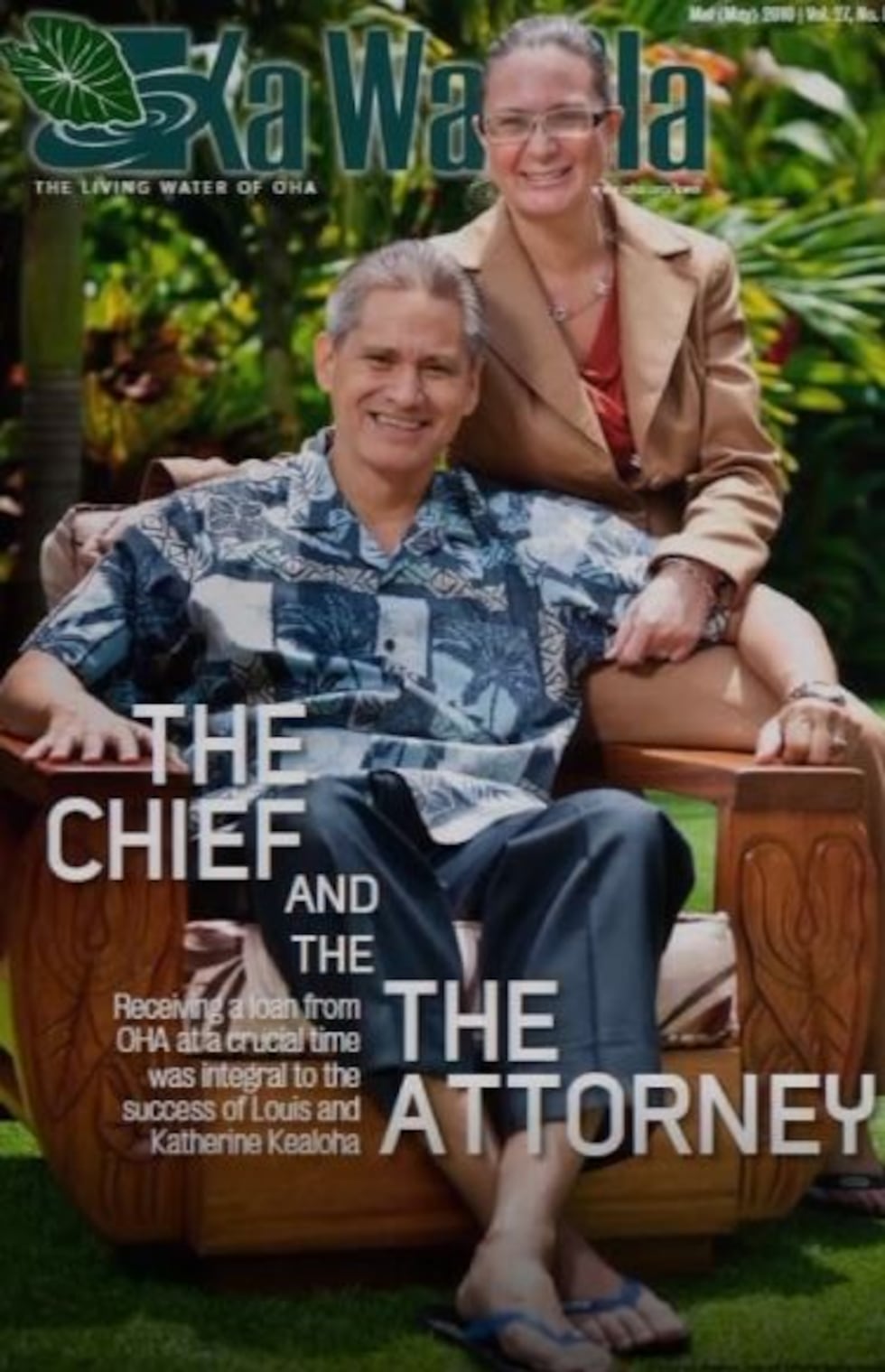 She described herself as a "humble ... country girl", and said she and her husband were "rubber slipper people" who had risen to high positions.
"We trusted her," said Kealoha's uncle, Gerard Puana, in one interview with Hawaii News Now. "Especially Mom and I, we trusted her wholeheartedly."
[Read more: Federal authorities: Katherine Kealoha used cocaine while she was deputy city prosecutor]
[Read more: A dismissed 2015 DUI is among the ways Kealoha allegedly helped her friends]
Many people did.
It wasn't until 2012, when another side seemed to emerge.
When her grandmother asked for repayment of a $300,000 loan, Kealoha replied with a harshly-worded letter that used lots of capital letters and promised "retribution."
"Your statements are UNTRUE, UNWARRANTED, DISRESPECTFUL AND ERRONEOUS!" she wrote in the letter. "HOW DARE ANYONE THINK OR SUGGEST THAT I HAVE DONE ANYTHING AGAINST ANY OF YOU! FOR SHAME!"
Court battles followed and last year, Kealoha ended her law career as it started ― at the city Prosecutor's Office. She resigned one year after being indicted.
In that OHA article, she described her dream retirement as being back in the country, with the ocean as her backyard so she could get on her board and paddle off into the ocean.
That ending is far different from what federal prosecutors now have in mind.
Over the course of five days in October 2017, the FBI staggered the arrests of the suspects in the Kealoha corruption case, culminating with the Kealohas themselves.
They were the only ones allowed to do a planned surrender at their Kahala condo. And on Oct. 19, 2017, they exited Honolulu's federal courthouse for the first time as defendants.
The two were wearing lei, holding hands, blowing kisses. They walked past reporters with a celebratory air, almost like newlyweds leaving a chapel.
Their HPD co-defendants ― Bobby Nguyen, Derek Hahn, Gordon Shiraishi and Danny Sellers ― took the opposite approach, leaving the courthouse using side doors or rushing past the media.
On Jan. 11, Sellers also took a plea deal, admitting to a misdemeanor crime for distributing confidential investigative information about the mailbox theft to Katherine Kealoha.
He's the only one without a felony.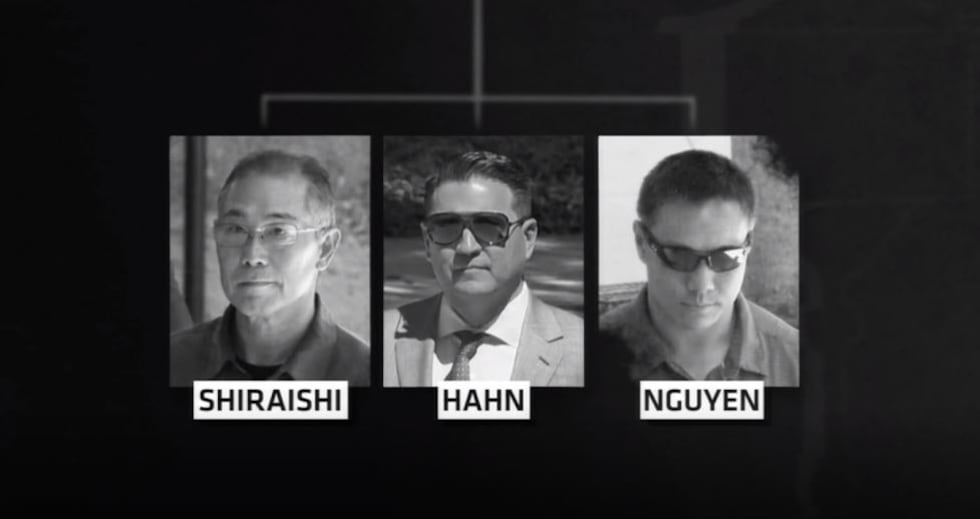 [Read more: Years in the making: How prosecutors built their case against the Kealohas]
And not only will he testify against the others in this upcoming trial, he has also provided key information into another Kealoha case.
In April, after telling a federal judge he was a "humbled man," he was sentenced to one year probation and a fine of $2,500.
The remaining defendants are standing their ground, though, and putting their fate in the hands of a jury. They are charged as a group with the following:
Conspiracy to defraud the United States;

Obstruction of an official proceeding;

And lying to a federal officer.
The Kealohas had at least six surveillance cameras on the outside of their Kahala home, but only two had a view of the mailbox.
In the overnight hours of June 21, 2013, the cameras capture a white sedan slowing in front of the home and then coming to a stop. A man ― wearing a hat and sunglasses in the dark ― gets out of the driver's seat, walks behind the car, looks at the mailbox, rocks the pedestal and then easily lifts it away.
He then puts it under his arm like a loaf of bread, places it on the backseat of the car, and casually walks back to the driver's side.
The whole thing takes just about a minute — 60 seconds that would change so many lives.
Gerard Puana, Katherine Kealoha's uncle, was arrested eight days later. And because it involved U.S. mail, federal authorities took over.
Silvert, the federal public defender appointed to represent Puana, immediately saw holes in the case.
The first problem: The timeline was off.
Silva, the officer, reported he went to the Kealoha home just before 9 a.m. to collect the surveillance camera video and security system's hard drive. The problem with that: The Kealohas didn't call 911 to report the mailbox had been stolen until 1:30 p.m.
The second red flag: In their report, the Kealohas claimed the stolen mailbox was a model that costs twice as much as the one that was actually taken. The higher value would have pushed the charge up ― from a misdemeanor to a felony ― if the case had stayed in state court.
Another strange detail in the story was that white car the thief drove up in.
HPD said the car in the video was an Acura that belonged to Gerard Puana's neighbor. She was forced to take a polygraph because HPD detectives insisted she loaned the car to Puana for the mailbox theft.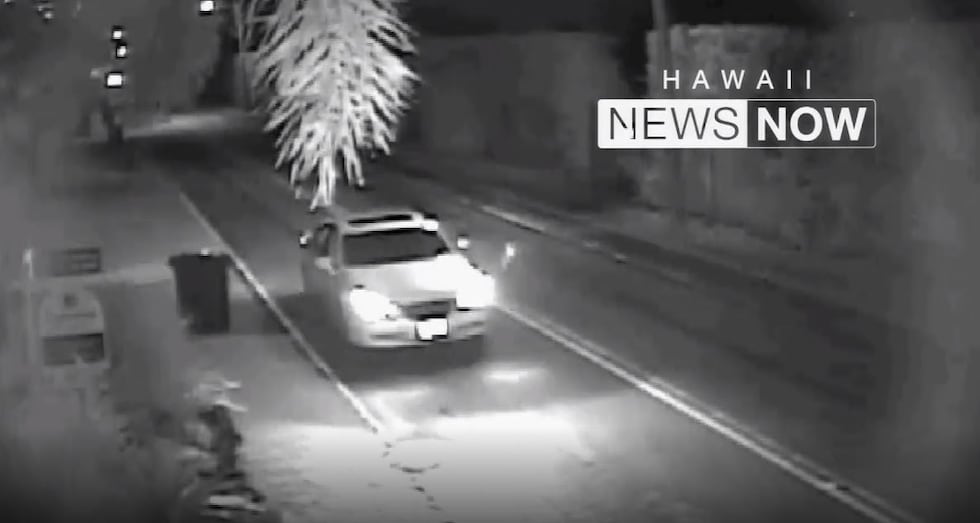 When she passed the lie detector test, detectives decided Puana had stolen it.
That's even though the neighbor's Acura was clearly not the same car in the video. The neighbor's car had a spoiler in the back, the thief's car did not.
The FBI ultimately sent the surveillance video to Quantico to enhance it and they now know the car wasn't even an Acura but a Lexus.
Silvert was prepared to unleash his evidence at Puana's trial.
"That was going to be our Perry Mason moment," he said. "It was going to be our 'aha.' There was nothing they could say about that."
But before he had a chance, Louis Kealoha caused the mistrial. Silvert believes that was intentional.
Silvert took his evidence to the FBI.
And eventually, Gerard Puana was reclassified from suspect to victim.
Throughout 2016 and 2017, dozens of witnesses were summoned to testify before a federal grand jury: High-ranking police officers, prosecutors, doctors, Realtors and Kealoha relatives.
A steady stream of people that apparently added more ammunition to the massive federal case.
Some of those grand jury witnesses are now trial witnesses. More than 140 people could be called to the stand both for and against the defendants.
But one important name isn't on the list, and its absence will impact Katherine Kealoha's defense. Federal authorities contend a central figure in the case ― a woman named Alison Lee Wong ― is actually an imaginary person, an alias Kealoha used in several frauds and forgeries.
[Read more: Meet Allison Lee Wong: Court filings outline alleged role of alias in case against Kealohas]
The name appears as the notary on trust documents federal authorities say were doctored.
An Alison Lee Wong also authored a testimonial letter to lawmakers in support of Katherine Kealoha's appointment to head of the state Office of Environmental Quality Control.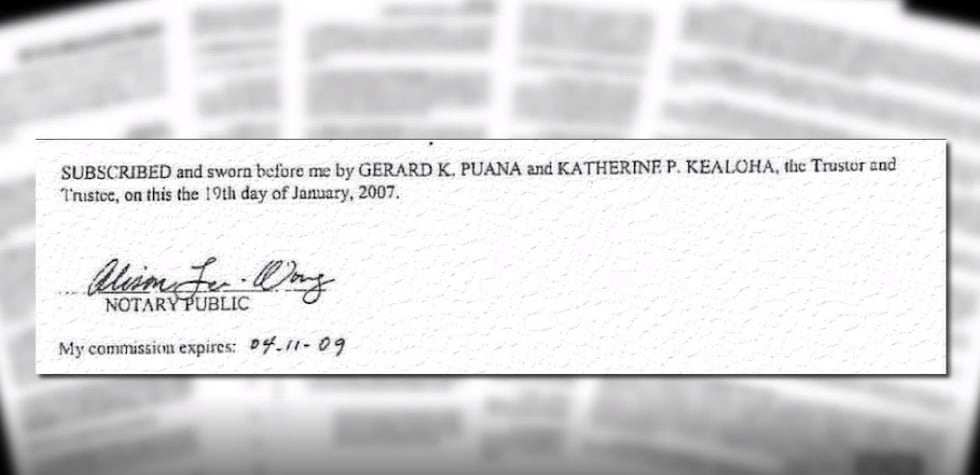 At trial, two executives of the National Notary Association are prepared to testify that a $20 notary stamp for Allison Lee Wong was ordered in 2008 and shipped to environmental quality control office.
The recipient was a "Kathryn Aloha." Katherine Kealoha was the director of the office at the time.
Kealoha's own civil attorney searched for the notary, but instead found out there was no registered notary in Hawaii by the name Alison Lee Wong.
The government also says Facebook cookies prove that an account for "Allison Lee Wong" was accessed from computers owned by Kealoha's family members.
If Alison Lee Wong exists, she'd be a crucial defense witness, said criminal law expert Ken Lawson. If she exists, he said, "they'd better produce her."
But she is not on the witness list. Someone who is: Kealoha's grandmother, Florence Puana.
The 99-year old recently had heart surgery, so a recorded deposition was done on April 29. She endured grueling hours of questioning and cross examination.
In 2017, she told Hawaii News Now that testifying is something she has been waiting and wanting to do for years, especially after Katherine Kealoha's attempt to get her declared incompetent.
Her son, Gerard Puana, will take the stand, too. He'll describe investments, trusts, and a reverse mortgage that Katherine Kealoha handled.
He'll also say he faced harsh retaliation after he confronted her about missing money, That retaliation, he says, includes being tailed by officers in unmarked police cars.
Those plainclothes officers, homicide detectives and commanders will also testify.
One of the first to take stand will be HPD deputy Chief John McCarthy.
The government alleges Katherine Kealoha repeatedly tried to get Puana brought up on charges. McCarthy will tell the jury that she went to him to pursue elder abuse and fraud charges against Puana.
But when McCarthy told her that would require her turning over bank records, she immediately withdrew the complaint.
Altogether about 40 current and former HPD officers are named as witnesses. Former officer Letha Decaires was investigating the Kealohas for the city Ethics Commission before the FBI picked up the case. She says she was on the verge of uncovering and revealing some of the same alleged schemes.
Legal experts wonder if any of the defendants will take the stand, especially Katherine Kealoha.
She's won over juries in the past, including in the civil case against the Puanas. "It may be their best and perhaps, one the few arguments that they can prevail on," said attorney Brook Hart.
While the government believes it can prove to a jury that Gerard Puana was not the mailbox thief, they apparently will not be able to say who is. No witness will identify the person on the video.
Legal experts describe the case as circumstantial.
So, they say, of all charges the Kealohas face, the mailbox trial could be their best chance for acquittal.
However, unlimited reach, a team of attorneys and FBI agents, plus financial backing make the federal government a staggering force.
Statistics show 90% of all federal, criminal cases, end with plea deals.
Of the 10% that go to trial, only 1% ends with exoneration.
"They have a lot of resources, and they cherry pick their cases so when they do go to court they have a huge advantage over most defendants," said attorney Victor Bakke.
It's a daunting task to face the government head-on.
But the burden is still on federal prosecutors to convince all 12 jurors in the trial that high-ranking law enforcement officials committed the crimes they're accused of.
Legal experts say the defense can try to instill reasonable doubt in jurors by insisting the Kealohas believed Gerard Puana was the mailbox thief and acting accordingly.
"The defense has to be, I don't care what you all say, I believed it was him," Lawson said, "and the government won't offer an alternative."
Without an answer as to who is actually in the mailbox video, the government will have to connect the dots for jurors.
"We don't have to know the name of the person. We just have to know who put him up to it," Hart said.
In a bizarre twist just weeks before the trial was set to begin, the Kealohas named a new "possible suspect" in the mailbox disappearance on their exhibit list. The Kealohas' surveillance video shows a man walking by their house not long after the mailbox theft. In the video, you can see the empty post.
The Kealohas say that man is a Kahala businessman.
And he told Hawaii News Now he was stunned to learn he was dragged into the case. He does not match the description of the man seen taking the mailbox.
And he says HPD never contacted him ― but Katherine Kealoha did, showing up at his office several years ago to ask if he had seen anything suspicious on a neighborhood walk.
She left her official business card as a supervising city prosecutor.
[Read more: Defendants, attorney, alleged victims: Here's who's who in the Kealoha mailbox trial]
The man thought it was odd that a deputy prosecutor was investigating a crime that involved her own property. The man is not on the trial's witness list so it's not clear how the defense will use the images.
Niall Silva, the officer, will testify as part of his plea deal.
He'll discuss the alleged conspiracy that he says he once was a part of. But he's also admitted to lying on the stand in the first mailbox trial and that could ruin his credibility this time.
Officer Danny Sellers will also testify for the prosecution, but he doesn't know who took the mailbox.
So ultimately, it will come down to jurors making their own conclusions after hearing both sides.
"It's a knockdown, drag-out fight so that's what these next three or four weeks is going to be about," Lawson said.
Next month, it will have been six years since the Kealoha's mailbox was reported stolen.
And the trial over whether it was a frame job has suffered its own delays, chiefly because of Katherine Kealoha's health complaints.
This upcoming trial was supposed to start months ago.
But on March 4, radiation oncologist Dr. Anthony Michaud, of the Queen's Medical Center, went to court and told the judge in a closed hearing that Kealoha needed cancer treatment.
And last year, another undisclosed medical issue pushed back a second federal trial for the Kealohas ― on alleged financial crimes ― to later this summer.
Silvert, the public defender, said the delays are cause for concern.
"We're concerned about any future attempts to delay this trial," he said.
The delays, however, appear to be done for now as a jury has been seated.
This first trial for the Kealohas will be historic, but it won't end the scandal. The couple still face dozens of other federal charges, and Katherine Kealoha faces more than her husband.
Nearly two years ago, after pleading not guilty in their first indictment, the Kealohas walked out of federal court into the arms of supporters, brimming with confidence.
Subsequent courthouse exits were much more subdued. There was no lei and only media waiting for them. The Kealohas still appear affectionate and united, but some believe it's all just a show.
"Gotta hold hands. It's part of the defense lawyers' script," quipped attorney Michael Green. "It's on page one, hold hands as you walk slowly together."
Added Hart: "The matching aloha attire ― the jury might find that those things are hard to get away from because they look kind of stilted and manufactured."
Real or staged, the appearance of togetherness will likely continue ― even after this trial ― because there is more to come.
A second federal trial moves away from police corruption and into financial fraud.
The government says the Kealohas altered mortgage applications and accuse Katherine Kealoha of raiding the inheritance of siblings.
One of them, Ransen Taito, says she then told him to lie about the missing money.
"They can trace checks from his trust account, right into the Kealohas' bank accounts," Green said, "in some instances to pay their mortgage."
Taito pleaded guilty and will testify against her.
So will firefighter Jesse Ebersole, who says Katherine Kealoha also directed him to lie to the grand jury about their romantic relationship ― an affair the government says was funded using stolen money.
After that trial, Katherine Kealoha faces a third trial.
In those proceedings, her co-defendant is not her husband but her brother, Dr. Rudy Puana.
The two are accused of distributing drugs, allegedly trading and selling powerful prescriptions from Puana's pain management clinic.
Cooperating witnesses have admitted playing roles in the suspected operation, and getting paid for it.
The gravity of all the accusations are incredible for a couple once sworn to serve and protect ― a couple who dedicated their careers to putting people behind bars and could end up there themselves.
Indictment after indictment, the Kealohas have maintained their innocence.
The mailbox trial is expected to last about eight weeks. And then 12 jurors will determine if the government has proven its case beyond a reasonable doubt. Whatever the verdict, those involved, the law enforcement community and the people of Hawaii have already paid a hefty price.
Copyright 2019 Hawaii News Now. All rights reserved.