'You are going to have to decide': Prosecutors, defense make opening statements in Kealoha trial
Updated: May. 23, 2019 at 10:55 AM HST
HONOLULU, Hawaii (HawaiiNewsNow) - In an hour-long opening statement Wednesday, a federal prosecutor sought to lay the foundation for the public corruption case against former law enforcement power couple Louis and Katherine Kealoha, saying "this story neither begins or ends with a mailbox."
The roots of the case, he said, are greed and abuse of power.
At the kick-off of the trial against the Kealohas and three Honolulu officers, prosecutor Michael Wheat outlined for jurors the series of financial schemes that the government alleges Katherine Kealoha deployed to defraud her grandmother and uncle out of hundreds of thousands of dollars.
The alleged network of schemes, Wheat said, "reveals her motives" in attempting to frame her uncle with a federal crime ― with the help of her then-police chief husband and officers in an elite HPD unit.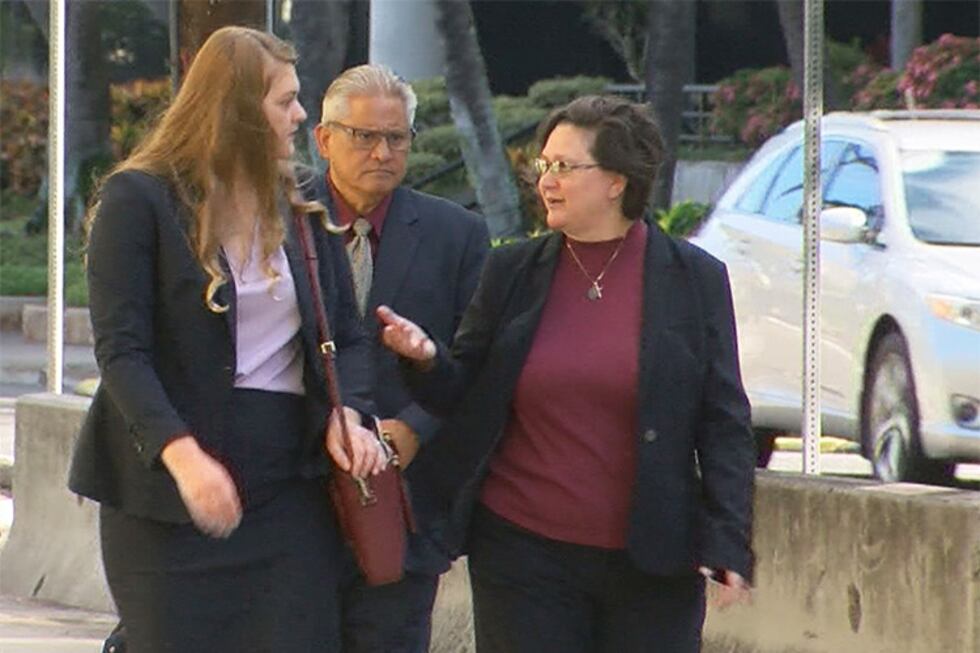 But defense attorneys told jurors in their opening statements that the government is relying on circumstantial and incomplete evidence to make key conclusions in the case.
"You are going to have to decide whether Kathy entered into an argument with one or more people to hurt her uncle by framing him," Cynthia Kagiwada, Katherine Kealoha's defense attorney, told jurors.
"It's the government's burden that a crime occurred beyond a reasonable doubt. And the evidence is going to show that the government cannot meet that burden."
HNN legal analyst Ken Lawson, a criminal law expert, said the prosecution sought to help jurors answer a key question: Why frame someone for stealing a mailbox?
"All the prosecutor had to do was to try to demonstrate to the jury that there's a motive behind what these people did," he said.
Lawson added that he believes Kagiwada's inexperience as a criminal trial defense attorney showed during opening statements.
"You have to really bring it out and let the jurors at least become endeared to your client," he said.
Rustam Barbee, Louis Kealoha's defense attorney, sought to portray his client as a civil servant who had experienced acts of vandalism at his home before and who was concerned about his family's safety.
He said the government's case is based on "supposition and speculation."
Prosecutors allege the Kealohas used their positions to exact retribution against their enemies, and the three officers in the case participated in the conspiracy.
[WATCH: 'The Mailbox Trial': Prosecutors prepare to make public corruption case against the Kealohas]
At the time of the alleged conspiracy, Katherine Kealoha was a high-ranking deputy city prosecutor.
Wheat said the government will be show how and why Katherine Kealoha would seek to frame her uncle, Gerard Puana, with a federal crime ― the theft of the Kealohas' mailbox six years ago.
The theft came as Puana and his octogenarian mother were pursuing a civil suit against Katherine Kealoha over the money that she's alleged to have taken from them.
"The evidence will show that to discredit Gerard Puana they would frame him with a federal offense. He's a thief. He stole our mailbox," Wheat told the jury.
"The goal was to discredit Gerard Puana ... to make him a felon so that his testimony (in the civil suit) would be suspect."
The beginning of the massive trial came after seven men and five women were officially chosen as jurors in the case on Wednesday morning. The jurors will not be sequestered, but were given strict instructions not to read any news about the case as the trial proceeds.
In the packed federal courtroom for the trial, the Kealohas sat flanked by their lawyers. Unlike in previous weeks, they traded out their typical matching aloha wear for black suits.
During Wheat's opening statements, Katherine Kealoha appeared to be taking detailed notes. At times, she shook her head, as if to disagree with what he was saying.
Louis Kealoha, meanwhile, oftentimes leaned back in his chair and took few notes.
Opening statements began about 11:30 a.m., with federal prosecutors speaking first. Defense attorneys began their opening statements after lunch.
All five defense attorneys addressed the jury, making sure to touch on their clients' Hawaii roots and years of public service, and were allowed up to 30 minutes to present their case.
Kagiwada, Katherine Kealoha's attorney, took the least amount of time: Just eight minutes.
[Read more: Defendants, attorney, alleged victims: Here's who's who in the Kealoha mailbox trial]
After a brief afternoon recess, the jurors returned to hear from the government's first witnesses in the trial: Honolulu police officer Frederick Rosskopf, the officer who responded to Katherine Kealoha's 911 call on June 22, 2013, about her mailbox being stolen, and U.S. Postal Inspector Brian Shaugnessy.
It was during Shaughnessy's time on the stand that jurors got their first look at the Kealohas' surveillance video that showed their mailbox being taken.
The public corruption case hinges on the theft of the Kealohas' mailbox, and defense attorneys for the three officers told jurors in their opening statements that they had nothing to do with the incident.
Other than the Kealohas, the other defendants in the case are:
HPD Major Gordon Shiraishi, who was in charge of HPD's elite Criminal Intelligence Unit.

HPD Lt. Derek Hahn, who was also a business partner with Katherine Kealoha in a solar company.

HPD Officer Bobby Nguyen, who was related by marriage to Katherine Kealoha, and was also living in the Kealohas' pool house when the couple's mailbox was reported stolen.
Nguyen's attorney characterized his client as a "footman" who did what he was told, while attorneys for Shiraishi and Hahn said the officers didn't know about the feud between the Kealohas and Puanas.
In the case, Kealoha and his wife are accused of commanding specialized police units to enforce their personal agenda and send the heavy hand of the law raining down on those who challenged them.
The couple and the officers are charged as a group with conspiracy to defraud the United States, obstruction of an official proceeding, and lying to a federal officer.
And while the first trial for the Kealohas is historic, it won't end the scandal. The couple still face dozens of other federal charges, and Katherine Kealoha faces more than her husband.
A second federal trial moves away from police corruption and into financial fraud. After that trial, Katherine Kealoha and her brother face a third trial on drug charges.
This story will be updated.
Copyright 2019 Hawaii News Now. All rights reserved.