Seeing need all around them, here's how one Hawaii family decided to act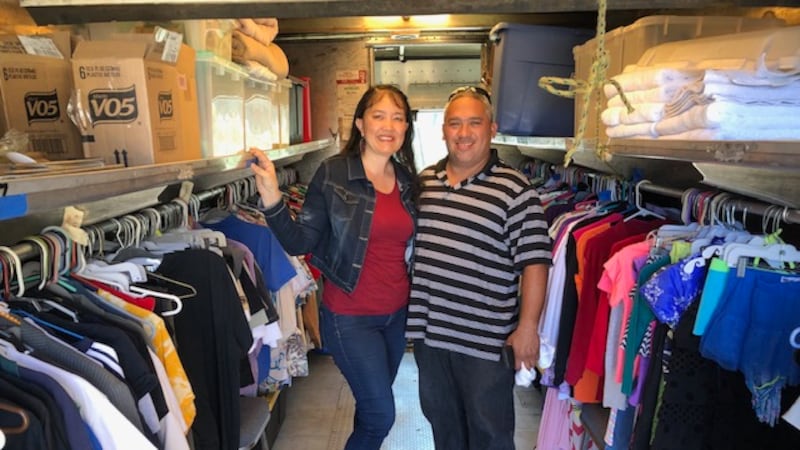 Published: May. 13, 2019 at 5:30 PM HST
HONOLULU (HawaiiNewsNow) - In a storage unit in Makaha, Abbi Eli arranges donated clothing that will soon be in the hands of needy families on the Leeward Coast.
"We know that the homeless encampments need different things compared to transitional homes. So we're able to get things to anywhere that has a great need," she said.
She and her husband, Elton, along with their children do the work, collecting then distributing the goods for free.
"When you partner with a family who's struggling, when you start to see them succeeding and being able to get their feet back on the ground, that's a priceless thing," Abbi Eli said.
Donations come from all over Oahu from people who hear about the Elis' efforts.
Elton Eli uses his Toyota Tacoma pickup like a moving van, squeezing furniture, appliances and boxes into the truck bed like pieces of a puzzle.
"I can actually fit two bedrooms, full set, two bedrooms in that truck. And guarantee I make it home without losing a load," he said.
Everything that comes in goes out to shelters or families living in poverty who need assistance.
Marlisa Molina, of Ohana Ola transitional housing, calls their work a blessing.
"We do help the families that are transitioning out into permanent housing with all this furniture and whatnot," she said.
Three years ago, Abbi Eli moved into a homeless encampment in Waianae to experience it firsthand.
The Elis are Christians, and decided they could make a difference through a distribution ministry.
"Not doing anything is not an option," Abbi Eli said. "There's just too many people that are waiting for somebody to live life with them."
"If we had a choice, we'd give our beds away just to help another family," Elton Eli added.
The Elis thank church groups, organizations and individuals who've gotten behind their mission they call a labor of love.
To arrange a pickup of donated items, call the Elis at 808-429-9486.
Copyright 2019 Hawaii News Now. All rights reserved.