Administrator in charge of DPS training programs accused of lying on her resume
Updated: Apr. 12, 2019 at 5:32 AM HST
HONOLULU (HawaiiNewsNow) - The woman in charge of training more than 1,500 of Hawaii's deputy sheriffs and adult corrections officers is facing public scrutiny for allegedly being dishonest about her job qualifications.
J. Marte Martinez was hired by the Department of Public Safety in September of 2014 as a firearms technician. She advanced quickly within the department, and has been promoted three times in the last five years.
Each time, she's had to submit new documents during the promotions process.
Hawaii News Now has obtained those documents and has found questionable information regarding her education and experience ― and now, state Senators are growing concerned.
Earlier this week, during a confirmation hearing for public safety director Nolan Espinda, the chair of the Senate's Public Safety Committee asked about Martinez's record.
"There were questions raised ... if she was truly certified or qualified," said Sen. Clarence Nishihara
"Yes, there were," Espinda responded, noting that the department had checked out Martinez with a thorough review and that he was satisfied with the results.
That didn't put Nishihara at ease.
"You checked it out and all of that, but subsequent to that, I received information that doesn't seem to quite match with what you told me, or what you were told," he said.
Nishihara then suggested they postpone a conversation about Martinez's record until a later time, which Espinda welcomed.
Hawaii News Now has been working for months to verify Martinez's resumes and applications, particularly the parts that concern her education.
In one document, Martinez lists says she obtained a Bachelor's of Arts from Southern Oregon State College, now called Southern Oregon University.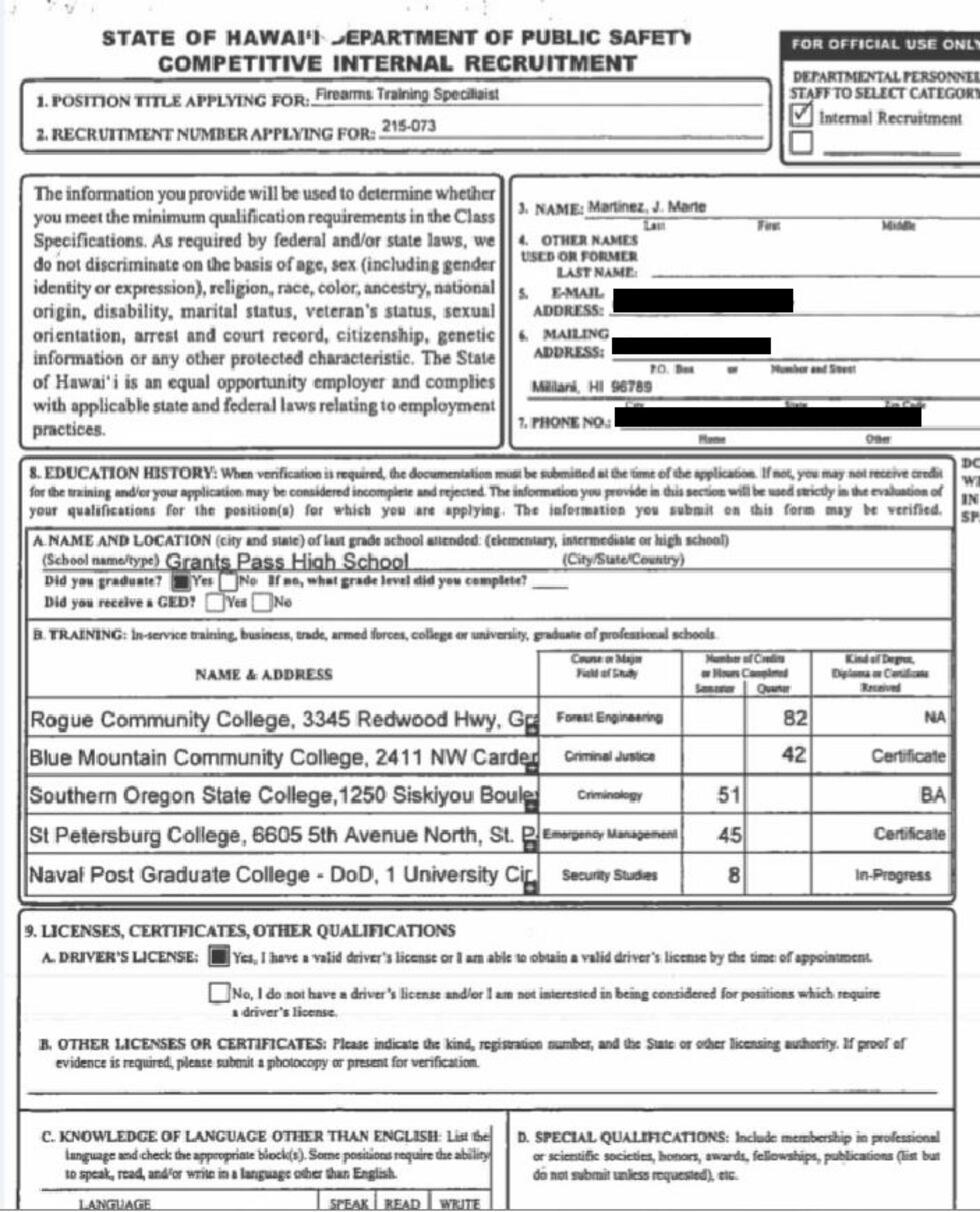 Hawaii News Now obtained an email from the enrollment services team at the University that said they could not find any record indicating Martinez had obtained a degree from the institution.
Another document lists a degree from St. Joseph's College in Standish, Maine ― but in another email, school officials said they "could not find a J. Marte Martinez in the database."
They were also unable to find a Joveta Martinez, which is her first name.
Martinez has used several variations of her name over the course of her career, and Hawaii News Now included some of those aliases ― along with her birth date ― when requesting information from those institutions.
The questions about her education are not the only areas of concern.
An online report by the Daily Emerald ― a news site for students in Eugene, Oregon ― also details an incident in which a Lieutenant Marte Martinez, with the Oregon public safety department, was placed on leave for an undisclosed reason while internal affairs looked into the "questionable status" of the lieutenant.
That article was posted in November of 2000. J. Marte Martinez's resume shows she worked for that department between May 1999 and January 2001.
The division with the Hawaii Department of Public Safety that Martinez is responsible for has been under fire in recent months after several deadly, officer-involved shootings and a riot at the Maui Community Correctional Center.
Her unit is also holding onto dozens of less-than-lethal guns and pepper ball guns ― weapons that deputies want on patrol but are not allowed to use.
The state Department of Public Safety says a criminal background suitability check and an employment verification check was completed without any issues, but the verification process regarding education is supposed to be done by the Department of Human Resources.
Copyright 2019 Hawaii News Now. All rights reserved.