When it comes to the ex-police chief's legal defense, things just got more complicated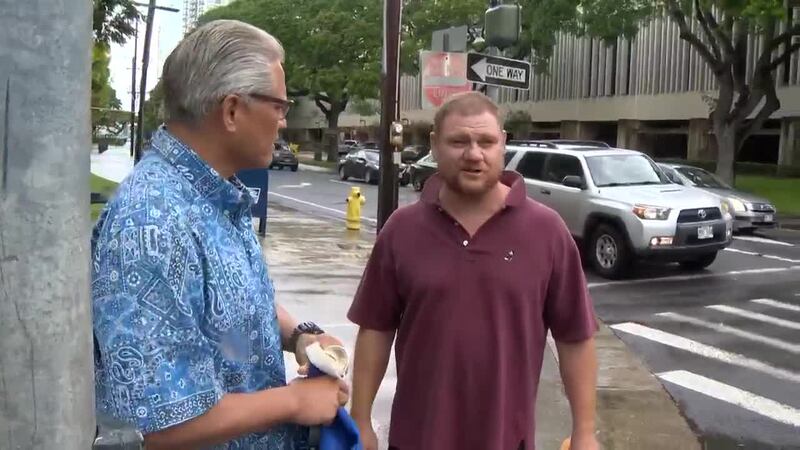 Published: Mar. 11, 2019 at 4:07 PM HST
HONOLULU (HawaiiNewsNow) - Defense lawyers often try to create swirling confusion in a criminal case in order to create reasonable doubt among the jurors.
But in the case of the U.S. versus Louis and Katherine Kealoha, the swirling doubts now surround their legal teams ― and who will ultimately pay their considerable fees.
Last week, Honolulu attorney Kevin Sumida appeared before the Honolulu Police Commission for a contested case hearing over whether city taxpayers should pay for the defense for Louis Kealoha, the former police chief.
Sumida has argued that all of the allegations of fraud, obstruction and civil rights violations against Kealoha happened while he was chief and involve his official duties.
Under city law, he is likely entitled to have the city provide his defense.
But Kealoha already has taxpayer-supported counsel ― veteran criminal defense attorney Rustam Barbee ― who told the judge he was not involved in seeking the city support and did not authorize Sumida to make the move.
Barbee is being paid for by federal tax dollars.
Judge Michael Seabright, who asked about the Police Commission request in open court, said it was hard to understand the point of Sumida's request because any money that came from the city would conceivably go to reimburse the federal government for what it is paying.
Kealoha and his wife Katherine, a former high-ranking deputy city prosecutor, are both charged in two separate federal indictments in connection with allegations that they financed a lavish lifestyle through theft and fraud ― and tried to frame Katherine Kealoha's uncle by staging the theft of the couple's mailbox and blaming him.
Seabright approved court-appointed counsel for the Kealohas nearly a year an a half ago, after they said they couldn't afford to hire private attorneys because of the burden of the mortgage on their Hawaii Kai home.
The amount attorneys are paid in federal cases is rarely disclosed, but on top of attorney fees the cost of a defense includes hiring experts to challenge highly-technical financial and electronic evidence, travel costs for defense witnesses and the price of defense investigators.
Sumida, the attorney, has represented the Kealoha for many years in civil matters, including successfully defending Katherine Kealoha against a lawsuit brought by her grandmother and uncle.
In court filings, federal prosecutors have alleged that Kealoha did indeed steal from her grandmother and uncle, as well as young relatives who had received a malpractice settlement over their father's death.
But Sumida has been off the criminal case since officially withdrawing in 2017. He and co-counsel Myles Breiner told the court the Kealohas could not afford them.
Nonetheless, at last week's Police Commission, Sumida claimed to be the former chief's representative.
Commission members had lots of questions ― and the answers aren't yet clear.
For one, did Louis Kealoha actually authorize Sumida to speak for him in the criminal cases?
If he has, it could indicate a breach with Barbee, who has been representing Kealoha since November 2017. Recall that Barbee told a federal judge he was unaware and had not authorized the move to get city funding for the defense.
If the commission decides it must pay for Kealoha's defense, then what happens?
Seabright suggested that would mean the city would simply step in for the federal treasury. That would mean Barbee would stay on as Kealoha's attorney, but that his fees would be paid for by city taxpayers and not the federal government.
But other experts said support from the city for Kealoha could be regarded as income, and make him ineligible for his federal-appointed counsel.
At that stage, would Kealoha seek to have Sumida replace his current attorney?
It's unclear how federal prosecutors, the other defendants and the alleged victims would respond to an 11th hour change in attorneys, which could toss the trial into delays and chaos.
Federal prosecutors would likely challenge a Sumida appointment.
They had sought his removal before he withdrew for conflicts of interest because he represented both Kealohas in prior cases. Prosecutors also said Sumida was a potential witness.
But prosecutors have also hinted in a recent filing that the judge should reconsider his approval of federal support for the Kealohas' defense. They said because their Hawaii Kai home has been sold to pay the bank and for potential restitution, they no longer have the burden of the mortgage and may be able to afford their own attorneys.
If the judge agreed and the city took over paying Louis Kealoha's defense, he would have the resources to fight the charges and be free to select Sumida as his attorney ― if he claimed he couldn't work with Barbee.
In other words, there are a lot of unknowns when it comes to who will ultimately represent Louis Kealoha. What is for certain: Taxpayers will foot the bill, whether at the federal or city level.
Copyright 2019 Hawaii News Now. All rights reserved.