Cost to transport, house Hawaii inmates on the mainland is skyrocketing
Updated: Mar. 11, 2019 at 5:32 PM HST
HONOLULU (HawaiiNewsNow) - Hawaii taxpayers spent almost $2 million last year to move prisoners back and forth from Saguaro Correctional Center in Arizona.
That comes out to about $1,800 for each, one-way ticket.
Hawaii News Now has been there for several of these high-security moves. The most recent happened earlier this month and involved 190 inmates on board an Omni Air International plane out of Honolulu.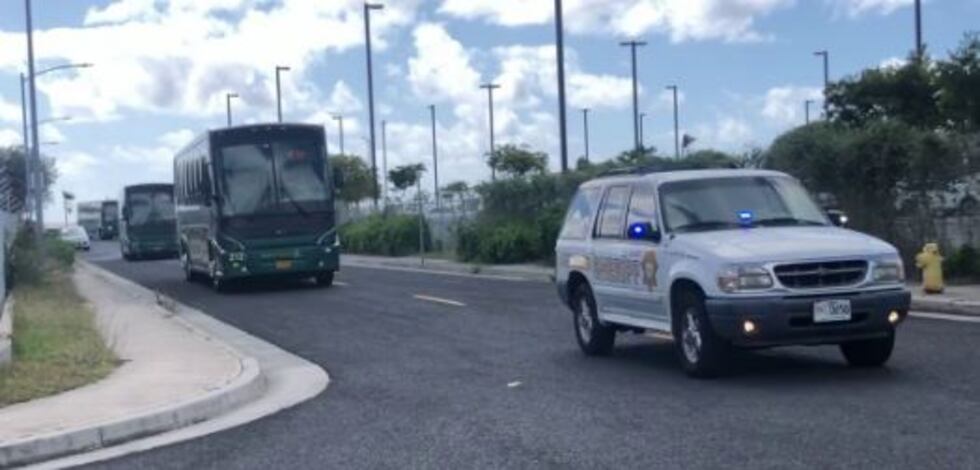 A caravan of sheriff's deputies escorted the rented tour buses with inmates. K-9 units and heavily-armed officers guarded the tarmac as each prisoner, wearing shackles and belly chains, walked up the staircase into the plane.
State records show the cost to transport prisoners to and from the mainland ― and to house them ― have grown tremendously.
In 2016, the state flew a total of 650 inmates to or from Saguaro at a cost of $871,213, which works out to about $1,300 each way per inmate.
In 2017, the cost doubled. More than 1,000 took a flight, pushing up travel costs to $1.6 million.
Last year, 1,167 inmates were moved at a cost of almost $2.2 million.
And those costs are just for air transportation.
To house the prisoners, Hawaii taxpayers are also seeing the bill steadily rise.
In fiscal year 2016, the price tag was $38 million.
In fiscal year 2017, it shot up to $44 million, and then $45 million last fiscal year.
State Sen. Karl Rhoads, chairman of the Judiciary Committee, said Hawaii doesn't have a choice but to pay the costs with Halawa Correctional Center exceeding capacity.
A new, planned jail for the site of the Animal Quarantine Station will eventually replace Oahu Community Correctional Center, so it won't be designed for long-term prisoners.
The air transports happen about three or four times a year. A chartered plane brings inmates to Hawaii who are close to being released, and within 24 hours the plane leaves for Arizona with inmates just starting to serve their time.
Rhoads said residents don't want to pay for a new prison and don't want one in their backyard.
He doesn't think the financial burden is too much, but he does believe the cost is not just dollars and cents.
"If you start factoring in that they're separated from their families, and they probably are going to get out at some point, then the straight dollars and cents analysis starts to break down," said Rhoads.
"It's pretty irrefutable, at this point, that the more you lose contact with your family, the more likely you are to commit another crime."
Copyright 2019 Hawaii News Now. All rights reserved.