Dog park a draw at one of Honolulu's most problem-plagued public spaces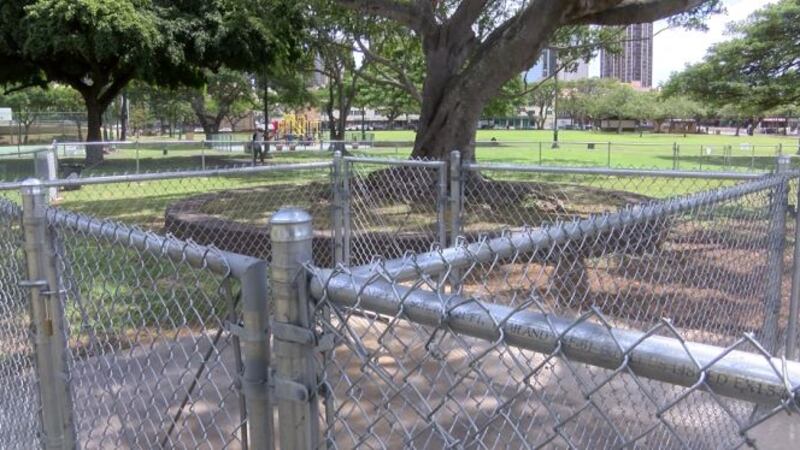 Updated: Mar. 11, 2019 at 4:57 PM HST
HONOLULU (HawaiiNewsNow) - While fetch is a concept Kelly Kerins' puppies are still working on, her two French bull dogs couldn't have been happier Monday morning as they ran free inside Honolulu's newest off-leash dog park.
Near the basketball court at Aala Park, it's bordered by a concrete walkway with plenty of shade from nearby trees, and includes separate sides for small and large dogs.
"I think they're having the best time," said Kerins. "They have no idea how much their life is going to improve."
Aala Park is just a three-minute walk from Kerins' apartment.
But for a long time she avoided it, saying it wasn't safe for her or her dogs.
"I wasn't sure what is on the grass. There was a lot of trash and debris," said Kerins. "And you know some shady characters."
Up until recently, the park had been overrun with squatters and was a haven for drug activity. But that started to change last fall when the American Savings Bank headquarters moved in across the street.
"It's our neighborhood now. We're thrilled to be a part of it," said ASB spokesman Richard Wacker. "Last fall, we re-painted the skate park. We've also been coming over for regular clean-ups."
With help from the city and other community groups, the long neglected park received a makeover and security. Roving patrols cost upwards of $40,000 a month and pushed the homeless off the grass and onto a nearby sidewalk.
Mayor Kirk Caldwell says he's working on some new laws to help deal with all the blocked walk-ways but in the meantime sweeps will continue.
"If we stopped enforcement can you imagine what this community would look like," said Caldwell.
In the meantime, Kerins calls what's been done an improvement and is excited her puppies have a new place to play.
"They don't have to worry about cars or anyone else," she said. "They just have a good time with all their new friends."
The dog park is open from 6 a.m. until 9 p.m.
Copyright 2019 Hawaii News Now. All rights reserved.