Gun-toting man who shot at lava evacuee enters guilty plea in federal court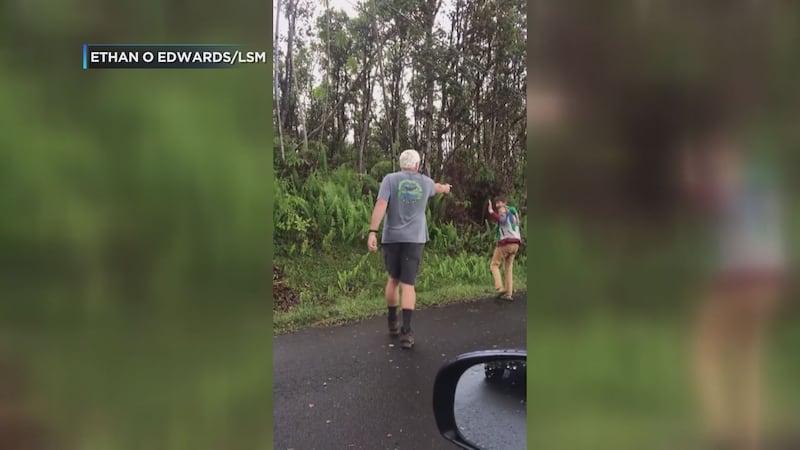 Published: Mar. 4, 2019 at 4:31 PM HST
HONOLULU (HawaiiNewsNow) - The gun-toting man accused of firing his weapon at a lava evacuee during a confrontation that took place in the heat of last year's Kilauea eruption has entered a guilty plea for some of the charges related to the incident, Hawaii News Now has learned.
John Hubbard, who was 61 years old at the time of his arrest, was initially charged with two counts of first-degree reckless endangering and five counts of first-degree terroristic threatening in connection with the incident, which was caught on camera by other evacuees.
Prosecutors said Monday that Hubbard had pleaded guilty to one count of being a convicted felon in possession of a firearm and ammunition. He'll still have to stand trial for the remaining charges in state court on Hawaii Island, but the terms of the plea agreement indicate his federal sentence will be imposed 'concurrently with any sentence he receives from the related Hawaii state charges.'
The video is disturbing, appearing to show Hubbard — wearing a gray shirt and black shorts — firing his weapon at a man who identifies himself in the video as a lava evacuee. It was filmed on May 29 — when Kilauea was highly active, evacuations were being ordered and tensions were running high.
Hubbard can be heard speaking in the video, accusing the victim of trespassing in Leilani Estates and yelling at him to "get out of here," referencing the subdivision.
The victim yells in response: "I live here! I live here!" He was later identified as a 32-year-old resident of the area who was showing a group of his friends the area where his home used to stand before it was claimed by lava.
Police said the incident happened near the intersection of Kahukai and Makamae streets within Leilani Estates. No one was injured during the confrontation.
Hubbard later told federal investigators that the weapon had been destroyed by the lava flow on Hawaii Island.
Copyright 2019 Hawaii News Now. All rights reserved.