A dismissed 2015 DUI is among the ways Kealoha allegedly helped her friends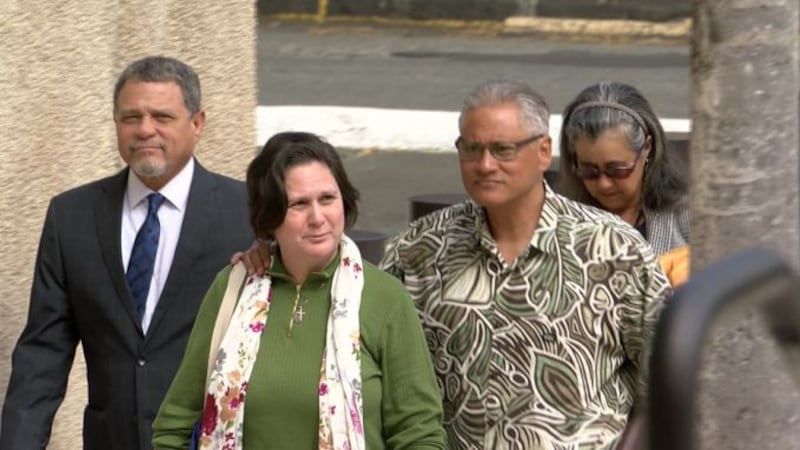 Updated: Feb. 27, 2019 at 8:38 PM HST
HONOLULU (HawaiiNewsNow) - The federal investigation into public corruption at some of Honolulu's highest levels includes traffic court favors for friends of ex-deputy Prosecutor Katherine Kealoha.
Author Chris McKinney is one of those friends: According to court documents, Kealoha dismissed his 2015 DUI case.
The two grew up near each other on Oahu's windward side and McKinney was close friends with Kealoha and her brother, Dr. Rudy Puana.
Kealoha, who faces a host public corruption and financial fraud charges, is also charged with her brother in a massive, 54-indictment on drug and firearms charges.
And McKinney is identified in that indictment as co-conspirator #1.
Evidence federal authorities collected includes an audio recording from May 26, 2015.
In that recording, which Hawaii News Now also obtained, the judge and even McKinney's own attorney can be heard expressing confusion after hearing from deputy Prosecutor Justin Tsai that the case has been dismissed.
That's despite the fact that McKinney had a blood alcohol reading that far exceeded the legal limit.
Here's an excerpt of the exchange:
McKinney's attorney: Good Afternoon Your honor, Jason Burks on behalf of Mr. McKinney. He's seated outside in the hallway.
Tsai: And, your honor, the state would request to remove this case from the calendar.
(Pause)
Judge: Remove it, or dismiss it?
Tsai: Um, I was told to have it removed and we would dismiss it without prejudice later.
Judge: Well, it's on the calendar. Unless it's somewhere else?
Burks: I don't have any position on this. (laughs)
Judge: Alright, the state's request to remove it, whatever that means, matter will be dismissed without prejudice.
Just minutes before the exchange, Kealoha was seen in the courtroom, talking to Tsai.
McKinney's case never went to trial.
Legal expert Victor Bakke said the keeping your friends from getting into trouble is "another type of prosecutorial abuse, where you're basically dirty and helping out your friends."
The federal court documents say this was the second time in months that Kealoha went to traffic court.
In the fall of 2014, federal authorities allege that she fixed a speeding ticket for her electrician.
"Nothing now shocks us," said Ken Lawson, of the University of Hawaii William S. Richardson Law School.
"Just covering up a speeding ticket should shock us."
Copyright 2019 Hawaii News Now. All rights reserved.