New security cameras, more police among new strategies to battle Waikiki crime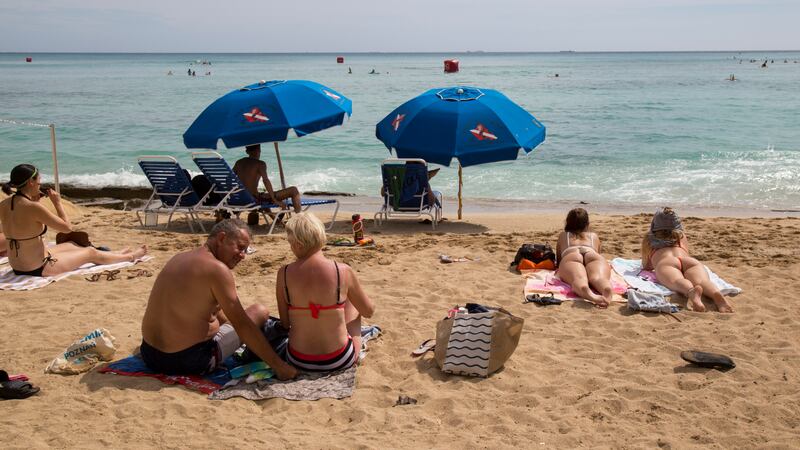 Updated: Feb. 27, 2019 at 3:41 PM HST
HONOLULU (HawaiiNewsNow) - Forty new security cameras. A greater police presence. And removals of benches and walls where criminal elements are known to gather.
Those are among the public safety strategies the city is taking ― with the help of a number of private groups ― as part of a bid to address rising crime in Waikiki.
Mayor Kirk Caldwell announced the plans Wednesday in a news conference in Waikiki, in which he was joined by representatives of Waikiki businesses, the tourism industry and the Honolulu Police Department.
"Waikiki is one of the safest visitor destinations in the entire world, and we want to make sure our visitors always feel comfortable in this very special place," Caldwell said.
"When the installation is pau, the Waikiki district will have at least 50 surveillance cameras to help police in their mission to keep both visitors and residents safe while they celebrate life in one of the most incredible places on our planet."
Crime in the state's no. 1 tourism destination has been a growing concern for months, especially in the wake of a number of high-profile incidents.
And the city and police have already taken a number of steps in hopes of curbing crime.
But the announcement Wednesday is the biggest coordinated effort to date to address the problem ― and a public acknowledgment that something needs to be done.
The city said the public safety initiative includes:
The installation of 40 security cameras across Waikiki, thanks to a grant from the Waikiki Business Improvement District Association. The addition will bring to 50 the number of security cameras throughout Waikiki. The 10 surveillance cameras already in Waikiki are mostly along Kalakaua Avenue.

New concessions for three pavilions on the makai side of Kalakaua Avenue.

A greater police presence across Waikiki, including with foot and ATV patrols and new recruit training.
Here's where the new cameras will be installed in Waikiki

The cameras will be added to 10 cameras already up in the area.

| | Camera location |
| --- | --- |
| 1 | Kalakaua Ave and Seaside Avenues |
| 2 | Kalakaua Ave (International Market Place) |
| 3 | Kalakaua Ave and Kaiulani Avenues |
| 4 | Kalakaua Ave and Uluniu Avenues |
| 5 | Kalakaua Ave and Paoakalani Avenues |
| 6 | Kalakaua Ave and Seaside Avenues |
| 7 | Kuhio Avenue and Nohonani Street |
| 8 | Kuhio Avenue and Walina Street |
| 9 | Kuhio Avenue and Kanekapolei Street |
| 10 | Kalakaua Ave and Ala Wai Blvd |
SOURCE
:
City and County of Honolulu
This story will be updated.
Copyright 2019 Hawaii News Now. All rights reserved.