Protesters tell Alexander & Baldwin: 'Don't be a deadbeat dad'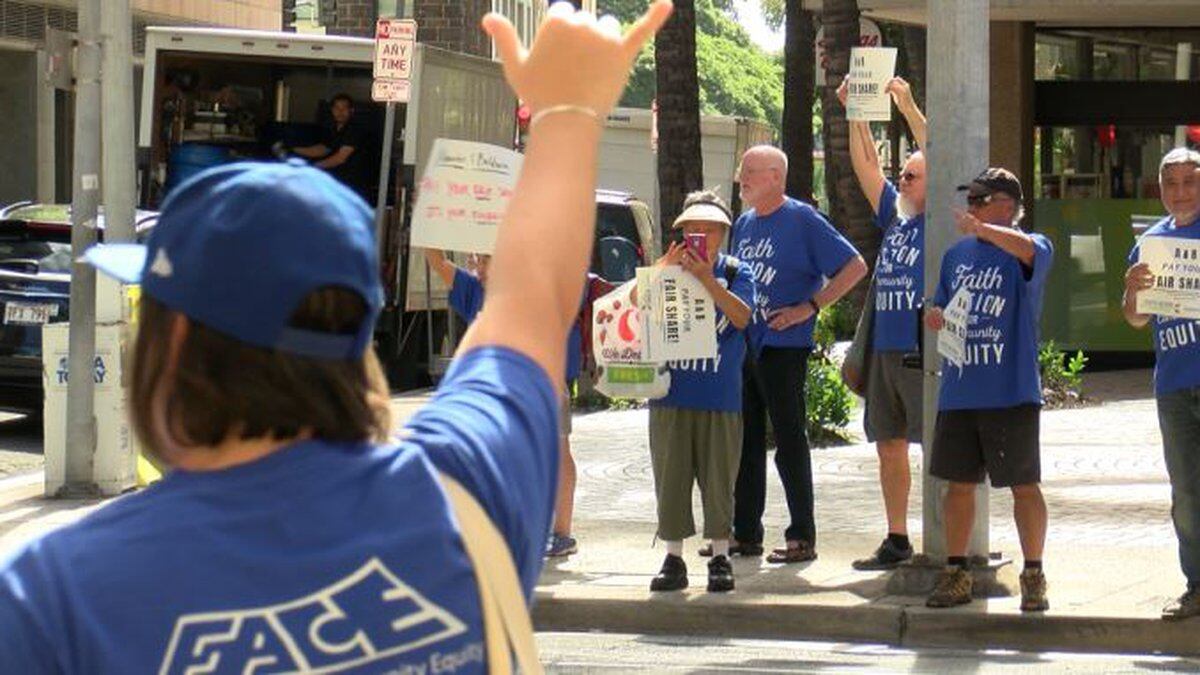 Updated: Feb. 22, 2019 at 5:33 PM HST
HONOLULU (HawaiiNewsNow) - Dozens protested at Alexander & Baldwin Inc.'s downtown headquarters Friday, saying A&B and other companies like them are not paying their fair share of taxes.
"It's shameful. Truly, it's disgraceful. It's almost like they're a deadbeat dad," said Rev. David Gierlach, a member of the group Faith Action for Community Equity, or FACE, which organized the protest.
"We're here to say to Alexander & Baldwin, don't be a deadbeat dad."
A&B is one of dozens of real estate investment trusts that operate in Hawaii. REITs here own some of the state's largest shopping centers, hotels and office buildings.
REIT's don't pay corporate income taxes on most of their taxable income because they're required to pass on 90 percent of that income to their shareholders.
"Ninety-nine percent of (their shareholders) do not live in Hawaii, so they pay taxes to other places, not Hawaii," said Evelyn Aczon Hao, president of FACE.
FACE says that's a loophole that's costing the state $60 million a year in lost tax revenue.
Bills now moving through the state House and Senate would tax REITs at the corporate tax rate or create a system to withhold taxes owed by the REITs' shareholders.
FACE says money raised by the tax should go to fund affordable housing projects.
A&B did not directly address the protesters' complaints. But in testimony in the Legislature, it said the tax proposals could force REITs to look elsewhere to invest, reducing the number of new construction projects and jobs in Hawaii.
The REIT industry, meanwhile, disputed FACE's estimates. They said requiring REITs to pay corporate income taxes would raise at most about $10 million a year.
Copyright 2019 Hawaii News Now. All rights reserved.