A law meant to help the mentally ill is actually preventing some from getting care
Published: Feb. 20, 2019 at 9:20 PM HST
HONOLULU (HawaiiNewsNow) - For the hundreds of homeless people incapacitated by mental illness in Hawaii, years go by ― and for many, nothing changes.
They become fixtures at parks and bus stops, falling deeper into their sickness.
In 2014, the state passed a law ― known as Assisted Community Treatment ― that was meant to get help to those with serious mental illness. It provided a way for courts to order someone to get treatment.
But since then, it's only been used a handful of times ― helping on average just two people a year.
And homeless advocates say the problem is how the law is written, creating a loophole that they say actually prevents people from getting care. This legislative session, they're calling on lawmakers to take another look at the law, amending the measure's language to ensure their highest-need clients are getting help.
The core of the issue: How the law is worded.
Outreach worker Justin Phillips says despite the law, it takes upwards of a year on average to convince someone suffering from severe mental illness to start taking medication.
"Normally folks don't accept treatment services in the street," said Phillips, a member of the state's only psychiatric street medicine team.
In order to make the law more effective, he said, the measure's definition of what it means to be an "imminent danger to self or others" needs to be expanded ― to include a person whose health is so compromised that if nothing is done they are at risk of serious medical illness or death.
Wrapped in a blanket stained with feces, Shatonya Tyler and her shopping cart have become a fixture at the bus stop outside Harris United Methodist Church.
At least once a week, members of the Institute for Human Services' psychiatric street medicine team stop by to offer help. On Friday, they were joined by Lt. Gov. Josh Green, an emergency room doctor.
When Green asked Tyler where she grew up, she responded, "In the mountains of America! And that's the truth!"
Doctors have diagnosed Tyler with schizophrenia, a debilitating mental disorder that affects how a person thinks, feels and acts. Throughout the team's visit with her, she oscillated between talking gibberish and speaking normally.
After one outburst, she said, laughing, "You don't talk American Indian do you? That's a shame."
The street medicine team also suspects Tyler is suffering from severe sores on her legs that limit her ability to walk. Despite her overall poor health, she's declined repeated offers for medication and other help.
"One of the reasons we wanted to meet you was because Dr. Chad is really great with helping people with their thoughts," Green told Tyler, referring to a member of the street medicine team.
Tyler replied, "I'm a doctor, too. Scientist, FBI."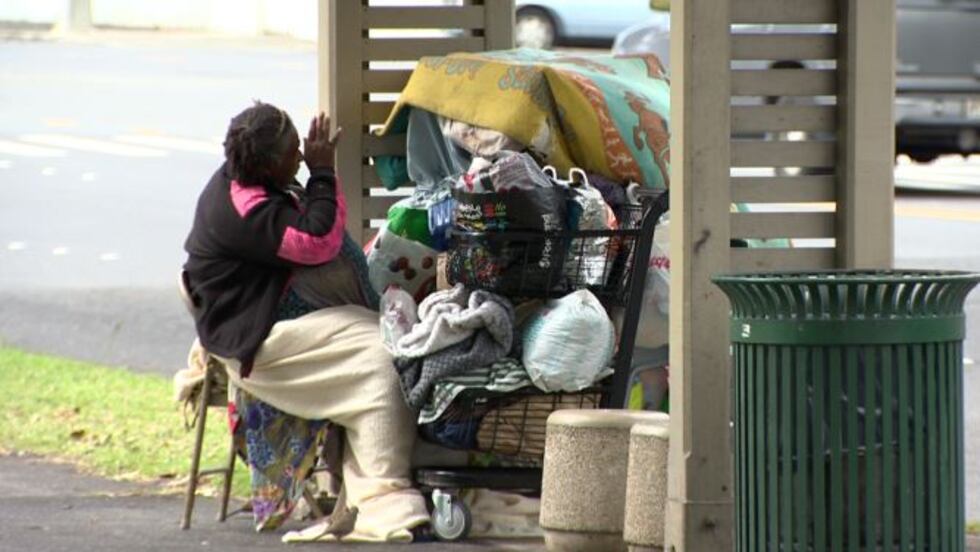 Phillips, the outreach worker, said homeless people with severe mental illnesses are showing up at emergency rooms with serious infections and untreated wounds, some of which are life-threatening.
"And we end up having to have them hospitalized or get amputations because of the degree they're decompensating in the community. This could all be avoided," he said.
But in the meantime, people like Tyler still must be convinced that they need help.
As the street medicine team left the bus stop where she lives, Green said, "Tonya, we will come and keep offering help if you need it."
She responded, "OK, I appreciate it."
Green spent the day with the street medicine team and outreach workers to get a fresh outlook on the state's homeless crisis. And he got one.
"It's is incredible what is possible," he said. "But on the flip side if we don't improve this program we won't be able to get to the tough cases."
Green vowed to take steps toward making Hawaii's Assisted Community Treatment Law one that's more beneficial ― and widely-used.
"I'll have conversations with the ACLU. I'll have conversations with our attorney general and our justices," he said.
"So everybody knows we can actually restore civil rights to people who are suffering from schizophrenia and homelessness on the street rather than passively denying them their civil rights, which is their civil rights of good mental health.
There are four bills at the legislature dealing the issue: SB1124, SB567, SB1464 and SB1465.
Copyright 2019 Hawaii News Now. All rights reserved.