After squatters were kicked out of an urban park, the really big problems began
Updated: Feb. 18, 2019 at 6:00 PM HST
HONOLULU (HawaiiNewsNow) - On Kaimuki Avenue, right next to Kaimuki High School, there's barely enough space for students to walk on the sidewalk.
Pedestrians who venture into the area find themselves on a foul obstacle course. In one spot, a jug of urine sits next to an intricate network of tarps and tents.
"A lot of drugs and fights going on," said neighbor Hannah Brown.
"It's not safe for other people. It's not safe for them," added neighbor Keenan Libadisos.
Last September, Crane Community Park closed for repairs ― forcing dozens of illegal campers out. When it reopened two months later, the city had hired a private security company to make sure the camp didn't come back.
But neighbors say that created a whole new set of problems: An encampment on the sidewalk that's forcing pedestrians to walk into traffic and making on-street parking a real challenge.
"You wouldn't even be able to get out of your car," Libadisos said.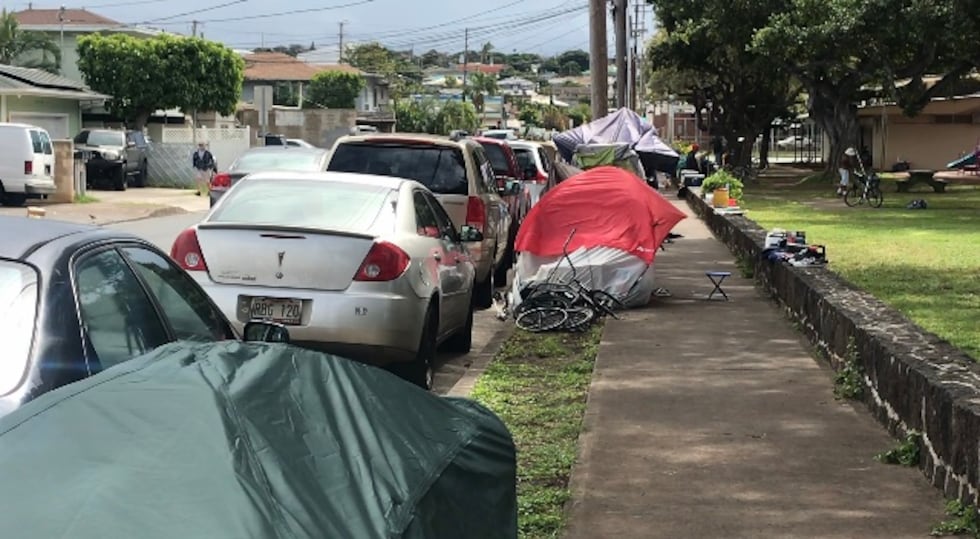 Around the corner, the owner of Sweet Blossoms says she's also seen a dramatic shift. People who used to sleep in the park are ending up on her doorstep.
"Two, three weeks ago, they trashed the whole front," said Irene Cheng.
Cheng added that her neighbors just replaced their door after it was smashed in. And she's installed security cameras after thieves burglarized her shop.
"They broke the lock. The came. They take all my cash," said Cheng. "It's hard, you know? Because we're a small business. Every penny counts."
Back in November, the mayor acknowledged the same problems happening in communities across the island.
He touted bills 51 and 52, saying they would outlaw sidewalk obstructions and make it illegal to live in a public space if shelter is available. He also called out council leadership for delaying enforcement.
The bills eventually passed.
But now the same people who had a hand in writing the measures say they could get the city sued.
"We may have missed some of the concerns for both practical and legal issues," city attorney Duane Pang told the City Council earlier this month.
After hearing the explanation, Councilwoman Kim Pine responded with exasperation. "I just have to say this is so unacceptable," she said.
While the city works on fixing the laws, a spokesperson confirmed sidewalks outside Crane Community Park are being swept once a week, adding homeless outreach workers try to visit several times a month.
Many residents, however, say that's not cutting it.
"No, no. Not safe at all. That's why I'm scared to work by myself here," said Cheng.
Added Brown: "I think they were better in the park, truthfully."
Copyright 2019 Hawaii News Now. All rights reserved.