Running on platform of 'peace at home and abroad,' Gabbard officially kicks off presidential campaign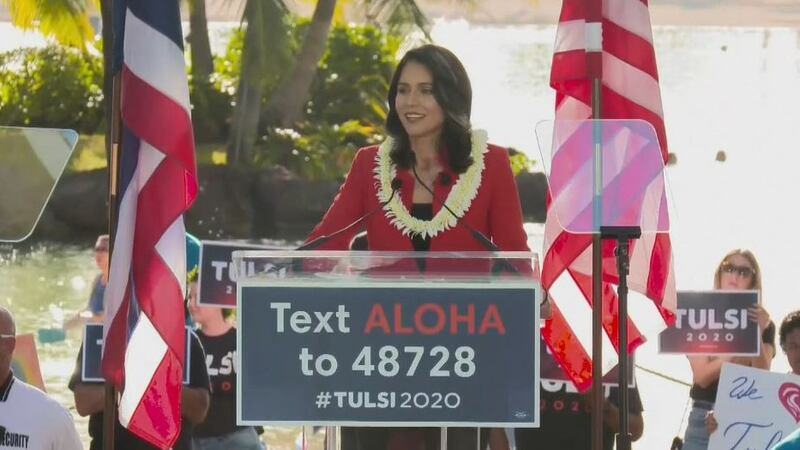 Updated: Feb. 3, 2019 at 1:37 PM HST
HONOLULU (HawaiiNewsNow) - In front of scores of supporters in Waikiki on Saturday and with hundreds more watching online, Congresswoman Tulsi Gabbard officially kicked off her 2020 presidential campaign, saying that she wants to "build a movement of peace at home and abroad that will fulfill the promise of America."
"Our cause is to create a new and different path that re-claims our destiny and restores the uniquely American ideal: to seek a higher purpose, greater than ourselves. To put service before self," Gabbard, D-Hawaii, told attendees gathered at the Hilton Hawaiian Village's Great Lawn for the event.
"We serve as one. United by this bond of love for each other and love for our country."
The campaign kickoff comes after a rocky month for Gabbard, who since announcing plans to run for the White House in 2020 — joining a crowded field of Democratic contenders — has had to take to social media to apologize about previous statements she made about the LGBTQ community and has faced new scrutiny for meeting in 2017 with Syrian President Basar al Assad during an unannounced visit to the war-torn country.
In her speech Saturday, Gabbard didn't address those issues head-on, but she did say that as president she'd be willing to sit down with friend or foe in order to avoid conflict.
"I will have the courage to meet with both friends and adversaries in the pursuit of peace and our national security," Gabbard said. "Because if we lack the courage to meet with those we disagree with, the only alternative is war."
The Congresswoman took the stage about 4 p.m. to address the crowd. Before her speech, a number of Hawaii artists performed for attendees, including Amy Hanaialii, Kimie Miner, and the Tonga Sisters.
Gabbard, who represents Hawaii's 2nd Congressional district, was first elected to the U.S. House in 2012.
And she's long pushed an anti-interventionist platform, arguing that "regime change wars" have cost the United States far too much in blood and treasure — and have led to power vacuums that allowed terrorist groups to flourish.
"We must stand united and stand strong against those in both parties who never tire of war," said Gabbard, an Iraq War veteran who said her service showed her the true costs of war "and who pays for it."
In her speech, Gabbard also had a warning about America's current foreign policy trajectory, saying it is "undermining our national security, depleting our resources and exhausting our military."
She continued: "As your commander in chief, I will work to end the new cold war and lead us away from the abyss of a nuclear war that could destroy our world in mere minutes."
Gabbard: 'I'm deeply sorry' for past anti-LGBTQ beliefs and comments
Gabbard's controversial positions plague early days of her presidential campaign
Gabbard adds to a diverse — and growing — field of Democratic candidates who have announced they'll challenge President Donald Trump in 2020. Among them: Kamala Harris, Cory Booker, and Elizabeth Warren — all of whom have more name recognition and broader support than Gabbard.
But supporters say Gabbard, who is just 37, brings a new perspective for a new generation.
"Her heart is in serving this state and her country and we're just so proud to have her step up," said Gabbard's father, Mike Gabbard. "From this shy little girl that we raised, it's just amazing to see the transformation."
Supporter Gurudev Allin said the criticism of Gabbard since she announced plans to run isn't fair.
"I feel like she's being held up to a different standard than other politicians," Allin said. "I think that I appreciate her genuineness and i feel she's in it for the right reasons she is not in it for her ego."
In addition to foreign policy, Gabbard's speech touched on her support for tougher environmental regulations, criminal justice reform and Medicare for all.
She also took several swipes at Trump, saying he has turned "the swamp" into a cesspool of corruption.
Her overall message to attendees, though, was a simple one: Let's do this.
"The road ahead will not be easy. The battle swill be tough. The obstacles great," she said. "But I know that when we stand united, there is no obstacle we cannot overcome. No battle that we cannot win."
Copyright 2019 Hawaii News Now. All rights reserved.