Oceangoers spotted walking on sperm whale carcass off Oahu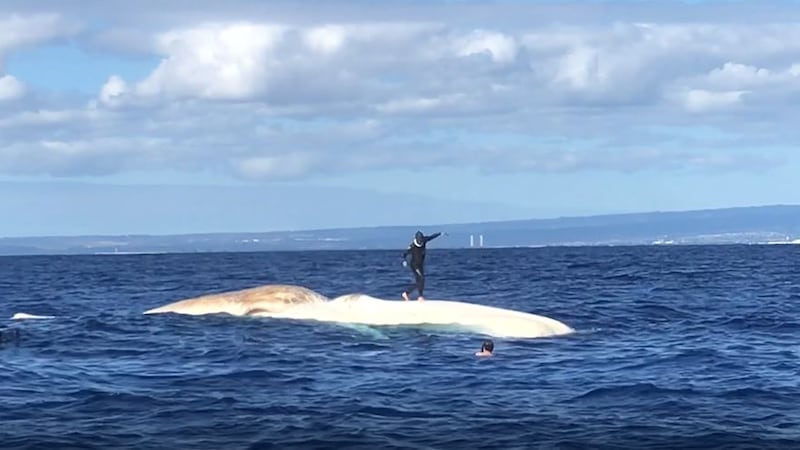 Updated: Jan. 17, 2019 at 3:38 PM HST
HONOLULU (HawaiiNewsNow) - The state is urging oceangoers to stay away from a sperm whale carcass off Oahu that's attracting sharks.
Not everyone is listening.
Video captured Wednesday shows a swimmer climbing on the carcass and then falling into the water.
The Department of Land and Natural Resources' Division of Conservation and Resources Enforcement (DOCARE) Chief Jason Redulla said some reports also suggest people have tried to remove the whale's teeth.
Redulla said which is not only illegal, it is "extremely culturally disrespectful."
"To take, possess, or to remove anything from the carcass is a violation of both state and federal laws and violators are subject to fines and imprisonment," said Redulla.
Redulla said both federal and state investigations have been launched.
The witness who captured the images asked to remain anonymous. She said the swimmers were disrespectful and "gross."
"When this boat pulled up, they all jumped off and immediately swam toward the whale carcass, making a lot of noise and a lot of splashing," she said.
"We saw one individual immediately go down to the jaw and cut teeth out."
She said the swimmers also "climbed up onto the carcass ... sliding around on top of it."
The 50-foot sperm whale has been attracting sharks off Oahu for days. Last week, it washed ashore off Sand Island. Officials were able to drag it back out into deeper waters, where large sharks have continued to feed on it.
Among the sharks joining the feeding frenzy: The biggest great white shark ever seen.
Her name is "Deep Blue." She is 20-feet long and believed to be the biggest great white to be captured on camera.
Shark biologist Ocean Ramsey photographed her and said only professionals should get close.
"If someone is jumping in next to a dead whale and a tiger shark is just trying to swim up to eat the whale, and they get bit, who's reputation is gonna suffer? It's the poor shark and many times with these "attacks" there's some sort of human implication," Ramsey said.
On Thursday, the state said the whale had drifted back closer to shore — onto a reef off Oahu's south shore.
Attempts to tow it back into deeper waters failed, and officials are hoping to try again Friday.
Copyright 2019 Hawaii News Now. All rights reserved.