On the legislative agenda this session: $15 minimum wage, recreational marijuana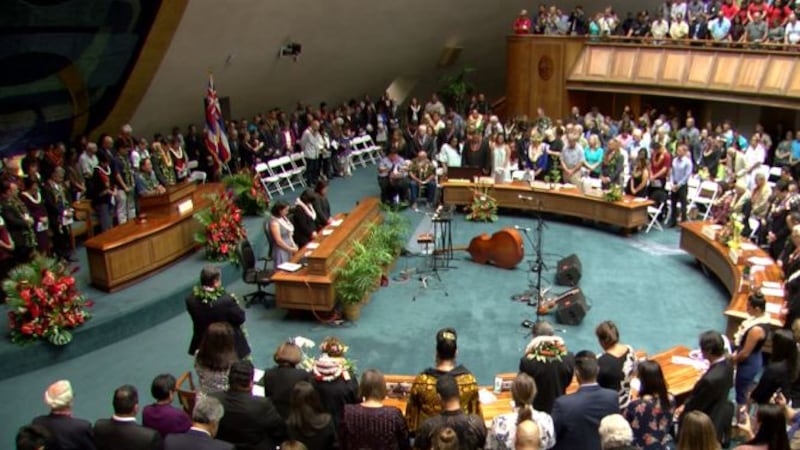 Updated: Jan. 16, 2019 at 3:45 PM HST
HONOLULU (HawaiiNewsNow) - Lawmakers convened Wednesday for the 30th Hawaii Legislature, with representatives from both sides of the aisle vowing to avoid the divisiveness that's defined national politics.
The legislative priorities for the year include raising the minimum wage, legalizing recreational marijuana and funding disaster recovery after historic floods on Kauai and the unprecedented Kilauea eruption on Hawaii Island.
But those measures aren't likely to be approved without considerable debate.
The last minimum wage increase went into effect a year ago, when hourly rates were increased to $10.10.
However, many legislators have argued that needs to get bumped up again, with some calling for a $15 minimum — or so-called "living" — wage.
"As we already know, regular people are having an increasingly difficulty time making ends meet and the diving between those with and without resources is growing," said House Speaker Scott Saiki, in his opening day address.
"We need to re-examine wage disparity, while also considering the impact on those who pay wages, and especially small businesses that, unlike other states, provide medical insurance and other benefits to their workers."
The minimum wage hike has been an issue that Democrats and Republicans have often sparred over. Opponents argue a $15 minimum wage will hurt small business, while advocates say it will pull more families from poverty.
The Democratic Party of Hawaii has identified establishing a living wage, legalizing recreational cannabis and increasing funding for public education as its top legislative priorities for 2019.
The pathway to decriminalizing recreational marijuana use may be a little clearer than it has ever been thanks in part to its legalization in 10 states and Washington, D.C.
But since pot is still illegal at the federal level, it faces an uphill battle.
Cannabis bills have been shot down every session for the past two decades, and even lawmakers who are open to the suggestion point to the length of time it took to get Hawaii's dispensaries off the ground — years after medical marijuana was legalized.
One issue legislators are more likely to agree on is disaster recovery funding after historic floods on Kauai and the unprecedented Kilauea eruption on Hawaii Island.
The House Finance and Senate Ways and Means committees appropriated $125 million in April to address the extensive damage caused on Kauai and Oahu, but the state Legislature was already out of session when the first fissure opened in Leilani Estates.
Hawaii County Harry Kim announced recently that he would ask lawmakers for a "lava relief package" of $155 million over the next two years.
The session officially kicked off at 10 a.m., with scores of members of the public gathering in the gallery for the opening ceremonies.
While hundreds of bills are introduced each year, the reality is that only about 10 percent of them make it all the way through the session and ultimately get signed into law.
The House floor proceedings featured a special presentation from Henry Kapono, followed by remarks from Saiki.
In his address to legislators, Minority Leader Gene Ward said representatives on both sides of the aisle are going to debate key issues facing the state vigorously while setting a civil tone.
"We're going to agree to disagree but not be disagreeable," he said. "That's the aloha spirt."
There are 46 Democrats in the state House and five Republicans.
The Senate's opening ceremony included an address from Senate President Ron Kouchi followed by a speech from state Sen. Kurt Fevella, the only Republican in the body.
Copyright 2019 Hawaii News Now. All rights reserved.