Arrest of an imu organizer heats up debate over Hawaiian language rights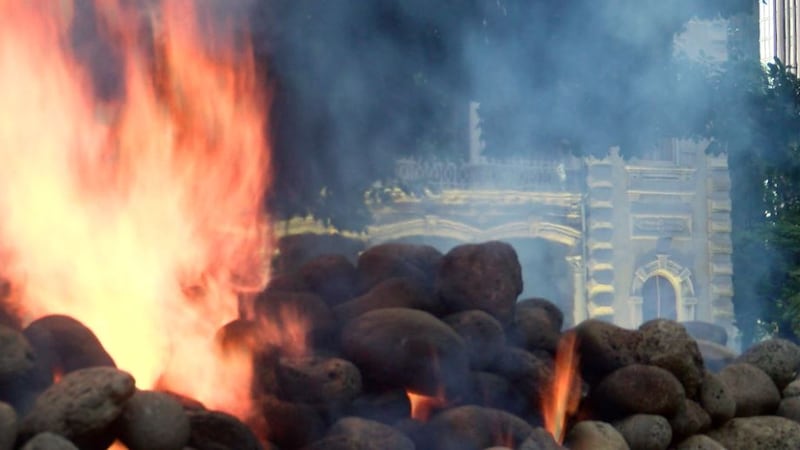 Updated: Jan. 15, 2019 at 10:45 PM HST
HONOLULU (HawaiiNewsNow) - History appears to have been made Tuesday with the lighting of the first Imu on the grounds of Iolani Palace.
The Imu was fired up and prepared in preparation for Wednesday's opening ceremony at the state legislature, but it didn't happen without some controversy.
Before the imu was completed, a man was arrested. And his arrested is now raising important questions about Hawaiian language rights.
During set up on Monday, the main organizer, who is a well known Native Hawaiian activist ended up in handcuffs.
Video surfaced online of sheriff's deputies arresting poi-maker Daniel Anthony on the Palace grounds.
The video went viral with some comments claiming it's evidence of racism and police misconduct.
But the Department of Public Safety says Anthony was booked for driving with a suspended license.
He sees it differently.
"Yesterday, I was kidnapped by terrorists," Anthony claimed.
Anthony said he was driving this truck loaded with imu supplies through the deliveries gate. He says a sheriff's deputy in an unmarked car cut him off and told him to get out.
When dealing with the deputy, Anthony responded in Hawaiian.
"I was handcuffed, my rights were not read to me, I was not told why I was arrested, I was held in a cell where they told me, if I refused to speak English, they were going to keep me for three days," he said.
Anthony asked the deputy for an interpreter and, out of principle, kept refusing to speak to him in English.
"If you are going to come here on our land and enact justice, you better know our language," Anthony said.
Anthony's personal standoff came almost exactly a year after Hawaii courts agreed to provide Hawaiian language interpreters.
That was sparked by UH professor Samuel Kaeo, who was arrested at a telescope protest and insisted on speaking Hawaiian, which is one of the state's two official languages.
Anthony says he demands every government service be provided in Hawaiian, including that one little document that started this whole ordeal — his driver's license.
"If you are saying that I don't have a license but I can't get the license in the constitutionally protected language, where we at?" he said.
In regards to the imu set up itself, state officials said it was a permitted event.
"We just gave Daniel the permit for the event. Yesterday there was a little bit of pilikia in terms of him coming in a sheriff going out, I am not really certain. I am not really sure what occurred with that, but so far he is compliant with the permit,"Administrator of State Parks Curt Cottrell said.
Anthony was released and now is focusing on the above ground imu he and his team have constructed.
He hasn't run into any other major problems aside from being checked on with by the Honolulu Fire Deparment. He added that he'll continue his fight for Hawaiian language rights.
"You kill a culture by killing its language and I am telling you that our language ain't dead, our people ain't dead, our culture is hot," he said.
Hawaii News Now has reached out for more information from the Sheriff's Office about the arrest, but hasn't heard back.
Wednesday's opening day ceremonies at the Hawaii State Capital are open to the public. Events start at 8 a.m.
Copyright 2019 Hawaii News Now. All rights reserved.