Former President Obama speaks at UH Manoa for launch of foundation's Asia-Pacific leadership program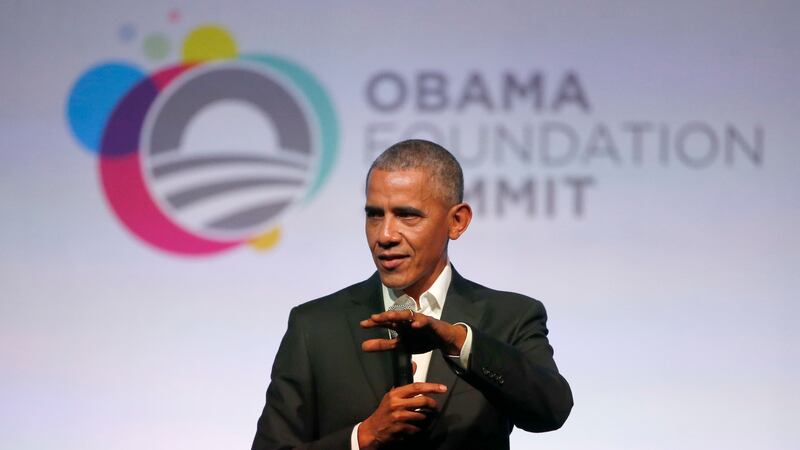 Updated: Jan. 6, 2019 at 2:09 PM HST
HONOLULU (HawaiiNewsNow) - Former President Barack Obama spoke at a private gathering Sunday at the East-West Center, his foundation's first major event in Hawaii.
His appearance is part of a leadership workshop, designed for emerging leaders from across the Pacific.
After leaving the White House, Obama says there was no shortage of causes he wanted to work on.
But he says inspiring and investing in the next generation of leaders became his focus.
"So that they have the platform, the opportunity to channel their amazing energy and passion and imagination, in order to bring a whole new set of eyes and ideas and possibilities to the world." Obama said. "We have a deficit of leadership and we need new blood."
This weekend, the Obama Foundation brought together 21 young professionals from 16 different countries and territories, including two from Hawaii.
Leanne Kealoha Fox is an executive manager at the Office of Hawaiian Affairs and Kaleo Manuel serves as a planning manager at the Department of Hawaiian Homelands.
"We are artists, innovators, and entrepreneurs all connected by the great sea of islands. Through workshops, strategy session, peer coaching, we stand together now as allies," said Fox.
The foundation said it's hosting the event in Honolulu because of Obama's roots in Hawaii, and also because of the state's geographic location in the Asia-Pacific.
The group met at the East-West Center and was tasked with helping the foundation design an Asia-Pacific Leaders Program, by helping identify the unique challenges and opportunities in the region.
"It was empowering knowing that we're not alone in the efforts to improve the life of our communities, our people, and the world as a whole. And so being able to connect globally is definitely something that came out of this convening," said Manuel.
Obama says they hosted a similar program in South Africa last summer, and he says those young leaders are now thriving.
"They're combating corruption, they're fighting poverty, they're increasing access to healthcare, they're defending press freedoms, they're educating other young people," Obama said.
Also in attendance at Sunday's event were some of Hawaii's elected officials, as well as top business and community leaders.
Copyright 2019 Hawaii News Now. All rights reserved.