Thousands of Hawaii teens admit to injecting illegal drugs — and help for these users is hard to find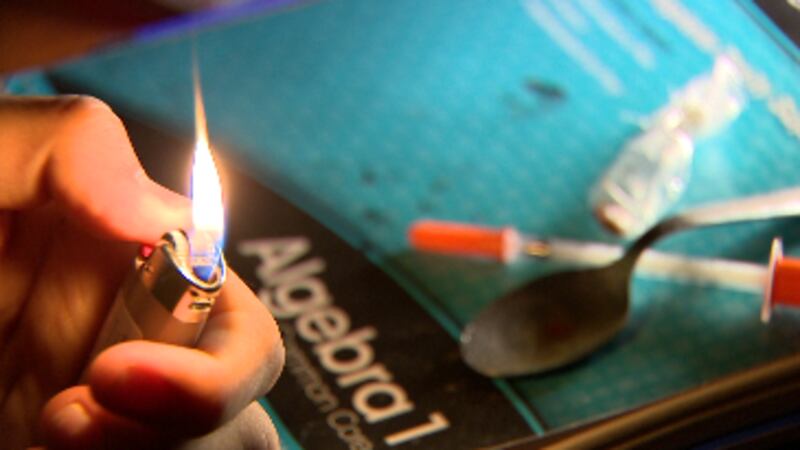 Updated: Dec. 19, 2018 at 4:57 PM HST
HONOLULU (HawaiiNewsNow) - Everyone's got a story about a scar they got when they were young. But Casper's doesn't come from falling off a bike or getting scraped up at the playground.
It's from the first time he injected drugs.
"This is my first track line," the 25-year-old said, pointing to his arm.
Casper, whose last name Hawaii News Now is not using, started using drugs in high school.
"I was alone and wanted somebody to spend time with. I didn't have a lot of friends so drugs were an easy in to that circle," he said. "It helped. But it robbed me of my ambitions."
And Casper's story isn't unique.
[Read more: A new concern on the streets of Chinatown: The re-emergence of crack]
[Read more: Amid opiate crackdown, heroin use in Hawaii on 'alarming' rise]
In fact, it illustrates a deadly habit that's becoming more common among Hawaii youth.
According to new state Department of Health figures, 1,200 public high school students (2.8 percent) admitted to injecting illegal drugs last year. Meanwhile, some 2,000 middle school students said they'd shot up.
Those figures are well above the national average of 1.5 percent.
"These middle schoolers. We're talking real young. How they even got to know how to use a needle and do that was really surprising to me," said Heather Lusk, who heads up the state's largest syringe exchange program.
Over the past year, the Hawaii Health and Harm Reduction Center safely disposed of 1,068,621 dirty needles in an effort to prevent the spread of HIV and other diseases.
And Lusk said recently the non-profit has seen an uptick of people under the age of 30 showing up at exchange sites.
"Kona on the west side of the Big Island has seen an increase in young people and so has Maui," said Lusk.
Casper says he started with smoking marijuana and later experimented with meth and cocaine. Craving a more intense high, it wasn't long before he turned to the internet and taught himself how to shoot heroin.
"I had just graduated. It was the year I was supposed to be figuring things out."
A former drug dealer who says he served seven years in federal prison for his involvement in a major methamphetamine ring operating in Hawaii says the statistics aren't surprising.
"As someone who was in the mix for so long, I still see and hear the whole get-downs really," he said.
He added that buyers range from high school kids to grandmas.
GET HELP

There are a number of community resources available for drug abuse and addiction. 

Community Resources
Phone
Queen's Day Treatment Program
691-4157
Residential Youth Services & Empowerment
498-5180
Bobby Benson Center
(877) 393-7555
Crisis Line of Hawaii
832-3100
"From librarians, school teachers, firemen," he said. "I wouldn't feel morally OK with myself selling to younger people. But I also had younger brothers, younger homeboys who actually kind of took care of that for me."
The former dealer, who identified himself as BJ, said the internet isn't the only place adolescents are learning how to shoot up.
"You got their older brothers, cousins, moms, dads. They see them do that,' he said. "It's becoming a lot more accepted and widely used that way."
And for those struggling with drug addiction, finding help can be hard.
[Read more: Green: Reclassifying drug treatment as 'primary care' could help more addicts into recovery]
Despite a tremendous need for drug treatment facilities in the islands, Oahu has only one social detox program.
"So getting people to get stabilized to get treatment is a very big gap," said Lusk.
Meanwhile, addiction treatments tailored toward youth is almost non-existent.
"We need more adolescent and young people specific treatment programs," said Lusk.
Casper, who started using in his early teens, said he doesn't have a job and is living on the street.
He knows quitting on his own isn't likely.
"I don't want to keep injecting," said Casper. "I need help."
Copyright 2018 Hawaii News Now. All rights reserved.