Pilot recovering from fighter jet crash says he knew something was wrong just after takeoff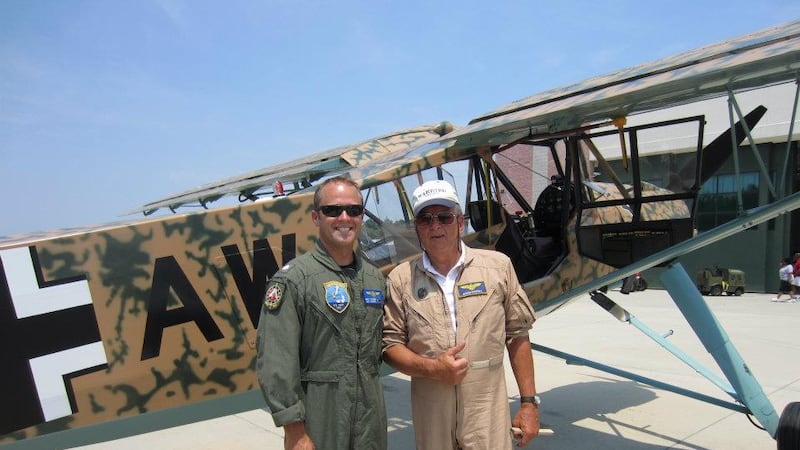 Published: Dec. 14, 2018 at 1:16 PM HST
HONOLULU (HawaiiNewsNow) - A 47-year-old civilian pilot who sustained serious injuries after his fighter jet crashed into waters off Honolulu says he knew something was wrong just after takeoff.
That's what Matt Pothier, who's from North Andover, Massachusetts, told his hometown newspaper The Eagle Tribune.
He says he saw a lot of boats in the water, aimed for a safe place to put the plane down and then ejected from a Hawker Hunter jet just before it crashed into the water about 2:30 p.m. Wednesday.
His wife, Carri Collins-Pothier, said he is still recovering from his surgery for a spinal injury sustained in the crash, and is scheduled to begin physical therapy Friday. Pothier says he's able to move all his extremities.
He took to Facebook to express his gratitude for everyone that's helped him and provided support. In the post, he writes, "You'll see me in the skies, the water, and the rink soon."
The NTSB is investigating the crash, which forced the temporary suspension of the Sentry Aloha military exercises.
Crews are working to salvage the craft, and the NTSB hopes to issue a preliminary report within 10 days.
She added that he's still smiling, and that's he incredibly grateful to rescuers and good Samaritans who helped him.
"We are thankful Matt is still here with us and no one else was injured," she said, in a statement.
"We are extremely grateful to all of the first responders, especially Dan and Mac from Extreme Parasailing who jumped in to help Matt after he ejected, and to the Coast Guard and first responders who got him safely to the trauma center. We are so very thankful Matt is still here with us and no one else was injured."
An NTSB spokesperson said the agency is hoping to interview Pothier soon.
Among the things they're examining: The pilot's record and the aircraft's maintenance record. The NTSB is also looking at weather conditions.
A military spokesman said Pothier is a civilian contractor who was flying a British-made Hawker Hunter aircraft as a part of military training exercise.
The plane that crashed was owned by Airborne Tactical Advantage Company, which is a civilian "tactical airborne training organization." Authorities said the Navy contracted with ATAC as part of the Aloha Sentry exercise.
ATAC spokesman John Zentner said they're also investigating what might have gone wrong.
"For first 24 hours here, our company's focus has been on the safety and well-being of the family," he said.
"We reached out to offer support to the pilot's family and are working with relevant authorities to determine cause of crash, but cannot speculate at this time as to the cause."
Pothier is a former U.S. Navy F-15 pilot with 21 years of service and studied foreign affairs at the Naval War College.
His wife said he has over 4,200 tactical aircraft flight hours, 750 aircraft carrier landings, and has flown over 100 combat missions.
The Hawaii Air National Guard hosts Sentry Aloha. Some 800 people and 30 aircraft from nine states are participating.
Copyright 2018 Hawaii News Now. All rights reserved.