For first time, no USS Arizona survivors will be in attendance at ceremonies to mark attack on Pearl Harbor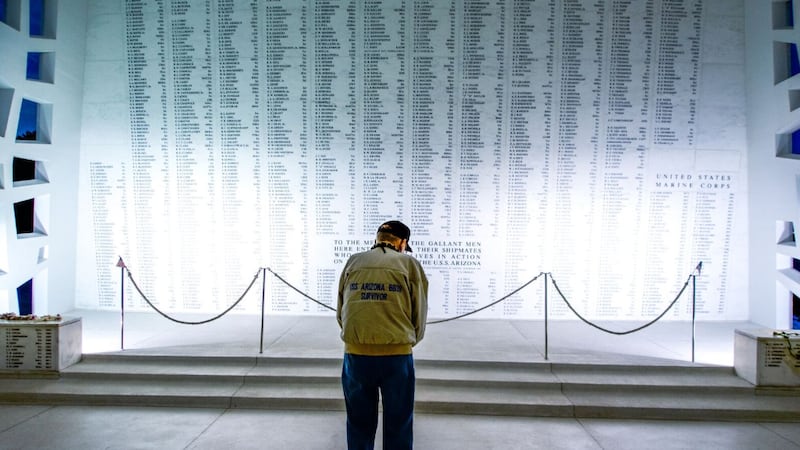 Updated: Dec. 5, 2018 at 9:54 PM HST
HONOLULU (HawaiiNewsNow) - When a moment of silence is observed at the Pearl Harbor Visitor Center Friday morning to commemorate the attack on Pearl Harbor, it will be without an important component.
No one who survived the bombing of the USS Arizona battleship will be in the audience.
"This is the very first year," said Daniel Martinez, historian with the World War II Valor in the Pacific National Monument.
Health issues and doctor's orders prevented Lou Conter from coming.
"She said you cannot go. You better cancel out," he said in telephone interview from his home in California.
Conter is 97. The handful of survivors of the battleship's sinking are all in their 90s.
"I've noticed the interest of people asking, 'Will there be any of them there?' because they've been so visible," Martinez said.
World War II author Michael Wenger said this is a sad preview of what's to come.
"Once all these Pearl Harbor survivors are gone, and the people who knew them are gone, we're going to have lost this last living connection," he said.
About 300 USS Arizona sailors survived Japan's surprise attack.
Only five are alive: Conter, Don Stratton, Ken Potts, Lonnie Cook and Lauren Bruner.
"I would love to have seen them be here but it's just unfortunate that they're not going to be here," Navy veteran Iraldo Alvarez said.
"It makes me afraid that we're going to distance ourselves from what happened," Pearl Harbor visitor Kasey Cross said.
Martinez estimates about 100 World War II veterans will be at Friday's ceremony.
He said it's fortunate the stories of USS Arizona and other service members who survived the attack on December 7, 1941, have been captured on videotaped interviews.
Someday all of them will be gone.
"They'll still speak to us, just in a different way," Martinez said.
Conter's disappointed he'll miss this year's event, but he plans to be back next year.
He wants the focus to remain on the those who paid the ultimate sacrifice.
"The ones that should be honored are the 1,177 shipmates on the Arizona, and the 2,403 from the military services who were killed that day," he said.
Copyright 2018 Hawaii News Now. All rights reserved.