Under month-long pilot, security guards to patrol urban parks where homeless congregate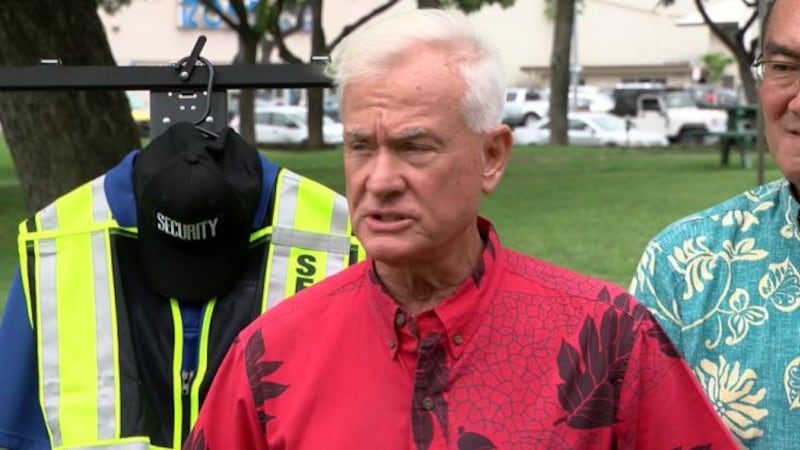 Updated: Nov. 15, 2018 at 3:24 PM HST
HONOLULU (HawaiiNewsNow) - The city will shell out $44,000 for a month-long, round-the-clock security presence at nine urban parks where encampments of chronically homeless people have been a recurring problem.
City officials said uniformed private security guards, working in pairs, will patrol parks and will be in marked cars.
The guards can't issue citations, but are trained to "mitigate confrontational situations" and inform park users of rules.
Hawaii Protective Association was awarded the initial, month-long contract for the work.
"People demand that they be safe, in our parks and on our sidewalks. And I'm not going to stop fighting for their safety," Mayor Kirk Caldwell said, in a news conference Thursday.
Caldwell acknowledged the pilot project is expensive and that additional funds will be needed if the contract is extended.
The guards will patrol the following parks:
Aala Park

Ala Wai Community Park

Ala Wai Neighborhood Park

Crane Community Park

Kamamalu Neighborhood Park

Moiliili Neighborhood Park

Mother Waldron Neighborhood Park

Old Stadium Park

Pawaa In-Ha Park
The patrols come after the city recently reopened four of the nine parks: Old Stadium Park, Moiliili Community Park, Pawaa In-ha Park and Crane Community Park .
The parks closed for maintenance after mounting complaints from residents about homeless encampments. Repairs are estimated to be over $155,000. That does not include groundskeeping work, such as tree trimming and mowing the grass.
"We're paying to much. To move them from the park, to the street, to the sidewalk," said Honolulu resident Wally Lee.
The Mayor acknowledged the problem calling out council leadership for delaying a pair of laws.
Bills 51 and 52 would outlaw sidewalk obstructions and make it illegal to live in a public space if shelter is available.
"They set up a situation I believe where we will never be able to enforce under 51 and 52," said Caldwell. "Then they'll move over here. Then they'll move over there and we will spend time and money playing this cat and mouse game."
Meantime some of the folks being shuffled around say they too are waiting for government action.
"We'd be better if they would find one place for us to go," said Ronnie Olivera.
Copyright 2018 Hawaii News Now. All rights reserved.