Family, friends mourn death of former UH football star Vince Manuwai
Details surrounding his death are unclear at this time.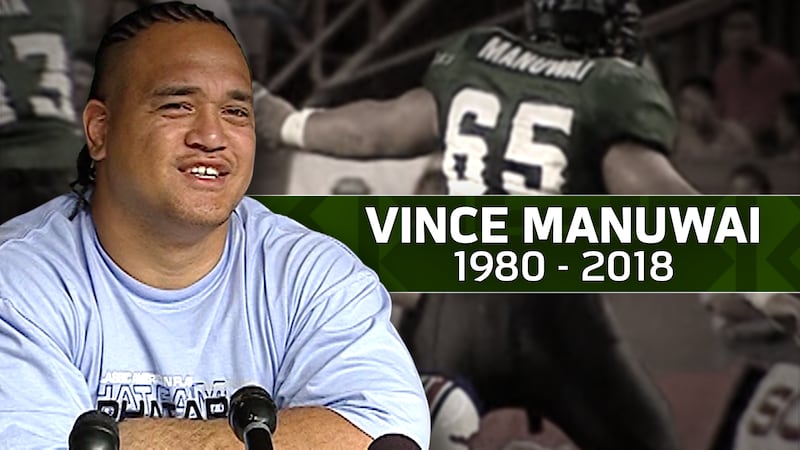 Updated: Nov. 5, 2018 at 6:18 AM HST
HONOLULU (HawaiiNewsNow) - Friends and family are mourning former Rainbow Warrior football star and NFL guard Vince Manuwai, who was found dead Sunday morning.
Multiple sources say an unresponsive Manuwai was taken to Straub by EMS where he was later pronounced dead.
Manuwai, 38, was a star guard at UH, and was drafted in the third round by the Jacksonville Jaguars in 2003.
Details surrounding his death are unclear at this time.
Several friends and former players who knew Manuwai are sharing their memories. John Estes first heard about Vince when he was a high school senior from Hawaii's old offensive line coach Mike Cavanaugh.
"Coach Cav showed his highlight tape to recruits and me being one of those recruits, I thought man, who is this guy Vince Manuwai? You know, I want to be just like Vince," Estes said.
Estes played with Manuwai for the Jacksonville Jaguars and even roomed with him for two years in Florida.
"He had the biggest heart. He was always giving caring and making sure everyone else was okay before himself and that was kind of his style," Estes added.
Other local football icons are remembering the offensive lineman who may say was one of the best to ever play at the University of Hawaii.
"It hits you real hard because its a shock when you hear something like that. He was such a nice person on and off the field," said Cal Lee, head coach for St. Louis High School football.
The Jaguars issued a statement late Sunday saying:
We are saddened by the news of Vince Manuwai's passing. Vince was a quiet, strong, reliable and respected member of the Jaguars family for eight seasons. Throughout his career he was a key part of our offensive line, and the way he went about doing his job was a great example for his teammates and others. We offer our condolences, our thoughts and our thanks for the Manuwai family in remembrance of Vince.
This story will be updated.
Copyright 2018 Hawaii News Now. All rights reserved.