Smoke alarm alerts family to a fire at an Ewa Beach townhouse; 1 injured
The townhouse occupants heard the smoke alarm and escaped the unit.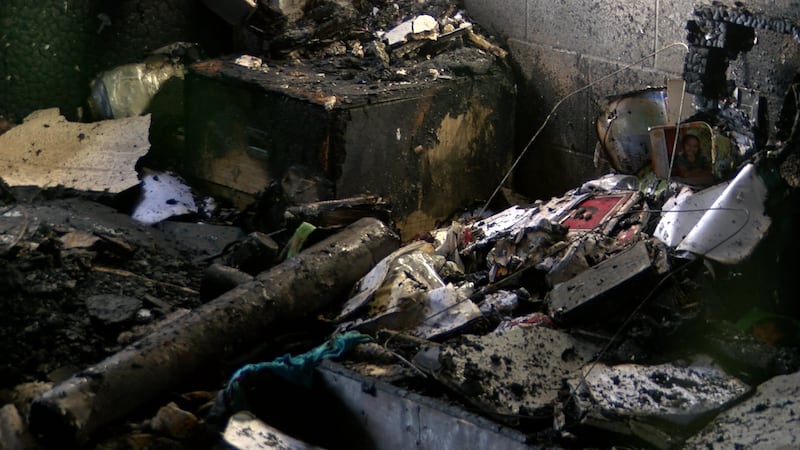 Published: Nov. 3, 2018 at 6:24 PM HST
EWA BEACH (HawaiiNewsNow) - A 62-year-old man was taken to the hospital in serious condition after an early morning fire Saturday at an Ewa Beach townhouse.
EMS personnel treated the man for burns from the fire at 4:15 a.m.
Kalani Balino says he was sleeping on the top floor of the townhouse when he heard the fire alarm go off. He says he didn't smell any smoke at first.
Balino initially thought the fire alarm was malfunctioning, but later realized it was no drill.
He rushed downstairs to the unit where his brother lived and helped him escape.
"I went downstairs and I looked where my brother was sleeping, his bed was just in flames. So I took my daughter out of the house yelling, 'fire fire!' for my neighbors so they could wake up. And then I went back in the house, and I was calling for my brother. He never answer but I started crawling in the kitchen and then he answered me, so I pulled him out," Balino said.
HFD is investigating the cause of the fire and damage estimates have not yet been released.
Other members of Balino's family were not seriously injured.
HFD along with Balino reminds the public to ensure your smoke alarms are working properly.
"We can replenish our lives, it's only material stuff so we will get back on our feet," Balino says. "Just check your fire alarm. Just make the thing is working."
Authorities are reminding everyone to test their smoke alarms monthly and to change the batteries at least once a year.
This story will be updated.
Copyright 2018 Hawaii News Now. All rights reserved.