Hotel workers strike grinds into second week as negotiations scheduled
More than 2,700 hotel workers walked off the job on Oct. 8.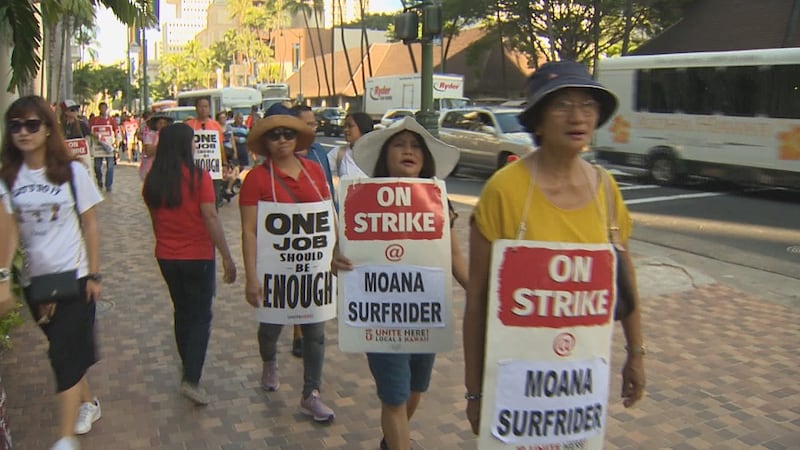 Updated: Oct. 22, 2018 at 3:01 PM HST
HONOLULU (HawaiiNewsNow) - It's now been two weeks since thousands of Hawaii hotel workers started striking, calling for better pay and benefits.
On Oct. 8, more than 2,700 Unite Here Local 5 workers from Hawaii hotels operated by Marriott and owned by Kyo-ya walked off the job. Those hotels include Sheraton Waikiki, Sheraton Princess Kaiulani, Western Moana Surfrider, The Royal Hawaiian and Sheraton Maui.
On Monday, some strikers participating in the Relay for #1job — a group going from neighborhood to neighborhood across Oahu — will stop at the state Capitol to meet with Gov. David Ige. They will then return to Waikiki to meet up with strikers on the picket lines.
And on Friday, the union and hotel management will meet for two days of negotiations to work out wages, benefits, workload, staffing and other issues.
Kyo-ya and Marriott say they remain committed to bargaining in good faith and they continue to respect the right of employees to participate in a work stoppage.
Meanwhile, U.S. Rep. Tulsi Gabbard visited the picket lines on Sunday to show her support for the strike.
The Hawaii Democrat echoed the calls of the striking workers, saying one job should be enough to support the cost of living in the aloha state.
Without employees for housekeeping, restaurants or in-room services, visitors who are staying at the five hotels where workers are on strike have taken to social media to complain about what they thought would be their dream Hawaii vacations.
Some are asking for full or partial refunds, while others are urging other visitors to stay away.
Copyright 2018 Hawaii News Now. All rights reserved.