Police release footage from fatal officer-involved shooting near state Capitol
The man swings a pair of garden shears at an officer before being shot.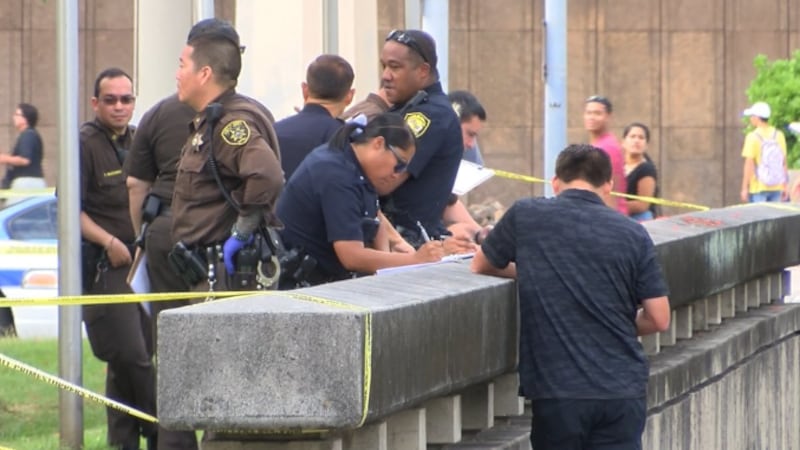 Published: Oct. 19, 2018 at 5:32 PM HST
HONOLULU (HawaiiNewsNow) - Police officials in Honolulu on Friday released body-worn camera footage of a fatal officer-involved shooting near the Hawaii State Capitol earlier this month.
The footage, according to HPD, shows 39-year-old Tison Dinney involved in a verbal confrontation with multiple law enforcement officers, including police officers and state Sheriff's deputies. In the days after the incident, police officials say they were responding to calls about two homeless men fighting.
"We just trying to figure out what happened right now, and if you just step out over here, we can talk about it," says one of the police officers, who is not identified. "We not trying to trick you."
As one group of officers attempts to convince Dinney to come out from behind what appears to be a large electrical box, a second group of officers moves to another area in an attempt to try and rush and disarm the suspect.
At the man's feet, according to HPD, are a machete and a pair of garden shears. When Dinney realizes that the other officers are moving toward him, he reaches for the garden shears and appears to strike one of the officers.
At that point, an officer opens fire, discharging his weapon five times, according to Chief Susan Ballard.
"This is an extremely difficult time for officers. I'm sure you'll see that many of these officers are in shock after the shooting," said Ballard. "These situations do not have instant replay, and officers have to make split-second decisions."
The medical examiner says Dinney died from a gunshot wound to the torso. The officer who was struck managed to avoid any injury thanks to his bulletproof vest, officials say.
Speaking to reporters on Friday, Ballard said she intended to release the full clips of the moments leading up to and after the shooting as soon as the redaction process was complete.
"My intention is to make available all body-worn camera footage that relates to this incident," Ballard said.
The officer who discharged his weapon has already been returned to active duty, Ballard said.
Copyright 2018 Hawaii News Now. All rights reserved.