Local 5 union workers continue picketing for better wages, benefits
UH Research Center says Local 5 is the largest strike in 16 years.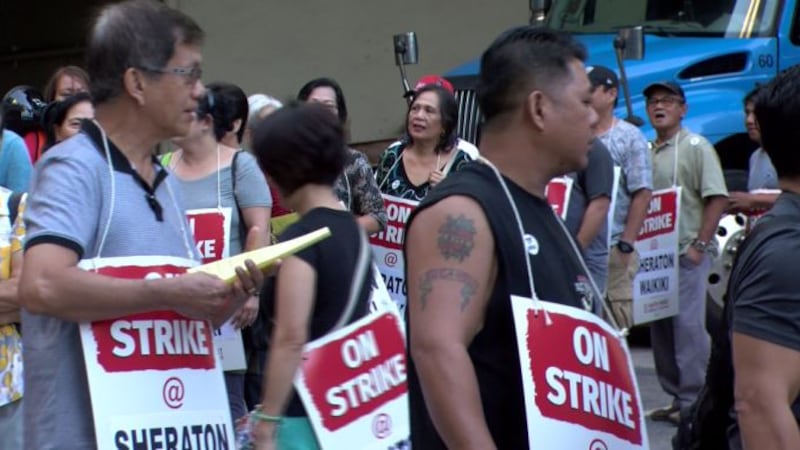 Published: Oct. 9, 2018 at 11:55 AM HST
WAIKIKI (HawaiiNewsNow) - It's day two of a strike affecting thousands of hotel workers and guests in Waikiki.
Local 5 union workers are back out on the picket lines Tuesday morning in Waikiki.
According to the UH Center for Labor Education and Research, this is the largest strike of its kind in 16 years with workers walking off the job at five major hotel properties.
Despite the rain and having walked all night, strikers are still going. Picket lines are stretching across intersections and hotel entrances; and strikers are quietly chanting.
The strike is impacting five hotels operated by Marriott and owned by Kyo-ya: Sheraton Waikiki, The Royal Hawaiian, Westin Moana Surfrider, Sheraton ‪Princess Kaiulani‬ and Sheraton Maui.
Kyo-Ya issued this statement on the strike:
We have implemented contingency plans which ensure that the Sheraton Waikiki, The Royal Hawaiian, Moana Surfrider, Sheraton Princess Kaiulani, and the Sheraton Maui continue to offer our guests an enjoyable experience during their stay in Hawaii. There have been some adjustments to staffing levels and services being offered at our properties. We have notified our guests and business partners of the situation and are providing them with ongoing updates.
The Local 5 strike could spread at any time because Local 5 secured strike authorization votes about three weeks ago at all Marriott-managed hotels.
This means the union could, without any further ado, broaden the strike to include the Waikiki Beach Marriott, or the Marriott Waikoloa, or the Marriott on Kauai.
Local 5 is part of the UNITE-HERE union.
Workers at United Airlines' Honolulu catering kitchen – and four on the mainland – are voting on whether to unionize by joining UNITE HERE.
The voting ends two weeks from now.
Copyright 2018 Hawaii News Now. All rights reserved.