Hirono campaign apologizes for Kavanaugh-themed fundraising email
The Hawaii senator has been an outspoken critic of the Supreme Court nominee.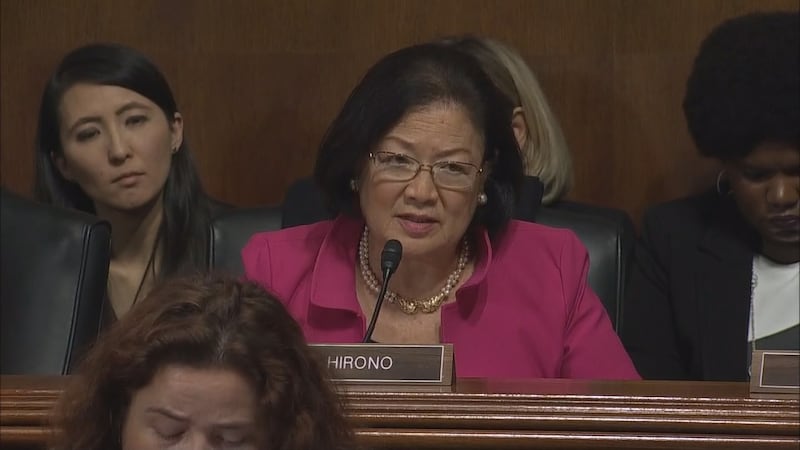 Updated: Sep. 27, 2018 at 8:13 PM HST
HONOLULU (HawaiiNewsNow) - U.S. Sen. Mazie Hirono's re-election campaign is apologizing for sending a fundraising email referencing the sexual assault allegations against Supreme Court nominee Brett Kavanaugh.
The email sent Thursday said Hirono is focusing her entire efforts on investigating Kavanaugh and was too busy "fighting the Republicans" to raise money for her re-election, CNN reported. The email was sent not long after Dr. Christine Blasey Ford, one of Kavanaugh's accusers, began her testimony before the Senate Judiciary Committee.
The email, entitled "Asking for a minute to explain [Kavanaugh]," read: "I am spending every minute of my day fighting the Republicans who are desperate to rush Brett Kavanaugh's nomination and deny a fair investigation into the credible sexual misconduct allegations against him. This has to be my focus."
The email emphasized that Hirono has limited time to campaign or raise funds making her "particularly vulnerable to right-wing attacks." The email then asked for "a donation of $3 or more."
Hirono has garnered plenty of media attention as one of the most outspoken Democrats on the allegations against Kavanaugh and a staunch supporter of Ford. The Supreme Court nominee has denied allegations of sexual misconduct.
According to CNN, more than an hour after sending the email, Hirono's campaign issued an apology.
The apology message signed by "Team Hirono" said Thursday morning's email was sent in error.
"We apologize sincerely for the error," the email from Hirono's campaign team read. "All contributions that were made on this page will be donated to organizations helping survivors of sexual assault."
Copyright 2018 Hawaii News Now. All rights reserved.