In waters off Kona, a strange fish came out of the deep blue
Divers capture the 'unusual' moment in stunning photographs
Updated: Sep. 25, 2018 at 4:05 PM HST
HONOLULU (HawaiiNewsNow) - While swimming off the Kona coast, local diver Kurt Chambers and Katie Pentz saw something unusual coming toward them in the water.
"We initially thought the large fin we saw protruding through the surface might have been the tell-tale indication of the hammerhead school," Chambers said in a Facebook post. "But this encounter was even rarer!"
The creature they saw coming toward them wasn't a shark. Instead it was a Mola Mola, or Ocean sunfish.
"It was just a really easy, gentle experienc. That fish is not very afraid of humans or boats and we were able to swim around with it while it meandered around. It didn't seem to be on a particular path, it wandered around slowly for about 20 minutes," Chambers said.
He added the fish they saw was about 5 to 6 feet long, possibly weighing around 500 pounds.
Experts say the divers were very lucky to have the encounter.
"It is quite unusual. They are present, but they are not seen very often," Waikiki Aquarium Director Andrew Rossiter said. "Their name is Ocean sunfish and they're called that because they come up to surface and lay flat like they are basking in the sun. So if they're there, people do see them."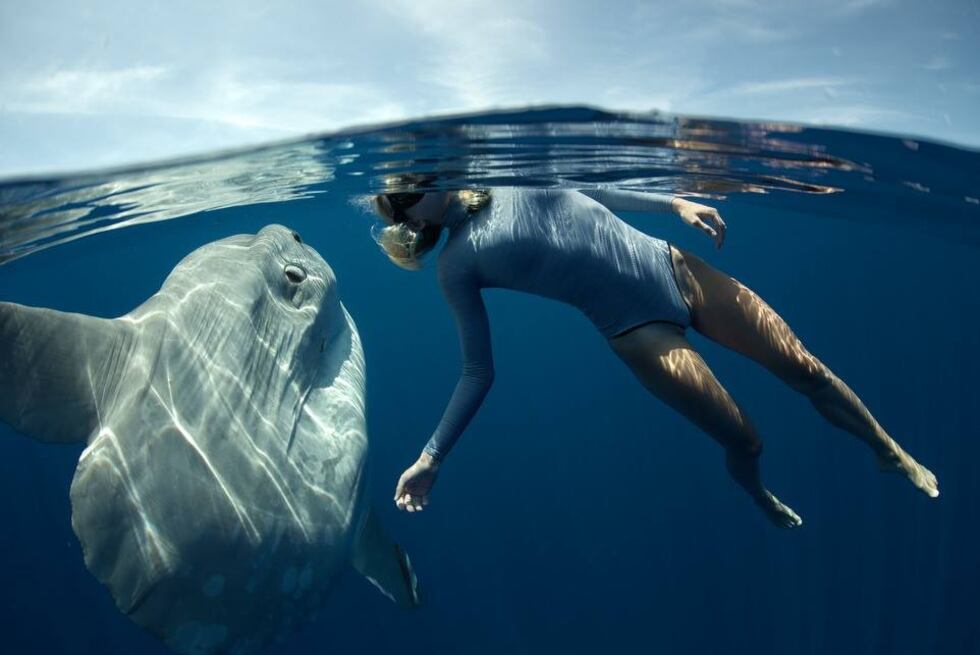 Normally, the sunfish favor open ocean waters at varying depths. The sighting, which took place last week, was happened about seven miles off the Kona coast.
They aren't critically endangered, but the IUCN Red List of Threatened Species says the species is vulnerable, and faces threats from long-line fishermen and nets.
"Its actually the largest bony fish in world and they can reach over 3,000 pounds in weight and 10 ft from top to bottom," Rossiter added.
Despite their large size and odd appearance, Mola mola are quite harmless creatures.
They feed on fishes, molluscs, zooplankton, jellyfish, crustaceans, and brittle stars, and are rather clumsy swimmers due to the lack of a tail fin. Instead, they depend on their dorsal and anal fins for swimming power.
They can live anywhere from 10 to 20 years.
"The females have the record for the number of eggs produced by any vertebrate. They can produce about 300 million eggs at one time," Rossiter said.
Chambers and Pentz both expressed that the sighting was moment of a lifetime.
"Katie had a lifetime goal of seeing one, and we thought we'd have to travel somewhere else in the world like the Philippines where they're seen more commonly to have the experience. So you can imagine when we realized it was a Mola, she basically started crying with joy that she could have that experience here unexpectedly," Chambers said.
Copyright 2018 Hawaii News Now. All rights reserved.